Acer Aspire E 15 E5-576G review
Progress isn't always good. The box the Acer Aspire E 15 E5-576G comes in isn't inscribed with that motto, but it seems like the engineers that designed the low-cost, high-performance laptop thought that.
This is the type of mobile Windows PC that other companies hardly make anymore. Today's laptops are so thin that they barely have any ports. You can't add more storage space or RAM to them when their performance begins to lag. Their aluminum frames glisten in the sunlight and give them a premium feel.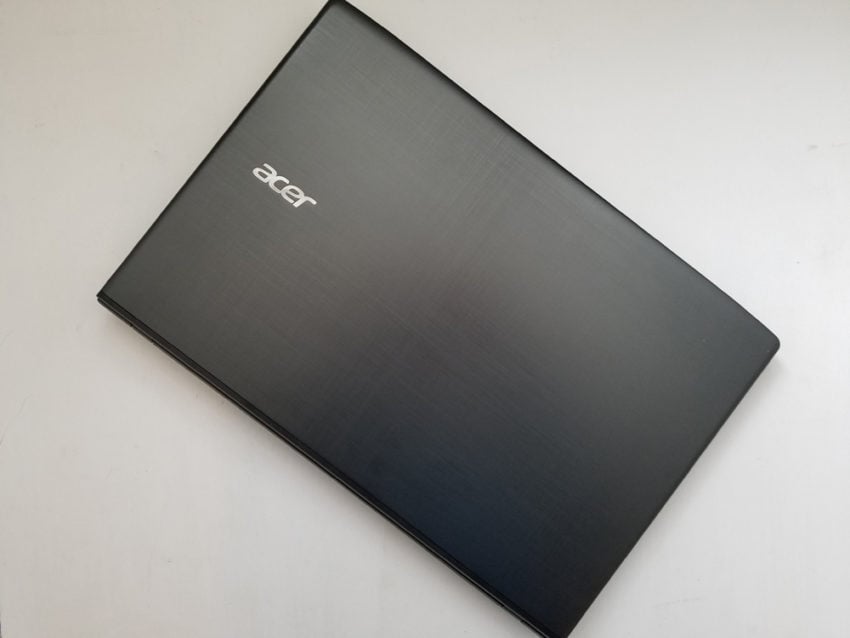 The Aspire E 15 E5-576G is bulky. Stuffing in a 15.6-inch display, dedicated graphics, every port anyone has ever needed and a quad-core Intel Core i5 processor tends to do that. So does making a PC that's upgradable and includes a DVD drive. Buyers get all that for just $599.99.
Acer Aspire E 15 E5-576G Design & Internals
Stack two ultrabooks on top each other and you have some idea of the Acer Aspire E 15 E5-576G's girth. It weighs 5.27 pounds and is 1.19-inches thick when closed.  You do not want to carry this laptop to class or work each day.
To its credit, the Acer Aspire E 15 E5-576G has a very understated look. A textured, metal-like lid gives the notebook a semi-premium look even though that premium look doesn't translate to a premium feel. The laptop's entire chassis is matte plastic. That is, except the keyboard deck, which has a polished metal finish. Your wrists glide on this surface as you move from using the backlit keyboard on the left of the deck to the number pad on the right. A spacious multi-touch trackpad sits just below the space bar on the Aspire E 15 E5-576G's keyboard deck.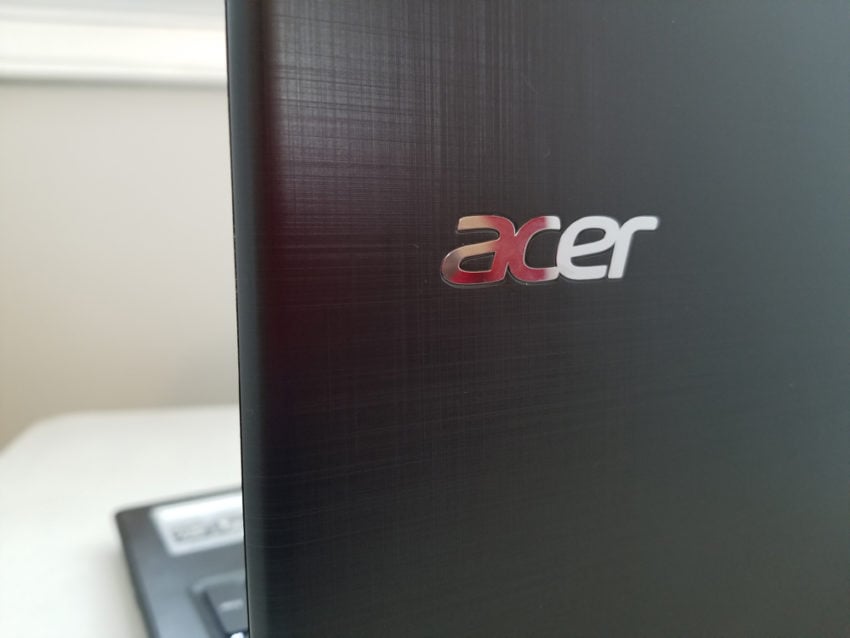 Whereas as most companies are touting how small the bezels around their laptop displays are, Acer is embracing them. The Acer Aspire E 15 E5-576G's bezels double as convenient ways to open the laptop without getting fingerprints on the 1080p 15.6-inch display.
Leave your dongles and adapters behind if you buy the Acer Aspire E 15 E5-576G. There's not one port missing on this laptop. For the futurists, there's a USB 3.1 Type-C port and an HDMI port on the left side of the system. A VGA port, USB 2.0 port, Ethernet port, headset jack and MicroSD card also line its edges. These ports are for those who prefer wired connections to Bluetooth and Wi-Fi. You can skip music and video streaming services with this laptop too. A DVD/CD drive on the right edge of the system lets you continue enjoying your physical media collection. A web camera and small microphone array are good for video chatting, but not much else. There are no Windows Hello sensors, so you're stuck typing in your passwords.
It's hard to put the Acer Spire E 15 E5-576G in a box because just when you think it's built for the user that just wants to replace their old budget laptop, Acer throws you something different. There's an 8th Generation quad-core Intel Core i5 processor inside and 8GB of RAM.  NVIDIA's GeForce MX150 graphics processor has 2GB of dedicated video RAM, so you can do some light gaming on this machine. Just don't expect to get the best visuals from Call of Duty WW2 or Forza 7. A 256GB solid-state drive handles all your internal storage needs, allowing the Aspire E15 to start and move files around in less time than other laptops in its price range that rely on standard hard drives.
Acer Aspire E 15 E5-576G Experience
Admittedly, I'm one of the millions of Windows 10 users that left heavier, port-laden PCs behind for the promise of easier productivity on the go. And, while I can't say the Acer Aspire E 15 E5-576G makes a flawless case for why more people should consider less mobile PCs, I can say that there are some solid reasons to consider one as your next PC.
The Aspire E 15 E5-576G offers solid performance. At no point in my daily routine did the laptop feel bogged down by the eight tabs and three separate programs I had open. Every web page loaded quickly and every program I needed to get through my day worked flawlessly. That includes Adobe Photoshop Elements, Adobe Premiere Elements and Microsoft Office. Even iTunes, which runs terribly on most PCs, ran well here. This isn't just the processor at work, but also the 8GB of RAM that Acer includes in this model.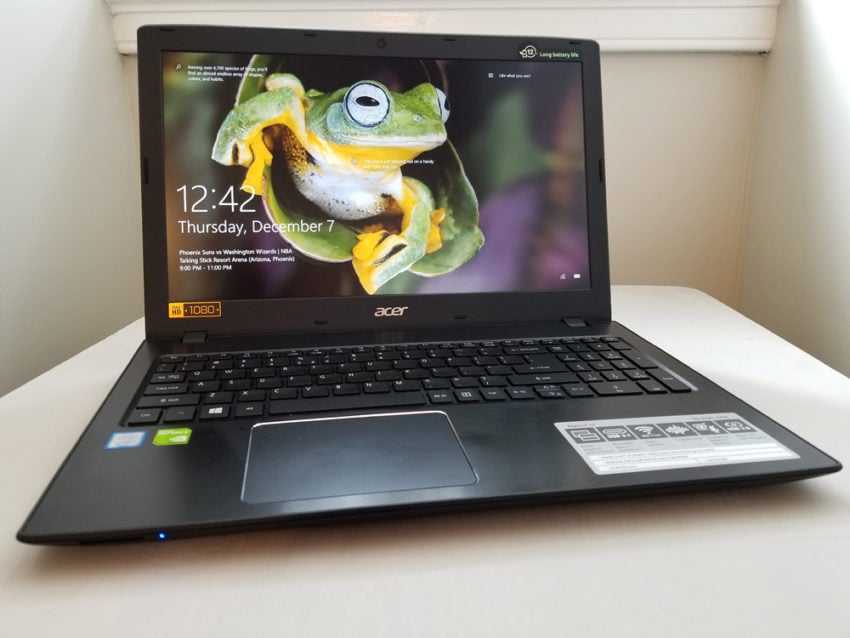 I feel ashamed that my 2017 Surface Pro with Intel Core i5 processor and 4GB of RAM cost twice as much as this PC does and doesn't run Windows 10 nearly as well. My Surface Pro also has no way for me to improve its performance through hardware upgrades, which isn't true of the Aspire E 15 E5-576G. A door on the laptop's bottom lets you add up to 16GB of RAM and a higher capacity drive.
The Aspire E 15 E5-576G's trackpad is spacious, slick and sensitive to your every swipe or touch. Every key on its keyboard is slightly convex and comfortable to press. They are embedded into the keyboard deck, so it's not as easy for the entire keyboard to completely detach from the deck as it was once. Acer has come a long way in that regard.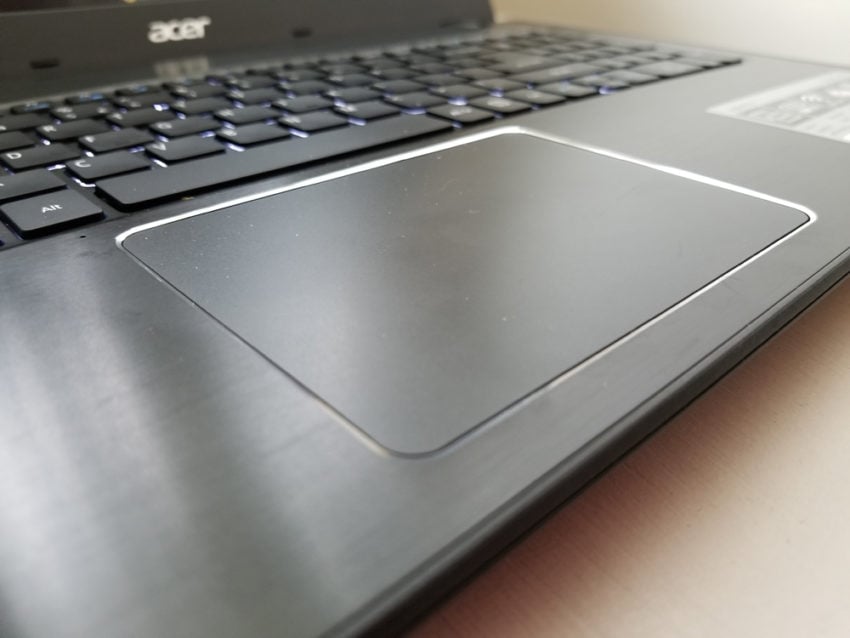 And that leaves just the things about the Acer Aspire E 15 E5-576G that I'm not so comfortable with. With all the tech inside and a $599.99 price tag, the company had to cut costs somewhere. They choose the Aspire E 15 E5-576G's enclosure.
Gotta Be Mobile's review unit didn't have any keyboard flex, but its lid flexed a lot. I tend to open and close laptops by grabbing their top-right corners. Not only did the lid flex, but the contours of the lid didn't exactly match up with the bezel holding in the display. Laptops with metal frames might survive a small drop from your coffee table or couch undamaged. I'm not so sure that the Acer Aspire E 15 E5-576G would.
Finally, all that power has huge implications for this system's battery life. A sticker just above the display promises 12 hours of continued use, but it's really half that with a few apps open and the screen brightness set at 40%. Dimming the display to 25% got me to just over seven hours on a single charge. Dimming the 1080p display to 0% and turning on Windows 10's Battery Saver utility finally got me to 9 hours of battery life. Of course, by then, the screen was dim enough that I found it hard to concentrate on text in Microsoft Word.
Unlike with the build quality issues, I don't think anyone should let battery life keep them from buying this machine. Considering how mobile-unfriendly this laptop's chassis is, seven hours of battery life is probably all that you may need or want. It's worth mentioning though because battery life slowly diminishes the longer you have a PC.
Acer Aspire E 15 E5-576G Specs
Processor & Graphics
Quad-Core 1.6GHz Intel i5 Processor

NVIDIA GeForce MX150 with 2GB of GDDR5 RAM

Memory & Storage
8GB of DDR3 RAM

256GB SSD for Storage

Display
15.6-Inch 1080p Display
Ports & Extras

1 USB 3.1 Type-C Port
2 Full-Size USB 3.0 Type-A Ports
1 USB 2.o Port
1 Headset Jack
HDMI Port
Card Reader
DVR/CD Burner
Lock Slot
Wireless AC and Bluetooth 4.0
720p Web Camera
Backlit Keyboard with Number Pad

Battery Life
7 Hours of Battery Life

(12 Hours of Battery Life, according to Acer's estimates)

Dimensions & Weight
15.02-Inches x 10.20-Inches x 1.19-Inches
5.27-Pounds
Should You Buy the Acer Aspire E 15 E5-576G?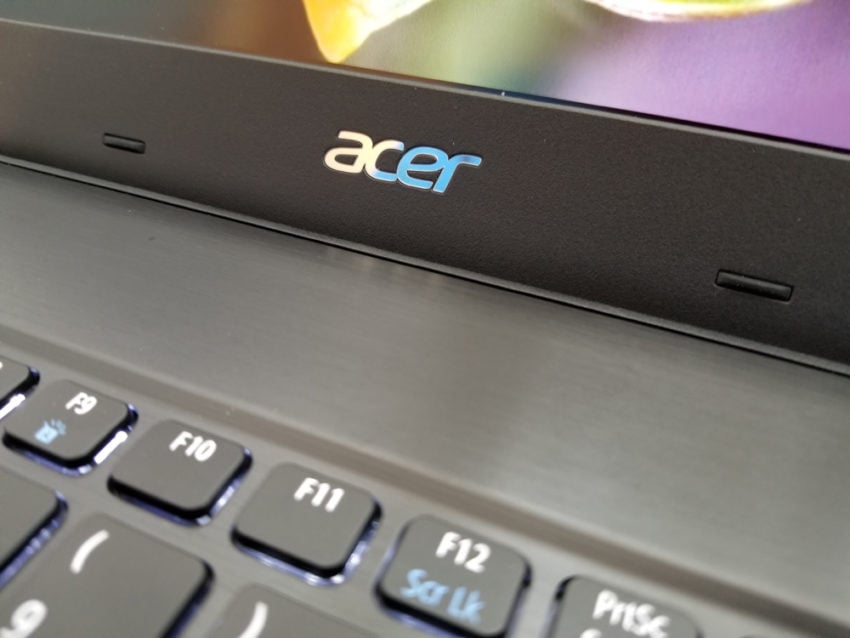 This PC doesn't compromise performance or connectivity in the name of design or mobility. That's what makes it so unique. That's also why I can only recommend it to a very specific type of Windows 10 user.
Everything isn't for everyone and that's fine. If you want a laptop you won't move from your desk very often and has all the ports you need, the Acer Aspire E 15 E5-576G is a good buy. It performs well for all basic desktop productivity tasks too. That you can upgrade some of its internals down the road makes it an even better deal. Bring it home, sit it on your desk and get to work knowing that you made a good decision based on your very specific needs.
It is not, however, a great buy for anyone that needs a lot of power, great battery life and durability. Your search continues if you need any of those things as you will need to charge this laptop often. That's to say nothing of the work out you can expect carrying this laptop from place to place.
[letsreview]