The Acer Swift 3 is a $650 laptop that looks like it should cost around $900 with an all metal design and sleek styling. The notebook features everything you need from a Windows 10 laptop including a fingerprint reader with Windows 10 Hello, and respectable battery life in a thin and pretty light package. With the latest Intel 8th gen Intel Core i5 processor inside it's ready for the needs of most home users and students, and it has the power you need to use this notebook for several years.
There's a notable difference when you upgrade from the $350 or $400 notebook to the Acer Swift 3. This notebook is packed with all the tech that you will need and the design is robust and surprisingly high end for the price.
Is the Acer Swift 3 Worth Buying?
Hands down the Acer Swift 3 is a notebook that you should consider buying. I see this as a perfect laptop for a student or for for someone looking to replace the laptop that go them through college. It's even a great notebook for striking out on your own as a entrepreneur since it is powerful as well as modern looking enough to deliver a great impression when you meet someone in person. For all that an iPad or iPhone can do, there is still a place for an excellent notebook in 2018. The Acer Swift 3 beats the 10.5-inch iPad Pro hands down when it comes to overall productivity.
[letsreview]
The Swift 3 starts at $649 and is available rom a number fo retailers including Best Buy. I spent over a month with a $689 Acer Swift 3 and came away impressed with what this notebook is capable of delivering and how well the overall experience holds together.
There's no fancy touch screen or 4K display, and it's not a gaming PC, but with a good Internet connection you can use GeForce Now to game on this notebook.
Acer Swift 3 Design
The first thing I noticed about the Acer Swift 3 design was the all metal construction. At the price point this is a nice touch and it feels very solid. There aren't creaks when carrying or using the hinge that you hear with cheaper plastic notebooks. The design isn't revolutionary, and that's perfectly fine. The brushed finish is modern and the angled edges make the slim notebook look even sleeker.
While many notebooks are cutting back on the number of ports in favor of USB C, the Swift 3 packs on all the ports you will need — no dongles or adapters required. With two USB 3.0 ports, and a USB 2.0 port you can plug in most normal accessories. There is a SD card slot that you can use to offload photos from your camera or drone. With a HDMI port you can hook up to a TV or projector. There's also a USB C port and a headphone jack.






All of these are tucked into a notebook that is 0.71″ thick, which means it fits nicely into a bag and looks nice on a table or desk. The Swift 3 is about 3.5 pounds which isn't in the realm of an ultralight, but it's more than light enough to carry to work or school every day.
You can open the Swift 3 display completely to lay open on a table if you need to share a screen, but since there is no touch screen and it's very reflective this isn't a feature I used more than once.
Acer Swift 3 Display
Acer includes a 1080P HD display, which is a nice step up form the lower resolution displays that were common a few years ago and still are common on many business notebooks. It's not a particularly bright display, and the coating is very reflective which means you will see glare or maybe even yourself on the screen depending on where you use the notebook.
It's also not a touchscreen display. Windows 10 works well with a touch screen, but it's by no means required. This limits the use in the fold down mode meant for sharing a screen at a table. It's a downside, but it's not a dealbreaker at the price.
Acer Swift 3 Performance & Battery Life
I spend my days using Chrome, occasionally dipping into Word, editing photos and lately working with a lot of 4K video editing. The Acer Swift 3 is great for everything but the bigger 4K video editing tasks.
While using Chrome to handle multiple windows, messaging in Facebook and in hangouts, while listening to music on Spotify this notebook never struggled. Later I finished an episode of Altered Carbon on Netflix while finishing up some work in Chrome. Thanks to the latest Intel processors this laptop can handle all the multitasking an average user will throw at it.
If you only occasionally plan to edit videos to post to Facebook and you have the time to wait, it will suffice, but if you routinely edit 4K video, you will want to opt for the higher end model with a dedicated graphics card, or look at another notebook.
While watching streaming video you can expect about 8 to 9 hours of battery life in the real world. When it comes to web browsing, expect around 7 hours of battery life which isn't quite enough to last a full day, but you can get a full charge in about two hours.
The built-in speakers aren't good enough for the price. Acer should put beef these up or aim them up instead of towards the desk or your lap. This is a laptop you will want to connect to speakers or headphones. The built-in webcam is OK, with a crisp image, but it's quite dark overall.
Acer Swift 3 Keyboard & Trackpad
The Swift 3 keyboard is good. It's not as great as you'll find on a ThinkPad near this price range, but it is still nice. The keys have more travel than the MacBook Pro and I can type very fast on the notebook without any issues. The only two things I'm not a fan of are the Enter Key which isn't separated from the key above it like the rest of the keys on the notebook and the Pg Up, Pg Dn keys that clutter up the arrow key section.
The trackpad is very good. Moving the cursor around is precise, the surface is smooth. Scrolling is silky smooth and using left and right clicks function just as you would expect. Many older touchpads are too picky about the right click area or didn't recognize the to finger tap to right click all the time.
Acer Swift 3 Specs
Acer offers nearly a dozen configurations of the Swift 3, from $449 to $999. I reviewed the SF314-52-517Z with the following specs and an MSRP of $689.
8th Gen Intel Core i5-8250U processor
14-inch Full HD 1920×1080 display
8GB RAM
256GB SSD
Back-lit keyboard
Fingerprint reader supporting Windows Hello
Up to 10 hours of battery life
HDMI, USB

3

.1 type C Gen 1 port, two USB

3

.0 ports
You can buy a model with up to an Intel Core i7 Quad Core processor if you need more power. This model also comes with a dedicated NVIDIA GPU, which will increase your overall power, but t $999 you start to jump into a realm where you need to be making other comparisons.
6 Best Windows 10 Laptops in 2018
Razer Blade Stealth - $1,499.99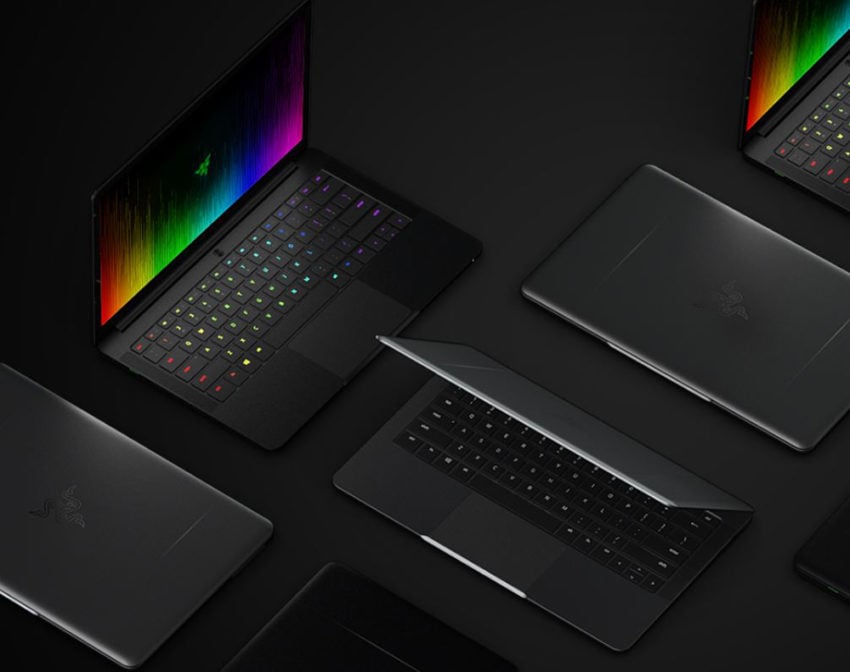 The Razer Blade Stealth is a high-end laptop that transforms into a gaming powerhouse with the right accessory.

The laptop takes its name from its black or gunmetal aluminum chassis. At 0.52 inches thin and 2.98-pounds, you won't have a hard time stuffing it in a bag. Despite that thin profile, it lasts 10 hours between charges and has a Chroma keyboard that highlights the keys you need to play your favorite games. Intel graphics are inside, but connect it to a graphics card using the Razer Core add-on and you can expect full resolution gaming even on the model with a 13.3-inch 4K display with touch.

You can order a Razer Blade Stealth with as little or as much power as you need. It supports up to a quad-core 8th Generation Intel Core i7 processor, 1TB solid state drive and 16GB of RAM. It has a 3.5mm headset jack, 2 USB 3.0 ports, an HDMI port and a Thunderbolt 3 port. That Thunderbolt 3 port communicates with the Razer Core add-on.


Read: Razer Project Valerie is a Badass Triple Monitor Gaming Laptop


The Razer Blade Stealth starts at $1499.99. A Razer Core v2, which uses the graphics cards you already own, costs $499.99.