Adonit Jot Dash 2 Review: Best Stylus For Any Tablet or Phone
iPad and iPhone users that want a fine-point stylus for their devices should give the Adonit Jot Dash 2 a close look. Owners of the new 2017 iPad or an iPhone will love it because it brings with it the same kind of precision they could get with the Apple Pencil, only it actually works with non-iPad Pro devices as well. It's not just for iPhone and iPad, too. It also works great on any Samsung Galaxy device or other Android phones or tablets. Did you just get a new Samsung Galaxy S8? Treat it like a Note 7 with the Jot Dash 2.
Adonit Jot Dash 2 Design
The look and feel of the Adonit Jot Dash 2 will remind users of a typical ball-point pen, except that it carries a quality that your cheap Bic doesn't include. It's about half the length of the new 2017 iPad or an iPad Air 2. It's thinner than the Apple Pencil at 8.5mm.
A clip holds it in your pocket or in place attached to your iPad cover. The clip isn't too strong to use, but sturdy enough to last
https://www.youtube.com/watch?v=cq6n3FQOEqM
On the end furthest from the tip there's a button that the user presses to turn it on or off. This wakes it up so you can begin tapping icons, drawing or writing with supported apps.
In the center on one side there's a power LED that shows the state of the stylus.
The tip measures 1.9mm and feels firm while writing or drawing on the iPad or iPhone.
To recharge the Adonit Jot Dash 2, plug in the small USB dongle that comes with the stylus. The end with the button has a magnet that snaps onto the top of the USB charger and tops off the long-lasting battery.
Adonit Jot Dash 2 Usability
The Adonit Jot Dash 2 is a dream to write with on the iPad or even on the iPhone and Android phones. It's more convenient than most fine-tip stylus solutions since there's no need to pair it using Bluetooth. You can't even say that about the Apple Pencil.
The tip gives users precision and control when using it for drawing in high-end art apps. I use it more for handwritten note taking in Notability on the iPad.
People who carry both an Android device and an iPhone will enjoy the Adonit Jot Dash 2's versatility. You can turn it on with the power button and pick up one phone and then the other. The stylus works with each device as if the phone's manufacturer designed it.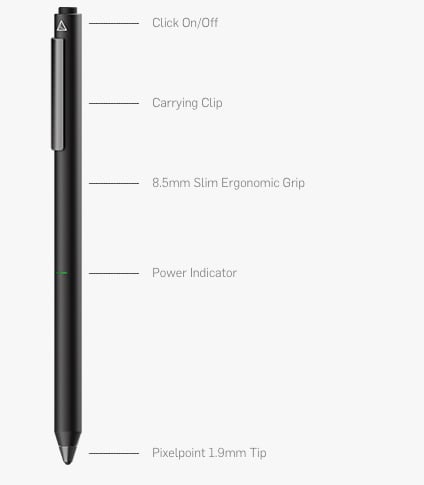 When the battery gets low the LED will show this and the user can quickly charge it up. I leave the charging dongle plugged into an adapter on my nightstand and plug it in about once a week to keep it topped off. That usually works great since I use it for a couple of hours a few days a week. The battery will last longer. I've gone almost a month between the first and second charge, but since then I charge it more regularly so I never turn it on and find it dead.
The clip keeps the stylus connected to the pen holder in my computer bag. Sometimes I attach it to the iPad cover or just carry it around in my pocket. It's sturdy enough that I'm not worried about breaking it in my pocket.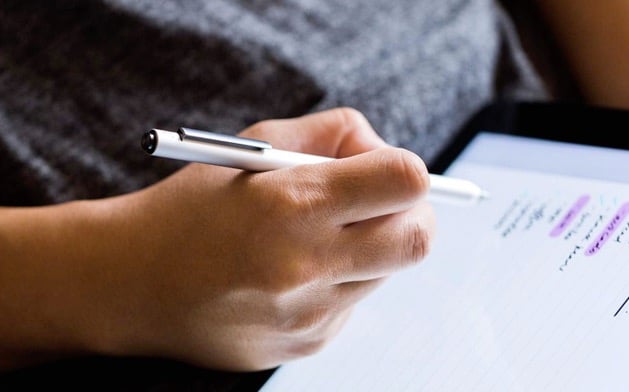 Adonit Jot Dash 2 Value and Recommendation
At only $49.99 direct from Adonit, the Adonit Jot Dash 2 makes a great value and an excellent alternative to the Apple Pencil, which costs $100. You get almost the same level of precision in a lighter and smaller design for half the price. It's also more versatile since it will control an iPhone, any iPad even if it's not an iPad Pro, and it works with Samsung or other Android devices. Get it in two colors, black and white. It's a great buy!

As an Amazon Associate I earn from qualifying purchases.