What's New in Android 8.1 Oreo
In December Google released its new Android 8.1 Oreo software. Building on the core experience of Oreo from August. There are tons of new features, small tweaks, and other improvements. This guide will explain what's new in Android Oreo and shows you what to expect.
There are lots of Android Oreo features that you can use to do more with your phone. It's smarter, faster and more powerful than ever. Users will enjoy bundled notifications that are easier to manage or the new picture-in-picture mode for video. There are changes to the icons, an easy text selection tool, and auto-fill in apps like Google Chrome. Not to mention faster performance and longer battery life.
Read: How to Install Android 8.1 Oreo Right Now
Many of the changes are behind the scenes that you won't see right away but will make a big difference in daily use. After Oreo initially arrived in August, we're now getting the first major maintenance release just a few months later. We'll cover everything that's new, how to install it and more.
Before we begin it's important to remember that most phones don't have Oreo yet. Unless you have a Pixel or Nexus, you're probably still waiting for Android O.
Android 8.0 Oreo Release Date & Updates
For those wondering, Android 8.0 Oreo is a free software update for any and all eligible devices. The first devices to get Google's software are the Nexus 5X, Nexus 6P, Pixel, Pixel XL, Pixel C tablet and Nexus Player. Along with the new Pixel 2.
Read: 9 Things to Know About the Google Pixel Android O Update
Then later this year or in early 2018, expect to see Oreo on devices from Essential, General Mobile, HMD Global Home of Nokia Phones, Huawei, HTC, Kyocera, LG, Motorola, Samsung, Sharp and Sony to name a few.
Android 8.1 Oreo Release Date
On October 25th Google announced Android 8.1 Oreo and confirmed a release sometime in December. Well, faster than many expected, Android 8.1 Oreo and the new Android GO is available starting December 5th. Here is more information for those interested, and lookout for an update in the coming days. Here's what you need to know about Android 8.0 for any other device, and information about 8.1 for Nexus and Pixel users.
What's New in Android 8.0 Oreo (and 8.1)
Below is a breakdown of new features specific to Android O for all smartphones, tablets, and some for Android TV. This isn't a major update to the look and feel of Android, but a lot changed everywhere else.
System Optimizations: Google worked hard across the board to make apps run faster and smoother. System optimizations will enable phones to reboot twice as fast, and potentially deliver twice the performance for apps and games.
Background Limits: A power saving feature in addition to "Doze" that will restrict app battery usage while in the background based on priority. In Android O this will limit how often apps check your location, scan WiFi or access data. (Some apps may need to reload when you re-open them) More info here.
Smart Text Selection: Android O will recognize an address, URL, telephone number, and email addresses. Double-tap and copy/paste will highlight the entire line, then offer apps you'll need next. In addition to the usual copy, paste, or copy all commands.
Notification Dots: The notification system on Android is powerful, but it is getting even better. Small colored dot can extend notifications and app activity to a visual level. Being visible right on icons and viewed by long-pressing any icon with a dot.
Picture-in-Picture Mode: Android TV has PIP mode with Nougat, and now all Android will have it with Android O. This is picture-in-picture video. Imagine watching Netflix and YouTube at the same time. Or a YouTube video while looking up project instructions in Chrome. There is also support for multi-displays. So watch something on a phone and cast another stream to your TV.
Auto-Fill: Just like how our web browsers on desktops and mobile auto-fill information like email or physical addresses, we will now be able to do this in apps. Android O brings auto-fill in a more advanced method to the entire OS. Android 8.1 further improves Auto-fill for an even better experience.
Adaptive Icons & Badges: At-a-glance notification number bubbles or information right on home screen app icon badges. Similar to iOS. Not to mention adaptive icons. Imagine the clock icon always showing the right time, the calendar showing the date, etc. Not to mention neat animations.
Notification Channels: The notification system is changing a little bit, again. Bundled notifications thanks to a new API will let developers have more control over what we see, and how often. We could see cross-device sync later too. More details here. There will also be an option to snooze notifications.
Wide-gamut color for apps: Android developers can now take advantage of new devices that have a wide-gamut color capable display. Like the Galaxy S8. Apps will be more colorful and amazing.
Keyboard Navigation: We already have this to some extent in Android Nougat, and it will be better in O. Allowing swipes and gestures to navigate with the keyboard and text while typing.
Audio Improvements: New low-latency audio, Bluetooth aptX, and other things.
New Android O Emoji: The blob and robot-style Android emoji are dead. Google redesigned every emoji for Android O. In addition to being the first vendor to fully offer Emoji 5.0 support. Including the vomit face, dinosaurs, more hearts, and more faces.
Android O Vitals: A big talking point for Google is Vitals. This project will improve battery life, startup time, graphic rendering time, and device stability.
Rescue Party: Android fixes itself. Rescue Party recovers and fixes core components of the Android OS during boot loops. With each action, the rescue mission digs deeper until boot loops get fixed. As a last resort will recommend a factory data reset. Similar to Windows "last stable version" system restores.
Downloadable Fonts and XML: Developers and manufacturers will have more control over the font and color they provide on devices or in apps. Each app can easily have its own font that won't interrupt our devices.
Fluid Experiences: This allows users to do more with Android. These experiences consist of picture-in-picture mode, notification dots, and adaptive icons.
Project Treble: A new project to make the base of Android modular. The goal is to make Android updates easier for manufacturers and carriers, by keeping the base the same and working across all devices and software versions.
Neural Networks API: The Neural Networks API provides accelerated computation and inference for on-device machine learning frameworks. Basically, this improves performance, on-device computing, and machine learning for a better experience and AI.
Android Go: Similar to Android One, Android Go is a new initiative for budget devices. The entire operating system, Google Apps, and Play Store have been rebuilt for devices with 1GB of RAM or less. Bringing premium Android to every budget smartphone. Android GO arrives December 5th around the globe, and will power devices in India before the end of the year.
More Fingerprint Gestures (Moves): Google will be adding more moves and accessibility features to Android O.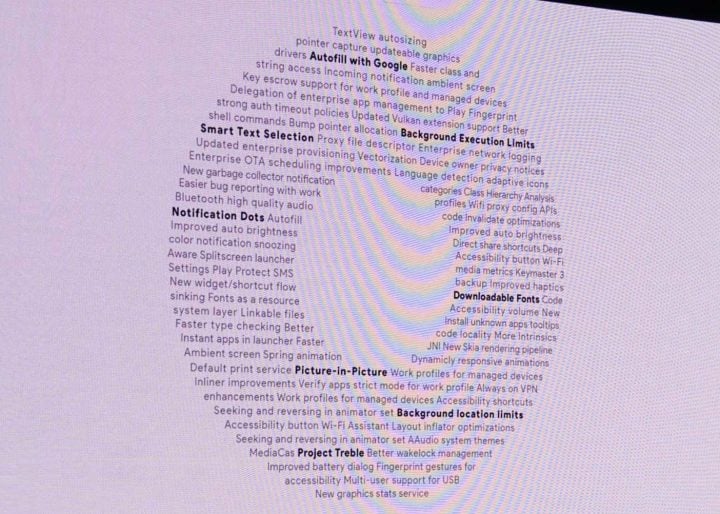 Above is an image provided by Google that teases a few more feature that didn't make the developer preview changelog. All of these are included in the official release in December. Some of these include a new split screen launcher, Instant Apps in the app tray, new screen animations and auto brightness improvements, work profiles, and much more.
What's New in Android 8.1 Oreo
The update to Android 8.1 Oreo is now available and focuses on improving the core experience of Oreo. You'll also see the official release of Android GO, and a few other refinements we've detailed below. Additionally, Android 8.1 delivers key bug fixing changes for Bluetooth.
Since most of what we do know about 8.1 is for developers, the changelog isn't too exciting. Still, Google added a Neural Networks API, Changes to Notifications, Improved Targeting for Low-RAM Devices, Autofill Framework Update, Programmatic Safe Browsing Actions, Added WallpaperColors API, Android Go release, and Fingerprint Updates.
What's Next?
Now you just need to sit back and wait for Android 8.1 Oreo to hit your smartphone or tablet. Google confirmed the release on December 5th and said updates will hit Nexus and Pixel devices over the next week. So, you should get it before the end of the year. Then, If you signed up for the 8.1 Oreo beta expect an OTA update notification in the coming days.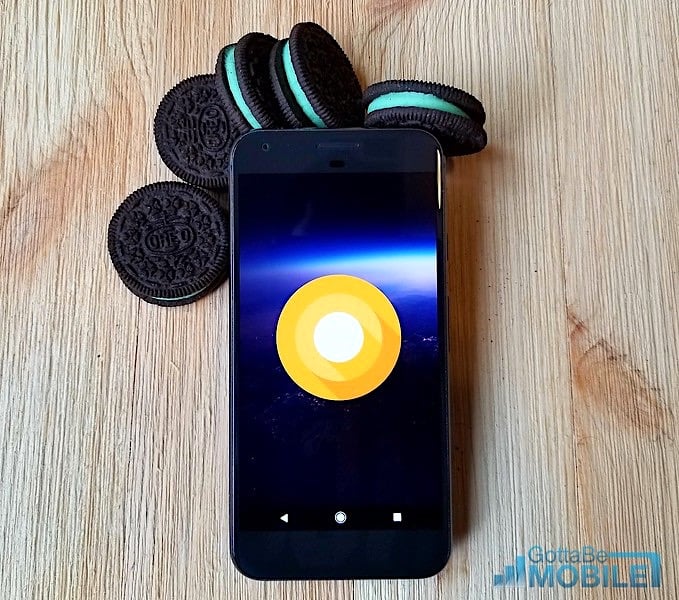 Keep in mind that Android updates arrive in stages. Google starts small, then expands the update to more users.  This ensures a smooth update process and prevents any big bugs to crash the party. Furthermore, you can manually install it with these files, or wait for the over the air notification.
Additionally, manufacturers are still slowly working on Android 8.0 Oreo software updates. Big companies like Samsung, HTC, LG and others all expect to release updates in the next few months. And while some users won't get it until 2018, we believe a few are coming in December. Multiple manufacturers are in the final testing phase.
If you have a Nexus or Pixel device, look out for Android 8.1 starting today. For everyone else, the wait continues.