Apple Watch 5 Pre-Order Tips & Tricks
Apple Watch 5 pre-orders start Friday, and if you want to make sure you get a specific size, color or band, you will need to know these pre-order tips and tricks to make sure the one you want shows up on day one.
The Apple Watch 5 pre-orders start as soon as the event ends, so if you want your delivery on the Apple Watch 5 release date later this month you should prep to order right now.
Just opening up the app won't guarantee you a spot. The initial pre-orders can sell out quickly through Apple and even through carriers. Couple this with overloaded servers and the potential need to pre-order a new phone at the same time and you're in for a challenge. Once the initial pre-orders are in, deliveries may stretch into late September or October.
If you want to make sure your new Apple Watch arrives next Friday, you will need to take some actions right now to prepare. After pre-ordering Apple products for almost a decade, we know what it takes to go to sleep a winner during the pre-order rush.
This guide will walk you through our Apple Watch 5 pre-order tips and tricks that help us lock in the model we want and get it as soon as possible. If you haven't bought an Apple Watch on day one or it's been a while, this is what you need to know.
Get Online Early
Don't run off after this event and think you can just pre-order tonight. You should be ready as soon as the event ends. This will let you get the app open, webpages loaded and make sure you are ready to go.
Sometimes we see pre-orders go live a few minutes early for some users, so once it gets close, start checking to see if you can place your Apple Watch 5 pre-order, This has helped us get an Apple Watch on day one many times.
Have All Your Information Handy
Make sure that you have all of your information handy before pre-orders start. For the basic Apple Watch with GPS, this means knowing your Apple ID and Password. Take a minute and login to your account on your computer and to the app on your phone.
If you plan to buy the LTE model, you will likely need your carrier username and password and you will need to be an authorized user on the account. Login and see if you can start the checkout process on an Apple Watch 4 right now to make sure you are good to go.
Use the Apple Store App
While you can pre-order the Apple Watch 5 in many different ways, the best place to start is in the Apple Store App. This typically stays up better than the website and is more reliable.
Download the Apple Store app and login now to get ready. This is also handy if you plan to order from work or while on the way home.
Be Ready to Buy from Other Stores
While the app is the best place to start, you can also check out other stores, which may have the model you want in stock with faster delivery. We recommend checking;
Sometimes these places will offer faster delivery. Carriers only sell the GPS + LTE model, so don't check there for the WiFi-only Apple Watch 5.
Pick Your Size, Color and Bands Early
There are a ton of Apple Watch 5 options to choose from. You should spend time before pre-orders start figuring out if you want the 40mm or the 44mm Apple Watch 5. Not only is the screen larger, but the size of the watch is also bigger.
You can also look into the colors and materials as well as the Apple Watch bands that come with specific models. You can buy a new band later, but if you want a specific option, figure out if you can buy it with your Apple Watch 5 pre-order.
Have Backup Payment Options Handy
It's foolish to go into this process with only one payment option, especially if it is a personal debit card or even a bank credit card. Too often this large purchase in the middle of the night is flagged fo fraud and you may lose your place in line dealing with it.
You may have better luck with the Apple Card, a business credit card or by alerting your bank. Any way you plan it, have a backup option on hand just in case.
You Can Decide on AppleCare+ Later
While you check out with your pre-order you can pick other options like accessories and AppleCare+. If you aren't decided on buying AppleCare+, you can skip it now and then you have 60 days to add it to your Apple Watch. There's no harm in checking out with AppleCare+, but if you sit and think about it for 10 minutes, you might end up waiting a week for delivery.
Look for Deals Later
On the pre-order night, there aren't many Apple Watch 5 deals. You don't find any deals at Apple and the only real savings we expect are on the LTE models at carriers like Verizon or AT&T. There you can expect to see a waived activation fee and potentially a few months of service. Be on the lookout for any surprise deals with a discount for buying an Apple Watch 5 and a new iPhone, but it's even early for that.
2 Reasons to Buy the Apple Watch 5 & 3 Reasons Not To
Buy if You Want an Always On Display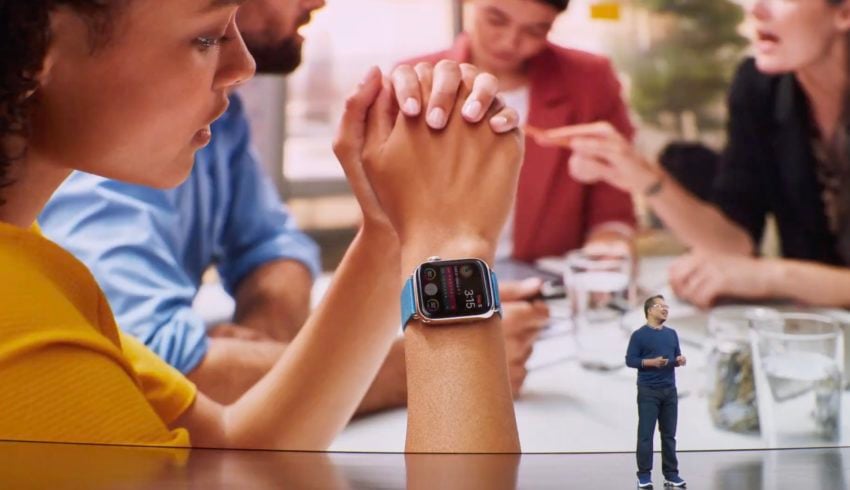 Are you sick of raising your wrist to see the time when you need to know at a glance or wondering how your workout is going? The Apple Watch 5 is a major upgrade with an always-on Retina Display.
Now you can always see the time and your complications without raising your wrist. This is perfect for checking the time in a meeting or just at dinner. The new feature also supports workout modes, so you can make sure that you are on target without trying to activate the display.
This works with all the workout apps and Apple Watch faces. You can always see your time and complications. This is a major reason for many users to upgrade, even from the Apple Watch 4.

This article may contain affiliate links. Click here for more details.