Is iPhone 8 AppleCare+ Worth It? Yes and No…
Is AppleCare+ for the iPhone 8 worth it? That entirely depends on how you plan on using your iPhone 8, your financial situation and whether you're a risk taker. In this guide, we'll go over everything you need to know about AppleCare+ for your iPhone 8 or iPhone 8 Plus, including what it covers, what it doesn't cover and how you can get one of its best benefits for free.
At best, AppleCare+ is a grudge purchase. Nobody really looks forward to forking over an extra $129 or $149 when buying an iPhone 8 or iPhone 8 Plus, especially if there's a chance they'll never actually get anything in return. But it isn't too difficult to understand the value if you've ever had the displeasure of paying for an iPhone repair out-of-pocket.
I typically buy AppleCare+ for my iPhones and iPads. Sometimes it pays off and other times I feel like a chump when the devices last for two years without incident.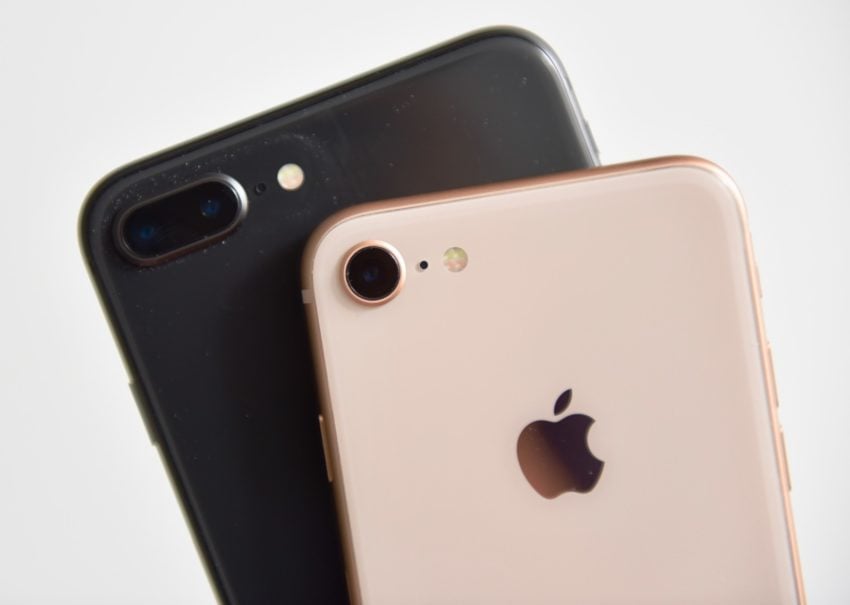 Here are a few quick things to think about before paying for AppleCare+ when you buy your iPhone 8. We'll get into the details below:
Can you afford to replace a broken iPhone 8 without AppleCare?
Are you buying the iPhone 8 on a payment plan?
How long are you planning on keeping your iPhone 8?
Do you plan to put a screen protector and case on your iPhone 8?
Do you have a premium credit card that offers free extended warranties?
Do you work outdoors or near common iPhone hazards?
In general, those who plan on keeping their iPhone 8s for  at least two years, put their iPhones in harm's way, and purchased or leased their iPhone 8s on payment plans will benefit the most from buying AppleCare+. Those that carefully protect their iPhone 8s, work desk jobs, upgrade to new iPhones yearly and have solid credit cards will benefit the least from buying AppleCare+.
How AppleCare+ for iPhone 8 is Worth It:
AppleCare+ doubles the iPhone 8 and iPhone 8 Plus's warranties to two years, extends phone support from 90 days to two years, and helps lower the cost for accidental damage. It's important to note the exclusions and that AppleCare+  does NOT protect your iPhone 8 from loss or theft. If you're looking for iPhone insurance, you should check with your wireless carrier or a specialty insurance provider. Without insurance, you'll have to cover the full cost of replacing your iPhone 8, which ranges from $699 to $949, depending on size and capacity.
Apple's standard iPhone 8 warranty covers defects for one year.  In general, Apple will repair or replace your iPhone 8 for free if buttons stop working, it won't turn on, it won't charge or the display stops working, so long as there's no physical or liquid damage. AppleCare+ extends this coverage from one year to two years. This is especially important to note if your iPhone 8 payment plan since you'll still have to pay it off should it stop working after the one-year warranty expires.
Read: iPhone 8 Problems 
AppleCare+ drastically reduces repair and replacement costs should your iPhone 8 fall victim to anything that's not covered by Apple's standard warranty. If you crack your iPhone 8's display without AppleCare+, Apple will charge $149 to repair it. Apple charges iPhone 8 Plus  owners $169 to repair damaged displays. Repairing displays on both iPhone 8 models costs just $29 with AppleCare+.  The savings on one cracked iPhone 8 display just about covers the $129 that Apple charges for AppleCare+.
| Screen Replacement | With AppleCare+ | Out-of-warranty |
| --- | --- | --- |
| iPhone 8 Plus | $29 | $169 |
| iPhone 8 | $29 | $149 |
If your iPhone 8 has more significant damage than just a cracked display, AppleCare+ easily pays for itself. If you bring a mangled iPhone 8 into an Apple Store for repair without AppleCare+, you'll have to pay $399 for a replacement. If your iPhone 8 is covered by AppleCare+, the replacement price drops to just $99. AppleCare+ covers up to two screen repairs and replacements over two years. That a maximum benefit of $600, or four times the amount of money AppleCare+ costs.
| Total Cost of Out of Warranty Repair | With AppleCare+ | Out-of-warranty |
| --- | --- | --- |
| iPhone 8 Plus | $99 | $399 |
| iPhone 8 | $99 | $349 |
Of course, nobody ever plans on breaking their iPhones,  but you should evaluate how likely it is for your iPhone 8 to break. First responders, construction workers, tour guides,  and parents with small children that should err on the side of buying AppleCare+. If you're one of the many people who refuse to add bulk to your iPhone 8 with cases and screen protectors, you too should buy AppleCare+.
If you're stretching to afford the iPhone 8, you really should buy AppleCare+. Telling someone who doesn't have a lot of room in their budget to spend an extra $129 or $149 upfront might sound counterintuitive, but it can prevent some serious headaches should something happen to your iPhone 8. While Apple's Upgrade Program includes AppleCare+, not all carrier payment plans do. That means if you break your iPhone 8, you will have to pay the full out-of-warranty repair fees of either $349 or $399. If you're stressed about paying $129 upfront, then just wait until you have a smashed iPhone 8 and up to a $399 repair bill to pay. Virtually every time I step foot in an Apple Store, I hear a sob story about someone who has to pay these high fees out-of-pocket.
A lot of people don't think they need AppleCare+ until they bust their iPhones. That's sometimes because they don't fully understand Apple's standard iPhone 8 warranty. One common misconception is that the iPhone 8 is waterproof and Apple covers liquid damage. The iPhone 8 is water-resistant, but submerging it in water can damage it, especially over time. Apple reps check liquid indicators inside of iPhones as part of the repair process and will charge you out-of-warranty rates if there are any signs of liquid damage. If you do plan on using your iPhone 8 near water often, you should invest in a waterproof case, AppleCare+ or both.
If the iPhone 8 is your first iOS device or you often need help using your iPhone, AppleCare+ has one benefit that might be  more important than the cheaper repairs. AppleCare+ extends the iPhone 8's phone support from 90 days to two years. Customers with iPhone 8s covered by AppleCare+ are prioritized before those without AppleCare+.
AppleCare+ is linked to your iPhone 8, not you as a customer. If you upgrade often and pass old devices onto close friends and family, AppleCare+ benefits will follow the iPhone 8.
Apple allows iPhone buyers to return AppleCare+ for a full refund within 30 days of purchase if you change your mind. You can also get a partial refund for AppleCare+ after 30 days for any reason. If you decide to upgrade to another iPhone, decide that you don't really need extended tech support, or just have delayed buyer's remorse, you can get a pr0-rated refund, minus a $25 cancellation fee  and the value of any AppleCare+ benefits you received.
Why iPhone 8 AppleCare+ Might Not Be Worth It
There are many reasons to buy AppleCare+ for your iPhone 8, but there are entirely rational reasons to skip it. If you're extra careful with your iPhone 8, have a good credit card or upgrade to new iPhones often, you may be fine without AppleCare+.
AppleCare+ will give you peace of mind, but don't just buy it because you're scared that you'll be without a phone if something should happen to your iPhone 8. While AppleCare+ offers iPhone 8 owners quite a few benefits, it's worth noting that there are plenty of good phones that you can buy for less than $200. You can score used and refurbished iPhones for under $200 as well. None of these will be as good as the iPhone 8, but a lot of people will prefer taking the risk than blowing $129 to $149 on AppleCare+.
If you take really good care of your iPhone 8 and protect it with a good case, you probably have less reason to buy AppleCare+ than those that let their iPhones go case-less. If you've owned iPhones for years and never had to repair a cracked screen or pay for an out-of-warranty repair, then your iPhone 8 is probably at lower risk.
One of the main reasons I recommend AppleCare+ is because it adds a second year of warranty. However, a lot of credit cards automatically double warranties on everything you buy with them. For example, American Express offers most of its card members at least $10,000 in warranty protection per year. The extended warranty takes effect after the manufacturer's warranty expires and you don't have to do anything to sign up for it.  Visa Signature cards offer cardholders a similar extended warranty. Be sure to read your credit card issuer's extended warranty terms to make sure your iPhone 8 is covered before skipping AppleCare+ however. In general, they require you to pay for the entire purchase with the credit card, which means iPhone 8s on monthly payment plans aren't covered.
| Out of Warranty Repair:Total Cost | With AppleCare+ | Out-of-warranty |
| --- | --- | --- |
| AppleCare+ iPhone 8 Plus | $149 |  n/a |
| iPhone 8 Plus  Repair | $99 |  $399 |
| Total for One Repair | $248 | $399 |
| Total for Two Repairs | $347 | $798 |
If you have enough room in your budget to upgrade to the latest iPhone each year, AppleCare+ may be less attractive. You probably don't need extra help learning how to use your iPhone and won't have any need for the extended warranty. You'll essentially be paying up to $149 for cheaper out-of-warranty repairs. But since you won't keep your iPhone 8 for just a year, you're basically chopping that risk in half.   If you break your iPhone 8  and need it replaced, you would essentially pay a total of $228 for it ($129 for AppleCare+, $99 repair fee). If you didn't have AppleCare+, you would pay $349. A busted iPhone 8 Plus not covered by the warranty would be $399 without AppelCare+.
You may also want to skip AppleCare+ if everyone in your family is buying an iPhone 8 or iPhone 8 Plus at the same time. Some families prefer to self-insure their iPhone purchases by setting aside what they would have spent on AppleCare+ for future iPhone mishaps. A family of four would need to spend $596 for AppleCare+ on a set of new iPhones. That more than covers the cost of repairing one completely broken iPhone 8 and one screen replacement.
The Best Budget Apps for 2020
Mint Budgeting App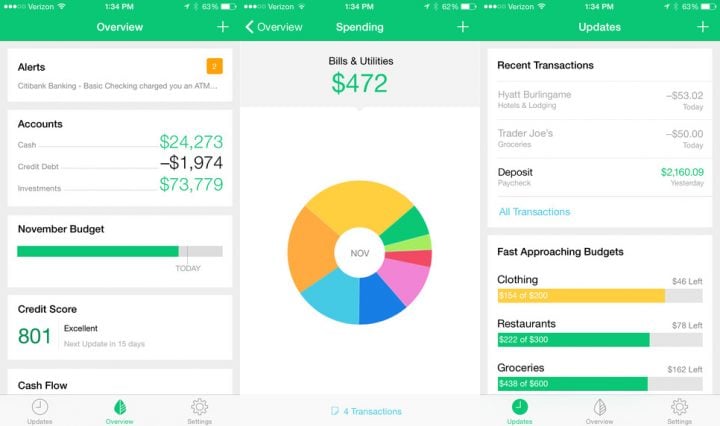 Mint is one of the best budget apps because it takes the hassle out of making a budget. You connect the Mint app to your bank and the app can use your details to help create a personalized budget. We love this budget app because it can help you quickly identify where you are spending your money, so you can see where to trim your current expenses as you make a budget.
It's a very easy app to get started with, so you can take the hassles out of starting a budget for 2020.
The Mint app uses the same security as banks and the team behind this service also makes TurboTax and Quicken, so you can trust that they take all possible steps to secure your accounts and your data.
Mint will send you alerts to unusual charges and helps identify tips customized to your spending that can help you reduce the money you spend on fees and on other bills. Mint also includes your credit score, so you can see a big-picture view of your budget and your personal finances. The base subscription is free, but there is an optional in-app purchase of Mint Live for $24.99.
With the Mint apps for iPhone, iPad and Android you can see your budget anywhere and there is also an online component to look at from your computer and a bill pay component to help you manage and pay your bills in one place.

As an Amazon Associate I earn from qualifying purchases.