10 Best iPhone 7 & iPhone 8 Screen Protectors
Here are the best iPhone 7 screen protectors and iPhone 8 screen protectors to keep your iPhone screen safe. These will protect your iPhone from scratches and even from a broken screen if you drop your iPhone.
We'll also help you decide if you need an iPhone  screen protector in addition to an iPhone 7 case or an iPhone 8 case.
We've used these brands and screen protectors for the last several years, and they've definitely saved our iPhones from breaking when dropped.
A new option will even cover most of the cost of a screen if you break your iPhone screen while using it. If you are looking at this because you broke your screen, check out the five best iPhone screen repair options.
If you decide that you need an iPhone 7 or iPhone 8 screen protector it is important to buy one of the best options out there. It is tempting to buy a $5 iPhone screen protector on Amazon, but then you're going to lose many benefits of the iPhone 7 or iPhone 8 display.
The iPhone 7 screen is 25% brighter and offers a wider color gamut, which means it will look better than any iPhone screen you've used. The iPhone 8 display supports HDR and True Tone. If you slap a cheap iPhone screen protector on either of these devices, you'll miss out. You also want to make sure your screen protector works well with Touch ID.
You can choose from glass, plastic and military grade iPhone 7 and iPhone 8 screen protectors. All of these come in an iPhone 7 Plus and iPhone 8 Plus version. Each one will offer its own set of advantages and a different look and feel. Here are the best iPhone 7 screen protectors and iPhone 8 screen protectors you can buy;
InvisibleShield iPhone Screen Protectors
tech21 iPhone  Screen Protectors
Moshi iPhone Screen Protectors
Belkin iPhone Screen Protectors
BodyGuardz Pure 2 Premium Glass Screen Protector
If you are on the fence, I'll also walk through why you need an iPhone screen protector.
Do I Need an iPhone Screen Protector?
Many users will enjoy the benefits of an iPhone 7 screen protector, but cheaper iPhone 7 screen repair options could leave some users taking a chance.
Apple offers an iPhone screen repair option for the iPhone 7, iPhone 8, iPhone 7 Plus and iPhone 8 Plus at $29, which is cheaper than many screen protectors. This new AppleCare+ with accidental damage includes screen only repairs for $29 and full repairs for $99.
Even with this new iPhone screen repair option, an iPhone 7 screen protector can prevent that damage from happening in many cases and a lot of these options include free screen protector replacements.
If you don't have AppleCare+ an iPhone 7 screen protector is a very good investment. A drop onto a hard surface can damage the screen easier than you think. While the screen is resistant to scratches, it's not un-scratchable. If you throw your iPhone in a purse or a bag often, you should buy an iPhone 7 screen protector.
One of the reasons you need an iPhone screen protector even if you have AppleCare+ is that the screen repair won't cover a small scratch in most cases. Also, if it breaks, you will need to go to an Apple Store and wait 30 to 90 minutes or send your phone in for repair.
InvisibleShield iPhone 7 and iPhone 8 Screen Protectors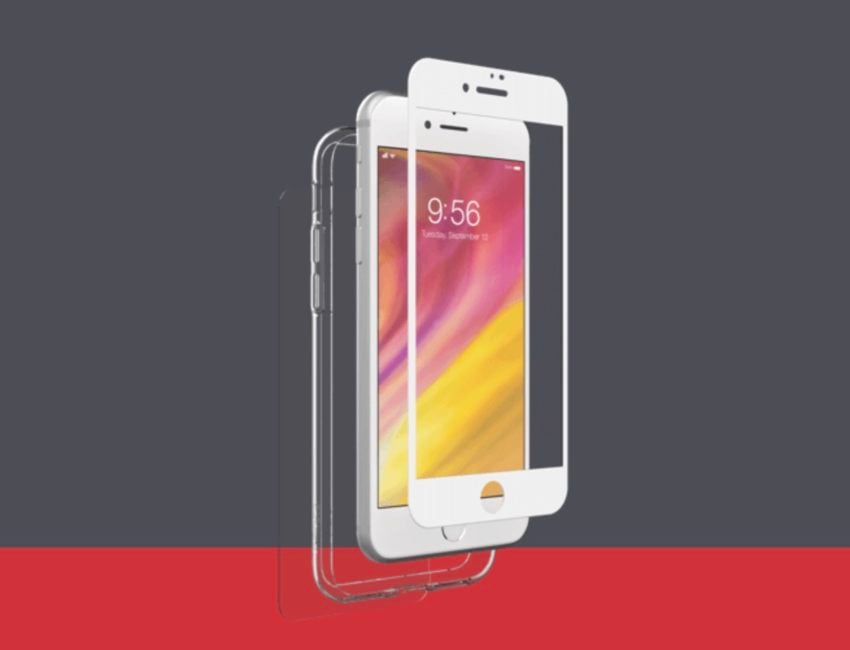 These iPhone 7 and iPhone 8 screen protectors will help protect your iPhone screen with shatter protection or help repel oil and smudges from your iPhone screen. There is also an iPhone 7 option that includes a case and will pay for screen repair if the screen protector doesn't keep your screen safe.
Zagg offers many different iPhone 7 screen protector options and will even replace your iPhone screen protector if it breaks. They don't cover the screen unless you have that plan. The Glass+ is available for the iPhone 7, iPhone 7 Plus, iPhone 8 an iPhone 8 Plus. the iPhone 8 Plus also includes several film options.
The new Glass+ 360 screen protectors include protection for the front and back of your phone.
Glass+ 360 - This new protection include a glass screen protector on for the front of your phone and a hybrid glass protector for the back. The kit comes with a bumper that protects the corners of your phone. This is a total protection solution that still shows off your phone's design. $69.99 at Invisibleshield
InvisibleShield Glass+ – An extremely durable tempered glass screen protector with advanced impact protection, scratch resistance, and reinforced edges. Glass+ features Ion Matrix technology which strengthens, polishes and eliminates imperfections in glass, making it 2X more impact resistant than an unprotected screen
InvisibleShield Screen Guarantee Plan - This includes an InvisibleShield Sapphire Defense screen protector and a case. If your screen breaks they send you a $100 Visa gift card.
If you cannot stand seeing fingerprints or you are constantly dropping your iPhone 7 or iPhone 8, these are amazing options to consider.
Tthe Glass+ is $39.99. Invisibleshield makes these for the iPhone 7 and the iPhone 7 Plus as well as the iPhone 8 and iPhone 8 Plus.

As an Amazon Associate I earn from qualifying purchases.