Are Early Black Friday 2014 Deals Worth Buying?
Should you buy early Black Friday 2014 deals, or are you better off waiting for Thanksgiving Day, Black Friday 2014 and Cyber Monday?
Over the past several years Black Friday crept closer to the start of November, and this year Walmart started early Black Friday 2014 deals on November 2nd and Target is offering early Black Friday 2014 deals on November 10th.
There is no escaping Black Friday creep, and if you are shopping for the best deals you might be tempted to buy now and skip the madness and lines associated with Black Friday and Thanksgiving Day.
We'll look at the early Black Friday 2014 deals, what we expect from major retailers and for big name gadgets and how you can figure out if your getting a good deal.
We are already seeing the official Black Friday 2014 ads from big names like Target, and it won't be long before the Best Buy and Walmart Black Friday 2014 ads arrive with more deals, but for shoppers there is a temptation to buy the early deals right now, instead of chancing a store running out.
Here's what you need to know before you buy your first Black Friday deal.
Are Early Black Friday 2014 Deals Worth It?
There is no cut and dry answer to this question, but with a minute or two of research you can figure out if the deal you are looking at is worth buying now, or if you should wait it out.
We've already seen an iPad Black Friday 2014 deal with inflated savings and now that the official Black Friday ads are out we know that waiting will save shoppers an additional $30 on an iPad mini. A lot of times the big savings are from gift cards, so you'll also need to factor that in to your decision to buy today or wait for Black Friday 2014 deals to start.
In Target's early Black Friday 2014 ad, the Apple TV is $10 off, which isn't a great deal. If you really want to save, just buy the $75 refurbished Apple TV from Apple. On the other hand, $50 off Beats headphones are worth checking out, as is $50 off the nabi 2 tablet. It all comes down to the specific deal, the regular price and what it might be in two weeks.
Compare the Black Friday 2014 Deals
In this example the Walmart iPad mini Black Friday deal cut the price to $199, which is $50 less than Apple charges now. That's a good deal, but Target sells the same iPad mini for $249 plus a $80 gift card. Both offers are available online, so you don't need to wait in a store, but there is a greater chance the Target deal will sell out quicker.
You need to decide if saving $30 more and getting it in the form of a gift card is better than a $50 up front discount. There are other deals that offer bigger savings, and we don't expect early Black Friday 2014 deals to match the $140 off the iPad Air 2 at Target on Black Friday.
When you see an early Black Friday 2014 deal, check it against our 2014 Black Friday predictions to see how it stacks up to expectations and as the date approaches to the actual Black Friday 2014 ads. For some deals, like the $99 iPhone 6 Black Friday deal on November 15th, there's little question — it's worth buying.
If you are within $10 to $15 on most items, and can buy it without any waiting or chance of a sell out, that's a small price to pay for securing the deals you want without waiting for Thanksgiving Day or Black Friday 2014 proper.
Price-Matching for Black Friday
Anytime you try to price-match on Black Friday you get into a gray area where retailers like to stack the deck in their favor with asterisks and special models. Even some credit card price-matching considers Black Friday a special day where they can't match the price.
If you buy early, you can keep an eye on the price through Black Friday and if the retailer supports it go in to get the price matched. Keep in mind if it is lower somewhere else your chances of a price-match are slim since it will sell out fast and occasionally it is a different model number.
The Best Strategy
Here's how we decide to buy an early Black Friday 2014 deal or wait for Thanksgiving Day. As long as the deal is within $20 it's worth considering.
From there we look at what we might save by buying online on Black Friday. Waiting in line for anything less than $30 to $50 in additional savings isn't worth your time on Black Friday or Thanksgiving. If it is a deal you can buy online before Black Friday or walk into a store with no lines and buy, you should consider it.
Here's the real secret, and it's an easy one for most of us. If you buy an early Black Friday 2014 deal of any kind, don't open it until after Black Friday. Most items are now part of gift giving return schedules so you have more than 14 days to return your early Black Friday 2014 deal. Shipping is also almost always free so you aren't out any added money.
If you see a better deal on Black Friday 2014 or Thanksgiving Day, buy it and just return the early deal for your money back. Watch out for any fine print and deadlines for returns, especially on gadgets.  Thankfully most retailers no longer charge obscene restocking fees.
Black Friday 2014 Deals & Ads
Walmart Black Friday 2014 Ad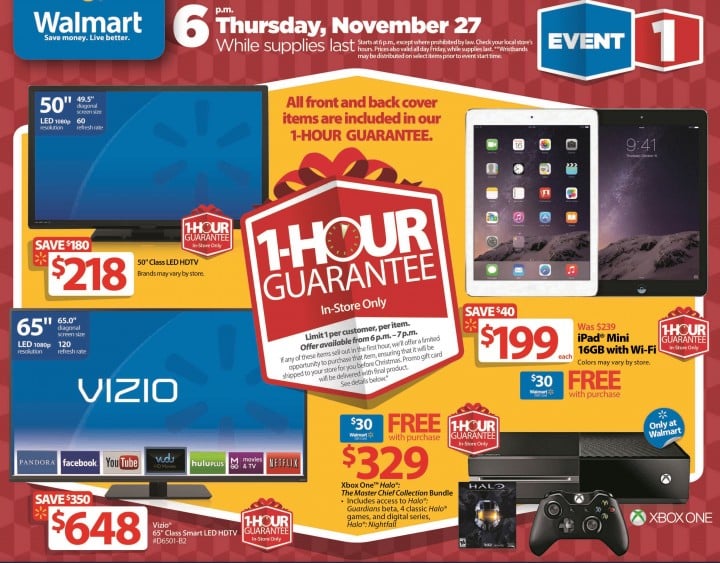 Walmart Black Friday 2014 deals start at 6PM on Thanksgiving and roll all the way through Cyber Monday. There are three specific events on Thanksgiving and Black Friday 2014, including nine 1 Hour Guarantee items that are in stock or you can get it by Christmas at the Black Friday price.
This includes a 65-inch Vizio HDTV for $648, the Xbox One with Halo for $299 after gift card rebate and an iPad mini for $169 after gift card.
You can check out more details on how the Walmart Black Friday 2014 1 Hour Guarantee will work. Duncan Mac Naughton, chief merchandising officer at Walmart states, "We've taken significant steps to improve the 1-Hour Guarantee process from beginning to end. It's simple and seamless."
Walmart beat our Xbox One and PS4 Black Friday 2014 predictions with big savings on the Xbox One and the PS4 GTA 5 and The Last of US Remastered bundle for $399. Here's a look at the nine guaranteed in stock items for 2014.

50" Class LED HDTV for $218 ($180 savings)
Vizio 65" Class Smart LED HDTV for $648 ($350 savings)
Apple iPad Mini 16GB with Wi-Fi for $199 with a $30 Walmart Gift Card ($70 value)
Xbox One Halo "The Master Chief Collection" Bundle for $329 with a $30 Walmart Gift Card
RCA 7" Google Play Wi-Fi Tablet for $29 (special buy)
Samsung Galaxy Ace Style on Straight Talk Wireless for $29 ($100 savings)
LG Blu-ray Disc Player for $35 (special buy)
Beats by Dr. Dre Wireless Headphones for $149 ($130 savings)
HP Intel Celeron Touch Laptop for $249 (special buy)

You can see the full Walmart Black Friday 2014 ad and deals online now. Wlaamrt will post store maps on November 18th and share more detials as the event approaches.

As an Amazon Associate I earn from qualifying purchases.