10 Best Amazon Fire HD 10 Tablet Cases (2017 Version)
The Amazon Fire HD 10 tablet is more durable than an iPad, but we still recommend getting a good case to keep your tablet safe. As a result, we've gathered up a list of the best Amazon Fire HD 10 cases worth buying today. We'll explain what they each have to offer and why you should want one.
Amazon refreshed its line of tablets in late 2017. Offering impressive screens, fast performance, and lots of neat features all at an affordable price. This means you'll have money leftover for accessories, like a case.
Read: Best Amazon Fire 7 Screen Protectors
Our list offers everything from thin cases, cheap options, kickstand cases, to heavy-duty protection. You'll find some cases as low as $11, which is a small price to pay to protect your $150 tablet. Additionally, you can spend upwards of $30 to get the most durable cases or one with more features. Whether you need a case for your children's tablet or your own, we have you covered.
While we recommend investing in a quality case from Amazon themselves, even a cheap $12 TPU or flip case from an unknown brand is better than nothing. In fact, some of those cheap "TPU bumper" cases offer the most protection.
Keep in mind that while the Amazon Fire HD 10 (2017) looks nearly identical to the model released a few years ago (2015 model) they are different. That means you must pay special attention while buying a case, and choose one that's designed specifically for the 2017 Amazon Fire HD 10.
Luckily, we've done the hard work for you. Below, we've gathered a list of 10 different Amazon Fire HD 10 (2017) cases from brands we know, use, and trust. These all have different styles, additional features like a kickstand, or even a keyboard. Basically, each case specifically fits your tablet and comes in multiple different colors.
We've found cases with a screen protector built-in too, to keep the whole tablet safe. This way your Amazon Fire 10 will survive life's daily hazards, careless kids, traveling, or a busy day at work. With that all said, grab a case from the slideshow below. Then, enjoy your tablet for years to come.
Official Amazon HD 10 Tablet Case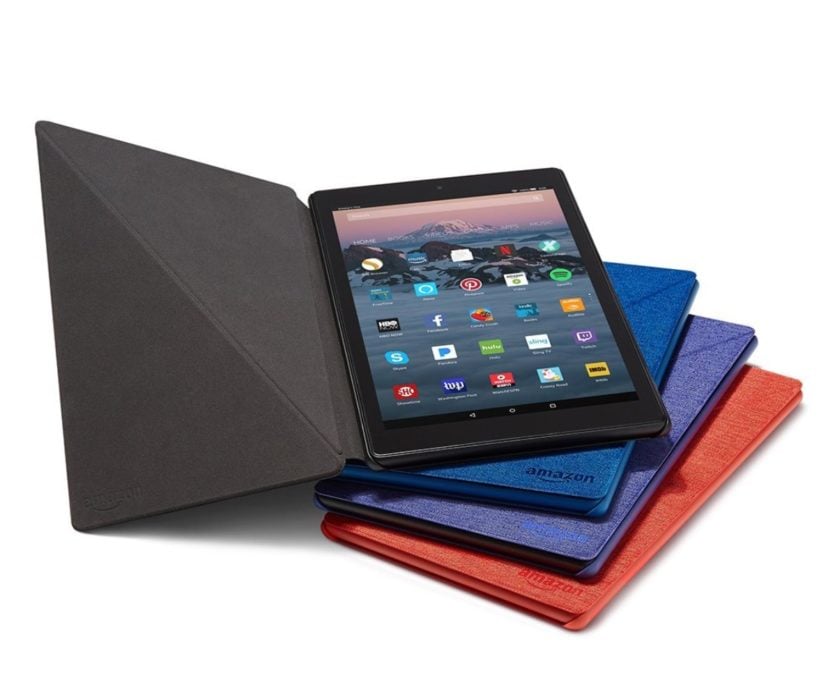 First up is the official Fire HD 10 (2017) case from Amazon themselves. This is the most expensive case on our list, but likely one of the best.
Amazon is offering a well-rounded case that looks good, feels good in the hand, fits great, and offers a decent amount of protection. Their full-cover case comes in four different colors and folds closed with a magnetic latch. That way the flip cover won't accidentally open and expose the screen while you're traveling.
The magnetic latch wakes or sleeps the tablet when you open or close the case, too. You'll also enjoy how the case folds out and doubles as a kickstand. It works in both portrait or landscape mode, and is fairly durable and stays upright with ease. That said, there's only one fold so you're options for angles is very limited.
Amazon's case has a hard polycarbonate plastic shell and a soft fabric on the outside for good looks. The inside is all microfiber too, so your tablet won't get scratches.
Buy it Now for $39.99 in four different colors