10 Best Android Video Player Apps (2019)
In this guide we'll share a list of the best Android video player apps. While most phones come with a video player pre-installed, the ones from our list below offer more features, better controls, and wider support for any video format on the market.
Typically, apps like Netflix and even Plex do all the work for you. That said, those looking to play their own video files or collection will want a new Android video player app. Even if you have video files in a weird format or codec, we have you covered.
Best Android Video Player Apps
So, whether you're looking to replace the stock video player app on your phone, or want to turn a spare device into a home theater, try one of these Android video player apps.
MX Player
The first app on our list is MX Player, whose tagline is literally "Play Everything". MX Player is the perfect blend of powerful codec support, ease of use, and a beautiful interface. It's easy to understand and use, for anyone, while having more than enough support for enthusiasts at the same time. This is still my go-to app in 2019.
Another big aspect of MX Player is all the gestures. You can control almost everything right on the screen, without covering up your video content. It supports various gestures, swipes, or pinch to zoom. Fast forward, turn up the volume, pause, or change the aspect ratio all with ease.
MX supports color-coded subtitles, and you can even lock the app so kids can watch a movie without messing anything up, closing the app, or opening other apps. If it doesn't have the codec you need, download some of the many MX codec packs from the Play Store. This app is highly recommended.
Download – MX Player
AllCast Video Player and Stream
Next, we wanted to recommend something a little different than your average VLC video player. If you've never tried AllCast, you're missing out. AllCast specializes in sending all your locally stored content or videos to basically any and every smart device in your home. Stream and watch videos on your Roku, XBox, Chromecast, Android TV device, and most smart TV's released in the last few years.
This supports most codecs, and will basically let you "cast" any video file (or photo) from your phone or tablet to a wide array of devices you might own. So while it's not your typical video player app, it plays a little of everything, everywhere. The free version only gives you 5 minutes of video, but the paid version is unlimited.
Download – AllCast
VLC Player
Of course, we have to recommend VLC Player, which is actually the video player I use every single day. VLC is one of the most popular video players in the PC world, and they have a pretty great Android app too.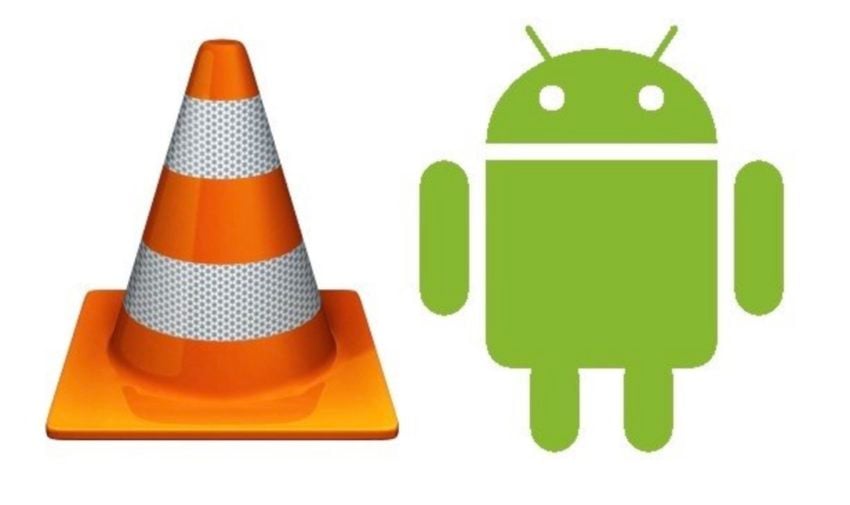 VLC is pretty much the pioneer of do and play everything, and like MX, is simple to use yet extremely powerful. VLC supports almost every video codec you can imagine, lets you add-on more if needed, and gives you lots of controls and options. From gestures to change the volume or brightness, subtitles, tracks, or stream different audio files with video. It's perfect for all you torrent users.
Then, on top of playing anything from your phone VLC works with network streams, network shares and drives, and DVD ISOs and more. It's just as capable as the PC version. VLC works with Picture-in-Picture mode on Oreo or Android Pie, too.
Download – VLC Player for Android
AC3 Player
When it comes to playing video files on Android a common frustration is anything with the AC3 codec. We're sure you've seen that error before, especially if you're coming from Apple devices to Android. If so, try the AC3 Player linked below.
There are a few different AC3 Players on the Google Play Store, but this one is our favorite. It does video, audio, manages your files, and has plenty of playback options and controls. It's a good all-in-one video player to handle AC3, Apple files and handles just about anything else at the same time. It might not be feature-packed like some players, but it has all the essentials.
Download – AC3 Player
Archos Video Player
Another excellent video player app for Android is the official Archos Video Player. In the early days of Android tablets, this was the only app I ever used. And, it's still extremely capable today. As an added bonus, if you use an Android TV Archos Player is a must-have download.
Archos Video Player has a huge selection of codec support, a clean and easy to use interface, and Album Artwork. Yes, it doesn't matter where the video came from, it will look like a purchased video file. You'll get the DVD cover artwork, playtime, and all that premium information you'd expect on Netflix. So even if you torrent videos, you'll get a great experience with Archos. Pair it with the SHIELD TV and you're all set.
Download – Archos Video Player
BS Player
One of the oldest video player apps for Android is BS Player. Just because it's old doesn't mean it's not worth using. In fact, despite the odd user interface BS Player is extremely easy to use, powerful and filled with features or controls.
It supports network DLNA streaming, multi-core hardware decoding, tons of codec packs, and the ability to stream video from compressed formats. That's pretty neat. We like the screen-lock so you don't mess up a video file, and all the controls for volume, brightness and more right from the now playing screen.
Download – BS Player
Video Player All Format
Another highly recommended video player app for Android is "Video Player All Format". Odd name aside, this app has tons of features, including 4K video playback.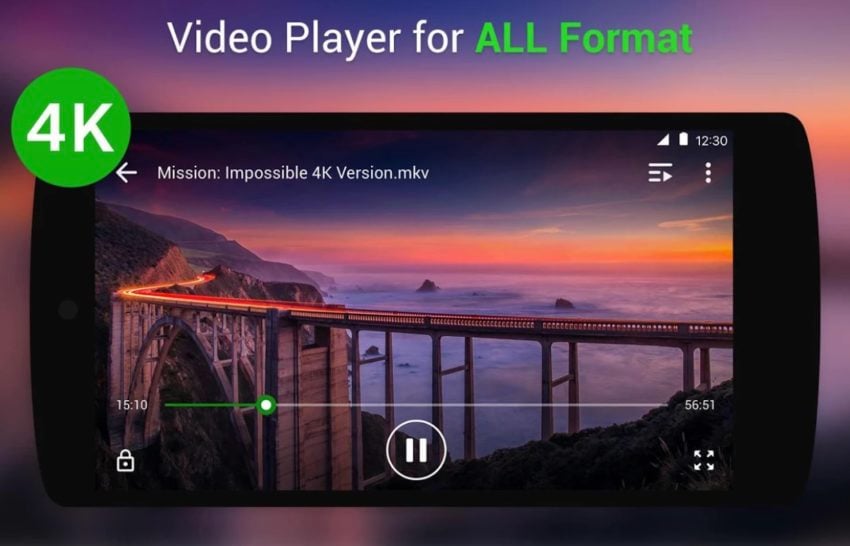 These guys support nearly any video codec or format, and the app has lots of fancy features. Lock down the video player with a password or pin, play videos in the background, use subtitles, control everything with ease, gesture support and more. It's just a clean, simple, yet powerful video app for Android.
Download – Video Player All Format
PlayerXtreme
If you ever used PlayerXtreme on iOS, you'll be happy to know it works great on Android too. Xtreme supports over 40 different file types, codecs, subtitles, hardware acceleration, and streaming from anywhere. It basically does everything and is a great all-around video player.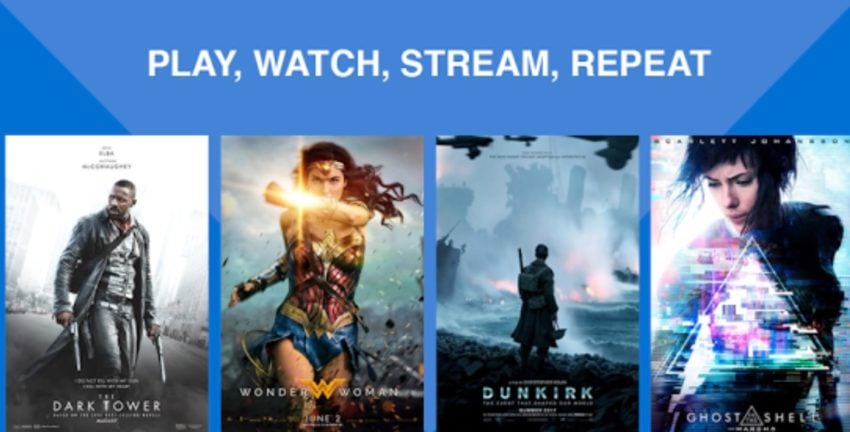 Not only can this play virtually any video on your Android phone or tablet, but you can stream content in or out of a PC or smart device at the same time. It works with your computer and all those video files, your phone, tablet, or your Android TV device. It's quite powerful, so check out the Google Play listing and see for yourself.
Download – PlayerXtreme
Mobo Player
Another popular and well-established video player for Android is Mobo. This app does a little of everything. From batch editing video files, compression, video editing and GIF making, and playing videos too. Yes, a little of everything.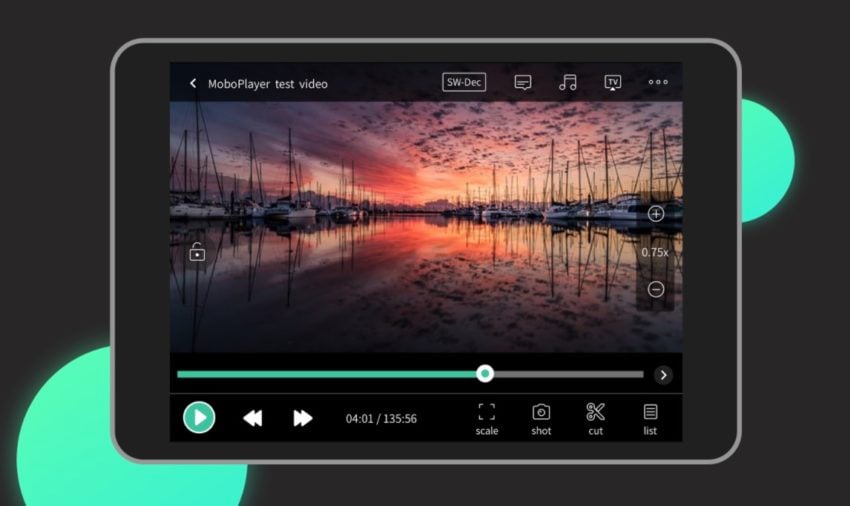 Mobo Player has a beautiful interface, works with tons of codecs, 4K video, streaming support from multiple devices, DLNA, and thumbnail artwork are included too. It basically plays almost anything, lets you edit your videos, and looks good at the same time. Give it a try.
Download – Mobo Player
KODI
Previously known as the Xbox Media Console, KODI just has to end this list. Everyone should know about KODI by now, but if not, this basically turns your Android device into a powerful multimedia hub.
With KODI you can access locally stored content, streams from the internet, torrent streams, network storage files, internet files, and other popular apps. It basically pulls video files from anywhere and everywhere, no matter the file type or codec, and plays them. It's one of the most popular video players on the planet for a reason, so get this if you haven't already.
Download – KODI
In closing, it's always a good idea to try out the default video player app on your device before you go looking for alternatives. Samsung's Video Player is pretty decent, Motorola has one, and the built-in Android video playback tool on stock Android works ok too.
That said, everything on our list has more features or supports a wider array of video files. Now that you have a list of our favorites, download what meets your needs and enjoy some videos on your Android device of choice. While you're here, take a peek at these 9 best Android emulators for PC. Or, use one of these video players to help you cut the cord and ditch cable.

As an Amazon Associate I earn from qualifying purchases.