5 Best Apps to Free Up Space on Android
In this guide we'll share a list of the best apps to free up space on Android. While most devices come with a microSD slot to expand storage, running out of space is still a problem for millions of users. However, a few simple steps and helpful apps can clean up your phone and give you some space back.
Whether you download big apps and games or have tons of photos and HD video, storage space can quickly run out. When it does, your phone might start to misbehave or become unresponsive. Or, at the very least, slow down and offer a poor experience.
Read: How to Copy Files from Android to Mac
And while there are a few easy ways to free up space yourself, a lot of people don't know what to do. If you don't know what apps to remove or how to clear the cache, we're here to help. Below we've found some safe and effective apps to help free up space on your Android phone.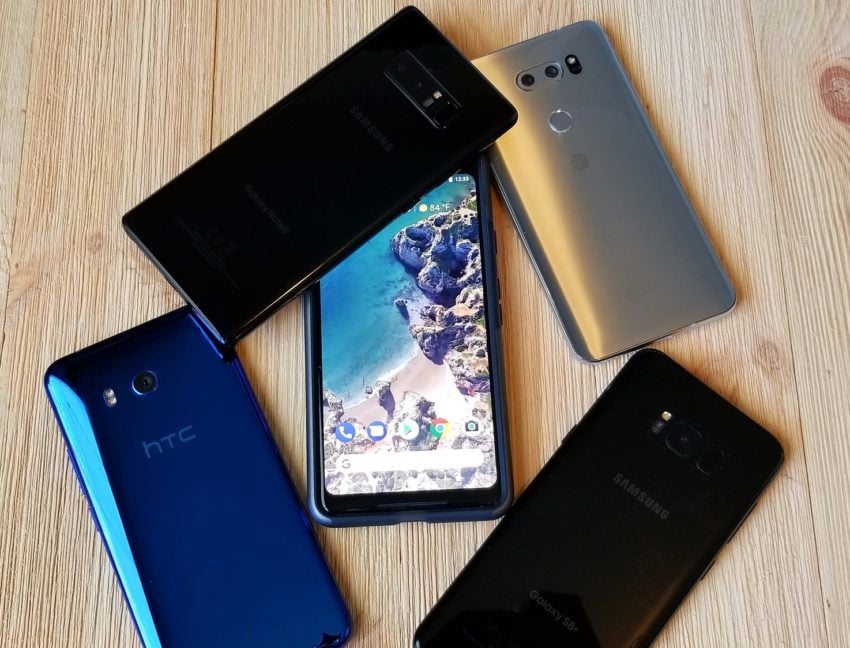 Best Apps to Free Up Space on Android
Whether you're running out of storage or you just want to clean out your phone before the new year, this is how. It's also a good idea to run apps like what we've detailed below for big updates like the upcoming Android 8.0 Oreo release. Giving your phone a fresh start and making room for the update files.
It's important to use apps that actually work, and come from trusted name brands. Otherwise, you could install something that slows down your phone or even give you malware and viruses. Android cleaner apps can be very helpful, and these are some worth trying.
CCleaner for Android
If you've ever used CCleaner on your desktop computer or laptop you know exactly what to expect. CCleaner is a trusted brand, and their app serves multiple purposes on Android. From deleting old unwanted files, clearing the cache, removing old WhatsApp files, downloads, browser history, app data and more. Then, it safely monitors your phone and lets you know what's taking up space, or if anything is acting up.
If there are old files from WhatsApp, Snapchat, or even something you downloaded forever ago and never gets used, CCleaner will delete it. Whenever you update an app or get a software update, residual files get left behind. That's where CCleaner comes to the rescue. It knows what can and can't be removed, and does all the heavy lifting for you. Basically, it quickly and easily reclaims your phones storage space.
For those that don't know, cache files are leftovers from apps and software updates. Every time you watch a video on Facebook, Instagram, YouTube, or browse the web, files get temporarily saved. One of the easiest ways to free up space is by clearing the cache for YouTube or your favorite social media app.
CCleaner will safely speed up your phone and remove junk files. You can even delete call logs or text message history one at a time, or in batches. Give it a try today.
Download – CCleaner for Android
Clean Master
Another great app for taking back control of your Android phone's storage is Clean Master. In fact, the system maintenance tools on the Galaxy S8 and Galaxy Note 8 use Clean Master, so download this app with confidence.
Clean Master works like CCleaner, but it's actually more powerful. Now that Cheetah Mobile owns the app, it has some ads and bloatware, so I don't use it as much as I did a few years ago. However, it's still one of the best and most effective ways to clean up your phone.
It doesn't just clean up your device, it also optimizes it for the best possible performance, finds duplicate apps or photos and gives you the option to delete them, and has a built-in antivirus and malware detector. And with over 40 million reviews on the Google Play Store, you know it's doing something right.
Clean Master will remove junk files, clear the cache, download and browser history, call logs, and manage your photos and videos. We also like the built-in memory and battery manager, which detects apps using too much battery and quickly closes them. It's a full-featured app we recommend downloading if your phone is running slow.
Download – Clean Master
Google Photos
Thousands of photos and hundreds of 1080p or even 4K video is also a huge reason for storage issues on Android phones and tablets. One of the easiest ways to free up space on your phone is to download and use Google Photos.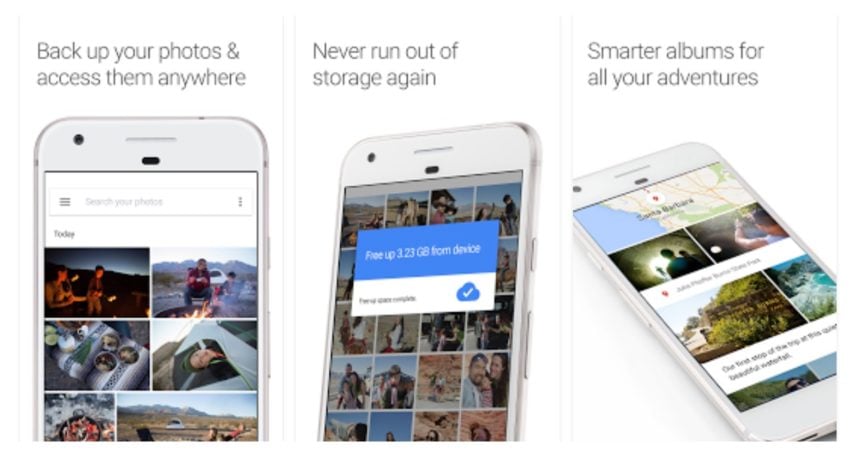 Not only does Google Photos offer unlimited photo backup, but it will automatically backup all your images and video too. It's all safely stored in the cloud, available everywhere, that way you can delete hundreds of photos from your phone. Instantly getting tons of space back. Additionally, Google Photos has a "free up space" option that backs up then removes new photos, or deletes duplicates for you.
Google Photos has amazing editing tools, automatic filters or effects, and much more. Take advantage of everything it has to offer and free up space at the same time.
Download – Google Photos
Avast Cleanup & Boost
Another company you probably know and trust is Avast. They're one of the leading free anti-virus programs for PC and Mac, but they also have some great apps for Android. Avast Cleanup & Booster is one more we can recommend without hesitation.
Avast is a highly effective junk and file cleaning app for Android. The overall ideas and designs are similar to Clean Master. However, they use their antivirus deep-scan technology to use for scanning storage and intelligently helping users get the most from their phone. The deep analysis also offers tips for keeping your phone clean and cutting down on junk files.
Basically, Avast Cleanup will keep your phone free of junk, alert you when it's time to run another scan, and does all the heavy lifting for you. If you've ever enjoyed Avast on a PC, give this a try.
Download – Avast Cleanup & Boost
Files Go (by Google)
A newcomer to this list is an app from Google called Files Go. It's unlike anything else on this list but does many of the same things. Files Go has a simple to understand and easy to use interface for keeping your phone clean.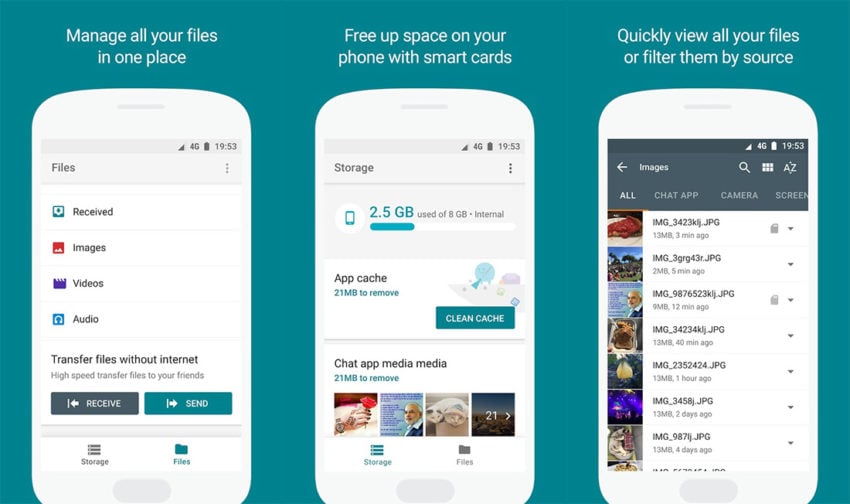 With Files Go you can manage any and all files in one place, sort them by the source or where they came from, then remove anything you don't need. It will offer suggestions for files, apps, cache, junk, bloatware, and even social media files on your phone.
You'll love the smart cleaning recommendations, file cloud backup support, and the option to send encrypted files to friends or family. Yeah, there's a hidden feature that lets you send and receive files almost instantly with other Android devices. It's like a simplified version of Clean Master without all the ads.
Download – Files Go
Final Thoughts
And finally, it's always a good idea to manually manage your phone every once in a while. Go through and delete old text messages, clear your call log, and uninstall apps you no longer use. We also recommend booting into recovery mode and clearing the cache for your entire phone.
If that sounds a bit confusing, just use the apps we've detailed here to do the work for you. A few honorary mentions go out to apps like Duplicate Contacts & Utilities, History Eraser, or Startup Manager.
Read: How to Check for Updates on Android
In closing, you probably noticed we didn't include any task killers on this list. While some of those can delete unwanted files after use, most of them just close all running apps on your phone. Yes, this will speed up your phone for a moment, but Android handles all that for you. Task Managers end up wasting more battery life and are counterproductive.
With that all said, try some of the apps above to take back control of your phone. Reclaim your storage space and improve performance and battery life at the same time.