Best Black Friday Deals Yet To Arrive in 2014
The Black Friday 2014 ads reveal an impressive array of deals, and in a surprise we're actually looking at the best Black Friday deals in recent memory.
Every year we cover Black Friday, and we've been shopping Black Friday for almost twice as long, and 2014 is finally the year we're seeing an overwhelming amount of good and great deals.
Most impressive is the fact that there aren't as many bad Black Friday deals that shoppers should avoid. There are still some bad deals, like the RCA tablet sold at Walmart and Target, but overall there is not a long list of bad Black Friday deals out there.
Even the cheap Black Friday notebooks and tablets offer better equipment than we saw in 2013. Instead of incredibly old notebooks and tablets that might last three months if you are lucky we're seeing good specs on notebooks and acceptable cheap tablets.
These are not the best notebooks on the planet, and honestly you're going to get a better experience if you buy a Black Friday Android tablet deal for a Samsung tablet instead of a DigiLand, but for $40 you actually get a working tablet that users review highly given the price.
It's refreshing to look through a hundred pages of Black Friday ads and only find a handful of items you shouldn't buy. Even many of those are simply not worth buying on Black Friday due to the time and small amount of savings.
You still need to do your research and look for reviews before you buy, but if you are shopping for gadgets and electronics at stores that normally sell these — like Walmart, Best Buy and Target — you'll find an overwhelming list of great deals that offer real savings on products that are worth buying. Continue to be on the lookout for Black Friday tablet deals at Walgreens, where you'll overpay for a Polaroid Android tablet, but for the most part if you go to the big names you'll find great deals.
Here's a fast look at some of the best Black Friday 2014 deals you'll find this year, on devices that you would actually want to buy. These vary from store to store, and it's always good to look for a deal online so that you don't need to stand in line.
These are just a few of the best Black Friday deals we've seen so far. There are dozens of great Black Friday HDTV deals available including 4K TVs, curved TVs and on just plain huge 1080P HDTVs that you'll need to plan ahead just to bring home.
You can see a collection of Black Friday 2014 deals in the slides below, including links to the Black Friday 2014 ads. You'll want to plan ahead and use store maps to make sure you are in the right spot to get these big Black Friday deals.
Black Friday 2014 Deals & Ads
Walmart Black Friday 2014 Ad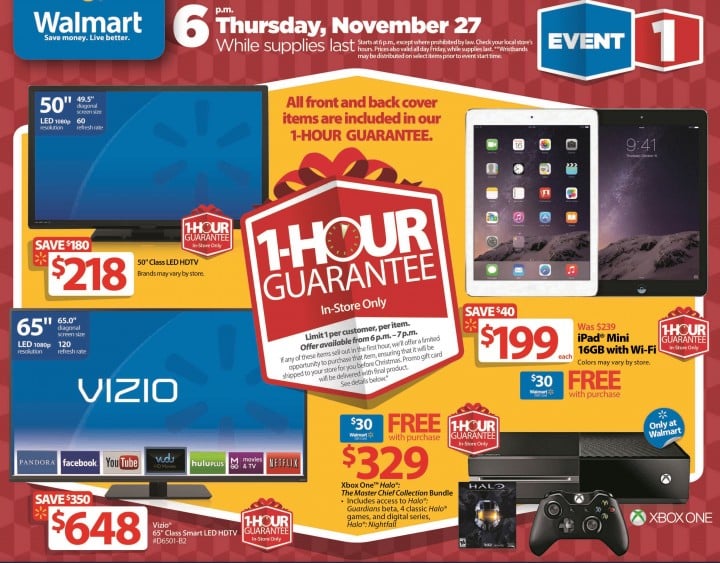 Walmart Black Friday 2014 deals start at 6PM on Thanksgiving and roll all the way through Cyber Monday. There are three specific events on Thanksgiving and Black Friday 2014, including nine 1 Hour Guarantee items that are in stock or you can get it by Christmas at the Black Friday price.
This includes a 65-inch Vizio HDTV for $648, the Xbox One with Halo for $299 after gift card rebate and an iPad mini for $169 after gift card.
You can check out more details on how the Walmart Black Friday 2014 1 Hour Guarantee will work. Duncan Mac Naughton, chief merchandising officer at Walmart states, "We've taken significant steps to improve the 1-Hour Guarantee process from beginning to end. It's simple and seamless."
Walmart beat our Xbox One and PS4 Black Friday 2014 predictions with big savings on the Xbox One and the PS4 GTA 5 and The Last of US Remastered bundle for $399. Here's a look at the nine guaranteed in stock items for 2014.

50" Class LED HDTV for $218 ($180 savings)
Vizio 65" Class Smart LED HDTV for $648 ($350 savings)
Apple iPad Mini 16GB with Wi-Fi for $199 with a $30 Walmart Gift Card ($70 value)
Xbox One Halo "The Master Chief Collection" Bundle for $329 with a $30 Walmart Gift Card
RCA 7" Google Play Wi-Fi Tablet for $29 (special buy)
Samsung Galaxy Ace Style on Straight Talk Wireless for $29 ($100 savings)
LG Blu-ray Disc Player for $35 (special buy)
Beats by Dr. Dre Wireless Headphones for $149 ($130 savings)
HP Intel Celeron Touch Laptop for $249 (special buy)

You can see the full Walmart Black Friday 2014 ad and deals online now. Wlaamrt will post store maps on November 18th and share more detials as the event approaches.

This article may contain affiliate links. Click here for more details.