The Best Black Friday TV Deals of 2018: Cheapest and Biggest
In this guide we share a list of all the cheapest, biggest, and best Black Friday TV deals in 2018. Not every discount is actually a "deal" which is why we've ranked all the good ones based on the size and price of the TV. Helping you find exactly what you want or need. From an $80 TV at Target to big 75-inch 4K Quantum or QLED TVs and everything in-between.
Black Friday is on November 23rd, 2018, but most of the excitement will start Thursday evening. If you're looking for doorbusters or good deals, we'll continuously update this list with the best options as they're announced. We've added the latest deals as of November 21st.
Black Friday TV Deals (32-49 inch)
50-inch Black Friday TV Deals
Read: 5 Things to Know Before You Buy a 4K TV on BF
55-inch Black Friday TV Deals
60-inch Black Friday TV Deals
65-inch Black Friday TV Deals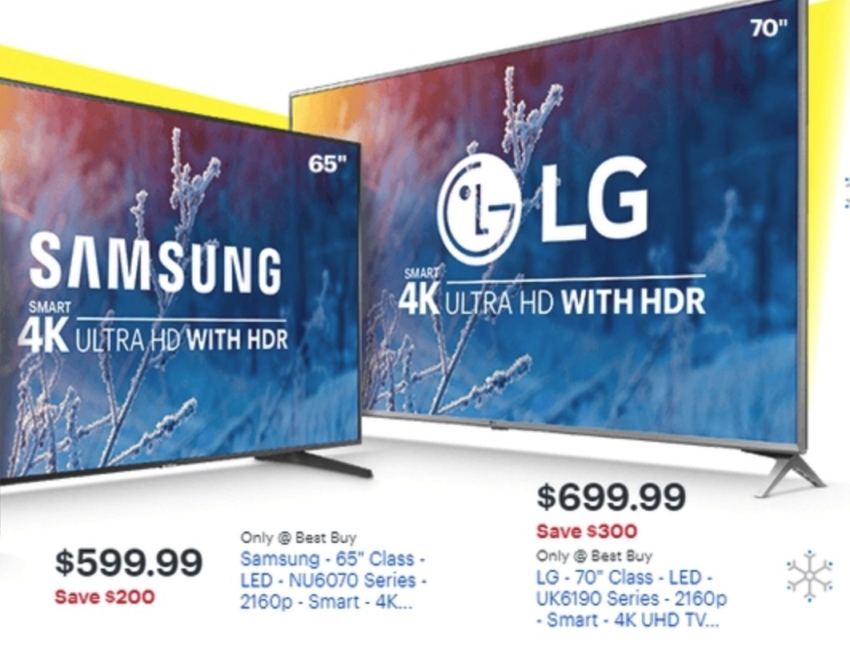 70 and 75-inch Black Friday TV Deals
Go Big 80+ inch Black Friday TV Deals
Black Friday TV Deals to Avoid
As you probably know, a lot of "deals" are not good deals at all. They're one-off TVs that were only built for Black Friday, never offered by the manufacturer before. They're cheap, garbage television sets. Even Samsung does this, which is why you'll want to do your research before you buy.
That said, another good rule of thumb is to simply avoid TV deals from brands like Element, Westinghouse, Magnavox, Polaroid, RCA, or Insignia. While some of them can be decent, or usable for a few years, with prices this low it's worth spending an extra $100 for a quality TV that will last. We can't recommend the 65-inch TCL Roku Smart TV enough. Whether that's the expensive 6-series TCL, or the $398 Walmart TV. TCL makes some of the best TVs on the market. Buy it and NOT a Westinghouse from Target. You're welcome.
Other Details
Keep in mind that we're still a day away from Black Friday and more deals will surface on Thursday, Friday, and into Cyber Monday. Plus, stores will make last-minute announcements or reveal Black Friday doorbuster TV deals. And some don't even reveal deals until Thanksgiving morning. Basically, be ready for some of these to change. Once they do, we'll add them to our list.
Before you go, check out our full Black Friday Portal for any and all deals.

As an Amazon Associate I earn from qualifying purchases.