Best Buy Black Friday 2014 Ad & Details Arrive
The Best Buy Black Friday 2014 ad is now online showing almost 50 pages of deals and discounts on gadgets from Apple, Beats, Xbox One, PS4 and big deals on HDTVs. Here's where you can find the Best Buy Black Friday 2014 ad, store hours, the best deals we see now and  what you need to get access to the Best Buy Black Friday 2014 deals early.
Following up on the Target Black Friday 2014 ad which revealed the biggest iPad Black Friday deals yet, Best Buy is going big on Apple and on HDTVs, plus there are plenty of gaming deals you need to look at.
The Best Buy Black Friday 2014 hours start at 5PM on Thanksgiving and continue through Black Friday at 1AM. Tickets will be handed out for doorbusters starting at 3PM on Thanksgiving Day, but some shoppers are already lined up. The Thanksgiving Day doorbusters are also available online.
The Best Buy Black Friday 2014 hours start at 8AM local time, with a new line and new deals. Best Buy hands out tickets one hour before store opening. These deals will also be available online.
If you are a Best Buy Elite or Elite Plus member, which means you spend at least $1,500 a year at the retailer, you can shop the Best Buy Black Friday 2014 ad early. This starts online at least several days before the general public and is the best way to get the Black Friday 2014 deals.
Read: Are Early Black Friday 2014 Deals Worth Buying?
In addition to the Best Buy Black Friday 2014 ad, you will find other deals online at Best Buy throughout Thanksgiving and Black Friday. Some of these will be limited quantity flash deals and others will almost certainly match the price of Target or Walmart Black Friday 2014 ads.
Here is a fast look at the highlights from the Best Buy Black Friday 2014 ad, based on the amount you can save and how hard it is to typically find a deal.
iPad Air 2 – $100 off all sizes
iPhone 6 – $99 with trade of any iPhone.
iPod touch – $50 off
Beats Solo HD – $79.99 – Save $90
Beats Headphones – 10-40% off
MacBook Pro Retina 13-inch – $200 off
MacBook Air 11-inch – $120 off
MacBook Air 13-inch $150 off
iMac 21.5-inch – $200 off
Surface 2 – $299.99 – Save $150
Select Xbox One & PS4 Games – $20, $25, $30
Xbox One with Kinect, Assassin's Creed Unity, Assassin's Creed Black Flag & Extra Controller – $429
Xbox One Assassin's Creed Bundle – $329 without Kinect
PS4 with GTA 5, The Last of Us Remastered – $399
$20 to $25 off Xbox One & PS4 controllers
There are many other items in the Best Buy Black Friday ad, but these are the ones that stand out as offering bigger discounts than you see throughout the year. There are pages and pages of HDTV deals that offer hundreds in savings. Whether or not they are a deal depends on what quality, size and brands you need.
You can check out the rest of the Black Friday 2014 ads and deals in the listings below, which cover Black Friday 2014 deals that are confirmed and ads that already arrived, plus predictions based on what you can expect.
Black Friday 2014 Deals & Ads
Walmart Black Friday 2014 Ad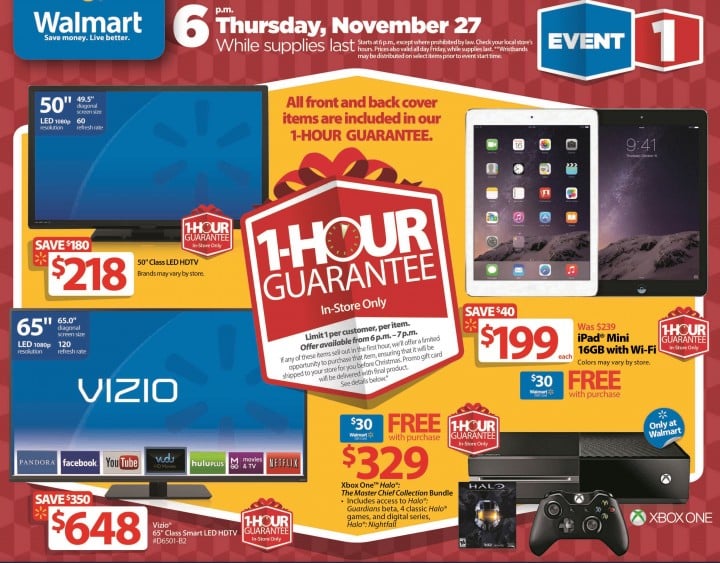 Walmart Black Friday 2014 deals start at 6PM on Thanksgiving and roll all the way through Cyber Monday. There are three specific events on Thanksgiving and Black Friday 2014, including nine 1 Hour Guarantee items that are in stock or you can get it by Christmas at the Black Friday price.
This includes a 65-inch Vizio HDTV for $648, the Xbox One with Halo for $299 after gift card rebate and an iPad mini for $169 after gift card.
You can check out more details on how the Walmart Black Friday 2014 1 Hour Guarantee will work. Duncan Mac Naughton, chief merchandising officer at Walmart states, "We've taken significant steps to improve the 1-Hour Guarantee process from beginning to end. It's simple and seamless."
Walmart beat our Xbox One and PS4 Black Friday 2014 predictions with big savings on the Xbox One and the PS4 GTA 5 and The Last of US Remastered bundle for $399. Here's a look at the nine guaranteed in stock items for 2014.

50" Class LED HDTV for $218 ($180 savings)
Vizio 65" Class Smart LED HDTV for $648 ($350 savings)
Apple iPad Mini 16GB with Wi-Fi for $199 with a $30 Walmart Gift Card ($70 value)
Xbox One Halo "The Master Chief Collection" Bundle for $329 with a $30 Walmart Gift Card
RCA 7" Google Play Wi-Fi Tablet for $29 (special buy)
Samsung Galaxy Ace Style on Straight Talk Wireless for $29 ($100 savings)
LG Blu-ray Disc Player for $35 (special buy)
Beats by Dr. Dre Wireless Headphones for $149 ($130 savings)
HP Intel Celeron Touch Laptop for $249 (special buy)

You can see the full Walmart Black Friday 2014 ad and deals online now. Wlaamrt will post store maps on November 18th and share more detials as the event approaches.

As an Amazon Associate I earn from qualifying purchases.