10 Best Christmas Apps for Android
This guide details some of the most cheerful and best Christmas apps for Android. With the holiday season finally here, what better way to get into the Christmas spirit than by downloading a few apps? We have a little of something for everyone to get through the holidays.
Christmas apps aren't just about the 25th, they're everything leading up to the big day. Like checking the weather to know when it's going to snow, tracking packages, or adding a nativity scene to your lockscreen. Our phones can only do so much, but there are still plenty of apps worth checking out.
Read: 100 Best Android Apps
Whether that's x-mas wallpapers, Jingle Bells ringtones, carols, to-do lists to get all your shopping done, or Netflix to watch A Christmas Story, we have you covered. These are the apps you don't want to miss this winter.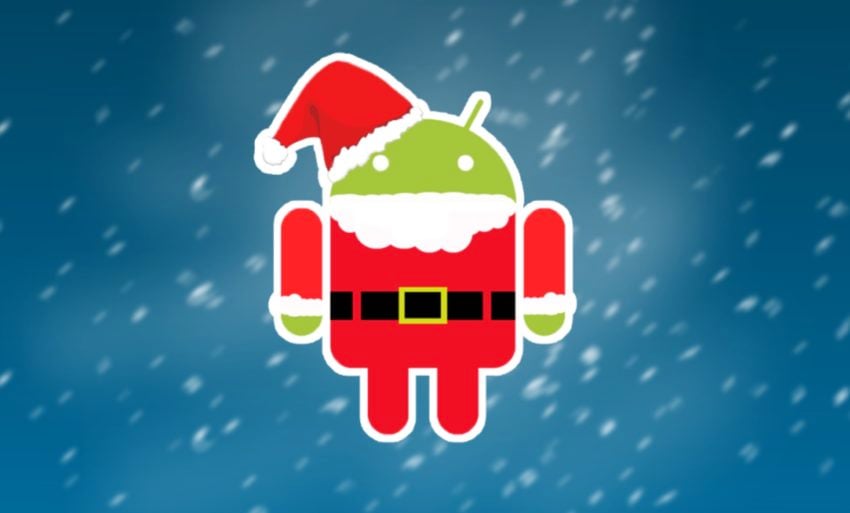 Best Christmas Apps for Android
You'll find plenty of holiday movies on TV during December, music on the radio, and Snapchat might even add a few festive filters. However, all of that only goes so far. Use these Christmas apps for Android to get through the holidays.
Christmas Countdown 2017
One of our favorites apps each year is Christmas Countdown. It's like an advent calendar for your phone, and then so much more. The biggest thing, of course, is the countdown timer and an accompanying widget for your homescreen. That way you'll see how many days til Christmas on your screen all the time.
Enjoy a fun snowy countdown for the entire month, and unwrap little gifts each day in the advent calendar section. You'll also find a few wallpapers, some Christmas music, and other things, but the countdown is the most important aspect. The paid version has extra music and widgets, too.
Download – Christmas Countdown 2017
Dark Skies or 1Weather
We're always busy during the holiday season. Going from store to store shopping, enjoying activities and snowball fights outdoors, and traveling. As a result, one of the most important and best Christmas apps for Android is an accurate weather app. Dark Sky is hands-down the best when it comes to predicting the weather. In fact, it's scary accurate and will tell you when the rain or snow will start, and stop, down to the minute. It's amazing, to say the least.
Dark Sky is a highly rated app that millions on Android and iOS love, and use daily. The free version gives you a crazy accurate weather report, 7-day forecast, current conditions, and a beautiful weather map. Then, you can enjoy a free 2-week trial until Christmas, or spend $2.99 a year and enjoy everything it has to offer for the other 364 days of the year.
Another viable alternative is 1Weather, which is probably our second favorite weather app for Android. Download one of these, and keep up to date on weather conditions for travel or fun during the holidays.
Download – Dark Sky Weather
Christmas Live Wallpaper Free
There are dozens of excellent wallpaper apps for Android, but one of my favorites is Christmas Live Wallpaper Free. It's a live, moving wallpaper with a Christmas Tree. It's pretty self-explanatory, but here's a video so you know what you'll see on your phone.
You'll enjoy four different Christmas Trees, tons of sparkling or light customizations, and a built-in countdown timer to enjoy the month of December. It's completely free, so enjoy.
Download – Christmas Live Wallpaper Free
Christmas Photo Frames, Effects, and Cards
As we said earlier, you'll probably see some neat holiday-inspired filters on Snapchat, Instagram, and even Facebook this month. However, if you really want to step your game up, try Christmas Photo Frames. This application has a little of everything and will get your creative holiday juices flowing.
Bring Christmas to any of your photos, both new and old. Add neat Christmas themes, or x-mas frames to photos before you share them with the world. They have a huge collection of frames, templates, and you can even add snow to your photos. Then apply some text overlay, and you can create a Christmas Greeting card if you want. It's the perfect app to be jolly all month.
Download – Christmas Photo Frames & Effects
Google Santa Tracker
Perhaps the best Christmas app of all, and a favorite on the internet is the official Google Santa Tracker. If you've never tried this app, you and your family are missing out. NORAD is popular for the Santa Tracker, but Google has them beat. Here's what it has to offer.
Enjoy tons of fun and exciting Christmas activities, for you, and for the kids. It's perfect for the entire family. There are activities throughout the entire month, a countdown timer, VR support, and Android Wear support. You can play the games or track Santa on your smartwatch.
However, the best part of this app is the live Santa Tracker on December 24th. Open the app on Christmas Eve and follow Santa's path around the world delivering toys and gifts to little boys and girls everywhere. It's completely free, and you won't find any ads. This is Christmas done right.
Download – Google Santa Tracker
Todoist (to do list app)
Christmas is a stressful time of the year. You must remember to get all the shopping done and make sure you don't leave anyone out, grocery shop for Christmas dinner, or buy plane tickets to visit the in-laws. It's stressful, and things are easy to forget.
That's why you need something like Todoist, the best to-do list app on the Google Play Store.
Keep track of everything, make lists and check off projects or purchases, and manage tasks or errands like a pro. You can share lists with friends and family too if you need help. Just get this app, you can thank me later.
Download – Todoist
iHeartRadio
Another way to enjoy the holidays is by listening to Christmas music. Get festive with a huge collection of holiday-themed radio stations that play non-stop music. Find your favorite stations, or completely customize your own just for the month of December.
Yes, Spotify and other apps have similar Christmas music, but iHeartRadio is just one of the easiest to use. Their catalog of music is one of the best too, as long as you're ok with the occasional commercial. If so, it's completely free.
Download – iHeartRadio
Zedge Ringtones, Wallpapers & More
When it comes to finding ringtones, notification sounds, or even wallpapers, Zedge is by far the best option on the Google Play Store. And while they have tons of regular ringtones and notification sounds all the time, during Christmas they have a pretty great selection too.
If you're looking for a Jingle Bells ringtone or notification, start here. Yes, they have some wallpapers, but we'll recommend another app for that in our next category. This is mainly for ringtones and notification sounds. Try it today.
Download – Zedge
Wallpapers HD
Backdrops was our favorite wallpaper app for a long time, but we have something even better during the holidays. Try Wallpaper HD & 4K Backgrounds. You can theme your entire phone to get into the holiday spirit.
Every day of the year this app has some of the best high-quality and HD or 4K wallpapers available. Then, during the holidays they ramp up the collection for Christmas. If you're looking to add some holiday cheer to your display, this is for you. They even have a wide selection for our bigscreen phones or 18:9 aspect ratios like the Galaxy S8, LG V30, or Google Pixel 2 XL.
Download – Wallpapers HD
Amazon Shopping
At this point hopefully, you have a nice head start on your holiday shopping. If not, a must-have is the official Amazon Shopping app for Android. Shopping apps are extremely popular during this time of the year, and for obvious reasons, we recommend Amazon.
Amazon has tons of deals and sales going on throughout the entire month, a huge selection of anything and everything to buy, and prime shipping. Don't get stuck without a gift or a delayed shipment, use Amazon.
Download – Amazon Shopping
Other Christmas Apps
In closing, we wanted to recommend a few more apps that aren't necessarily Christmas apps but are great for this time of the year. Make sure you have Netflix or Amazon Video, so you can watch all of your favorite Christmas movies. We're talking about A Christmas Story, Home Alone, or Elf.
Another option worth considering is Sling TV, for only $20 a month you'll enjoy tons of live TV over the internet. No wires are necessary. A similar option is YouTube TV, although we're not sure who will have the better Christmas collection. Also, get the UPS Mobile app to track all of your packages.
And finally, don't forget to download apps like How the Grinch Stole Christmas, ElfYourself, A Call From Santa, or Elf on the Shelf Ideas. Use any and all of these apps to enjoy the holidays and Christmas to the fullest.

As an Amazon Associate I earn from qualifying purchases.