100 Best Android Apps & Games for 2020
These are the best Android apps and games you can download on your phone, tablet, or TV in 2020. Whether you just got a new device or you're simply looking for something fun, useful, or different we have you covered.
All of our favorite Android apps will improve productivity, keep you entertained, or even help you lose weight, save money or quit smoking in 2020.
Most of the best Android apps in our list are completely free. And if not, they only cost a few dollars or have some in-app purchases. That said, paid apps typically deliver a better experience and are worth the small price. Whether this is your first Android, or you've had one for years, install these apps and games today.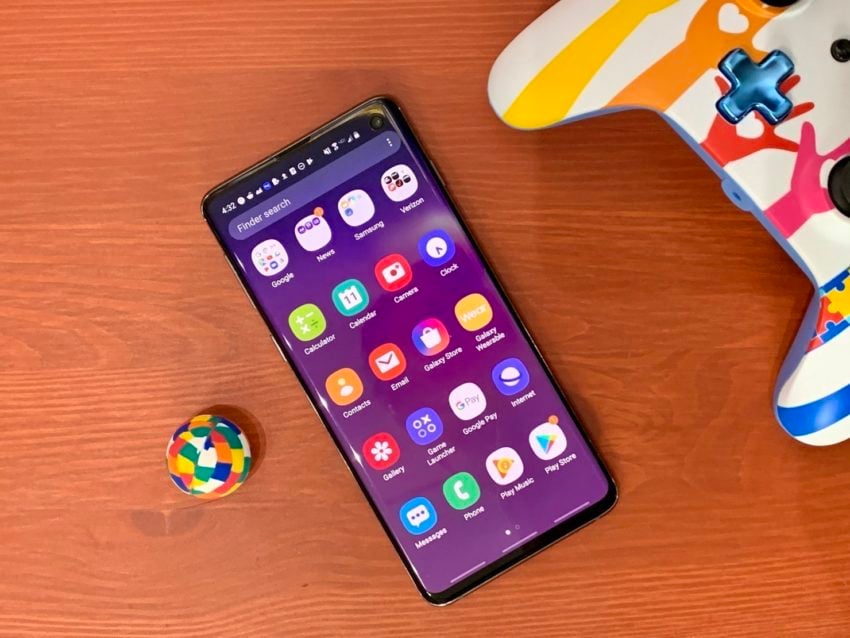 Best Android Apps
Android supports many devices of all shapes, sizes, and manufacturers, and the apps do too. This means our list will work whether you have the Galaxy S10 running Android 10 or an old tablet with Android 5.0 Lollipop. Almost every app is backward compatible. That said, select games and other intensive apps may require a newer device.
We'll begin with a big list of the best Android apps, games, and services neatly listed by category. Then, continue reading for additional details and links to download many of our favorites. It's a big list, so let's get started.
My Daily Android Apps
Here are the Android apps that I use the most. I keep many of these on my home screens or in the dock and have folders full of my favorites. Like a folder full of video streaming apps, social, and games. I'll start with what I consider my essential apps, then break out into more categories below.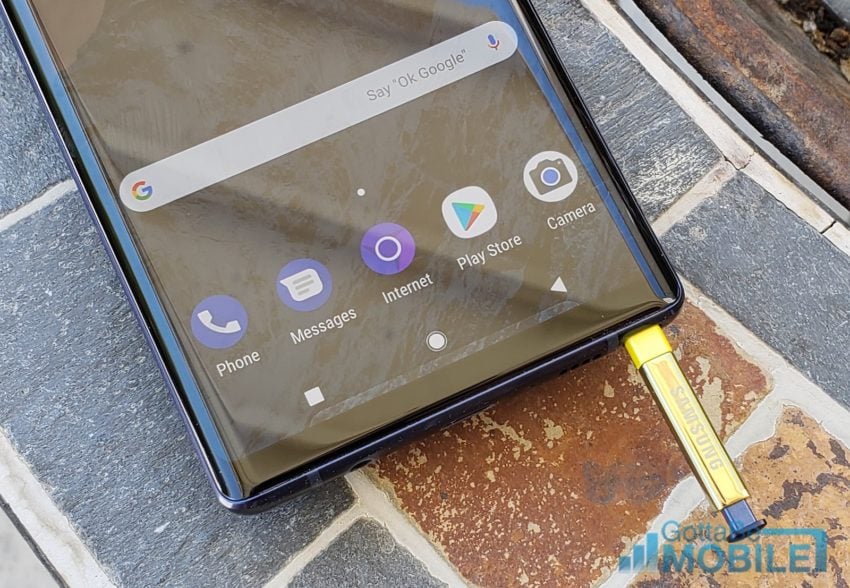 YouTube Music – Google Play Music is still a great service, but this year it'll be replaced by YouTube music. So, if you're just starting with Android we recommend jumping right to YouTube Music.
Reddit is Fun – This is one of the best Android apps for Reddit users due to all the features and the clean design. I use it over the official Reddit app or can also recommend Reddit Flow.
Downloads – I'm always downloading files, images, GIFs, memes and more, so keeping the download folder nearby is helpful.
Netflix – There isn't much to say here. Watch thousands of movies, TV series, documentaries and more with Netflix. Or try Hulu and Sling TV.
Clash Royale – With millions of players worldwide on both Android and iOS, Clash Royale is one of the most popular (and addicting) games available.
Instagram – It's popular for many reasons, but I love the ease of use and all the filters to bring my photos to life with Instagram.
Samsung Pay – If you haven't tried it I'd strongly recommend using Samsung Pay if you have a Galaxy smartphone. Easy mobile payments at almost 95% of stores throughout the US. It's far better than Apple Pay, or Google Pay and is backward compatible with old terminals too. It works everywhere. If you don't have a Galaxy, use Google Pay on your Pixel, Moto, or LG phone.
Google Maps – If you need directions, navigation instructions, or are looking for a nearby place nothing beats Google Maps. Nothing.
Bank of America – Everyone uses a different app for their bank, but I keep my banking app front and center so I can check funds, transfer payments and more with ease. Venmo is an excellent app too, that you can use to easily and safely (and for free) send or receive money from friends and family.
Textra SMS – If you want a new text message app instead of what came on your phone, try Textra SMS. It's by far the best text message replacement SMS app on the Play Store.
Google Find My Device – If you ever lose your phone, whether that be at home in the couch crack or while you're out and about, you'll want to have Google's Find My Device app. Previously known as the Android device manager. You can make your phone ring at full blast, lock the screen, wipe your data and more all remotely.
SoundHound – Music discovery and lyrics is easier than ever before thanks to SoundHound. I have a one-click widget to instantly find more info about a song that I use all the time. And my daughter loves the live lyrics.
Slack – If you work on a team or in a small office forget the hassles of email for internal communication and switch to Slack. You'll love it.
MyFitnessPal – MyFitnessPal is one of the best weight loss apps around with hundreds of thousands of happy users. Get in shape for the summer months by using it.
LastPass – Use a super difficult to guess and long password, and let LastPass remember the rest for anything and everything you do. Only one password for everything. It even has fingerprint sign-in. Read our LastPass review.
Falcon Pro – Falcon Pro is easily my favorite Twitter client for Android, but it can't be used by most thanks to a dumb token limit set by Twitter. Try the new Falcon Pro 3, or Talon which are both excellent.
Best Entertainment Apps
Everyone is different when it comes to what they use for entertainment, and many just stick to YouTube. However, these are some of the best apps to keep you entertained.
Sling TV – Just $30 a month for live TV streaming right over the internet, including sports and NFL Network. Add bundles to get more channels (only the good ones) and ditch cable. I use this daily.
Hulu Plus – This is my go-to app for watching TV shows on Android. Although it offers a wide range of shows I mostly watch the Tonight Show with Jimmy Fallon on it.
HBO Now – When I want to watch Game of Thrones or old Entourage episodes on the go I use HBO Now app. It's also great for access to comedy specials that are easy to watch in small blocks while on the go. Stream it to the bigscreen with Google Chromecast. If you already have HBO through cable, download HBO GO and sign in.
Netflix – Netflix, it has almost everything. Need I say more? Stranger Things is getting weird.
Disney Plus – I agree with you, there are WAY too many streaming services out there now. That said, Disney Plus is one of the best here in 2020. They offer tons of original content, everything we love about Disney, Star Wars, and we can't forget about The Mandalorian and baby Yoda. You'll want D+.
YouTube TV – This is Google's service aimed at Sling TV or Playstation Vue. Basically live-streaming television, YouTube content, YT Red, and DVR features for six devices for $49 a month. More details are available right here.
ESPN Radio – When I can't watch I'll use the ESPN Radio app to listen to games and other programs. Perfect for listening to sports while driving or hitting the gym.
Showtime Anytime – The Showtime app isn't the best, but works great on smartphones or tablets, and even the Amazon Fire TV or Stick.
iFunny – If you want the latest funny photos, trending jokes, memes, GIF's and more iFunny is like Reddit and full of humor. Same goes for The Chive app.
NFL Mobile App – NFL Mobile is still an excellent app for any NFL fan, but the Yahoo Sports app is now the easiest way to watch NFL games from your mobile phone. Try both apps today.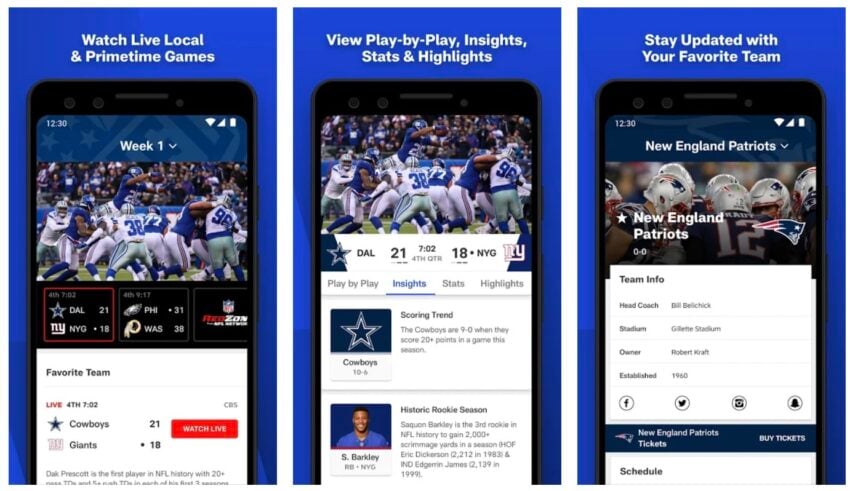 DirecTV – I can watch live TV on Android using my DirecTV subscription. I don't get all of my channels, but there are enough great options. It works well on tablets too, or use the Cox Contour app.
Yahoo Fantasy  – You can use this app to track almost anything you need to stay on top of your fantasy sports team. Bleacher Report is also an awesome app for up to the second news on Sports.
Amazon Prime Video – We can't forget about Amazon Prime. As members can use this to stream video for free on Android devices including movies and TV shows without an additional subscription. Now go watch Good Omens, The Boys, or Jack Ryan with Prime.
NBA VR – Virtual reality is the next big thing. Everyone wants a piece of it. There are apps for Netflix, YouTube, and many others. For NBA fans, they now have a dedicated app for Google Daydream and other VR platforms. This will be entertaining, for sure.
Best Android Games
Our lists above went over some of the best games for Android by category. However, if I had to choose a few of them for one big list, these would be them. At least for me.
Clash of Clans – With millions of players worldwide on both Android and iOS, Clash of Clans is one of the most popular (and addicting) games available on mobile, and I play it way more than I should. So much my girlfriend rolls her eyes each time she hears the launch intro song.
Fortnite & PUBG Mobile – Do we even need to mention these games? Fortnite took over the world in 2018, and it's still super popular. If you love shooter games try both PUBG Mobile and Fortnite, just be careful as they're very addicting.
RipTide GP2 – This water racing game shows excellent graphics, keeps me entertained for hours, and shows just how good gaming is on Android.
Asphalt 8 – Asphalt 8: Airborne is the eighth release in a series of the best racing games for Android, period. Asphalt 9: Overdrive is fun too, but Airborne is my all-time favorite.
Flockers – Flockers is like old school Lemmings, but for the 21st century. It's fun, addicting, and very challenging.
NFL Kicker – For some reason, NFL Kicker is always one of my favorite games while on a flight, or needing a casual game to enjoy. I play it for hours and pass it off to friends to try (and fail) to beat my high score. It's nothing special, but you'll love it.
Trivia Crack – If you want to battle your friends in some good old fashion Trivia, this award-winning game is one of my favorites. It keeps getting better and better, and integration with iOS and Facebook friends makes it a must. Like Words With Friends, you can play it for hours, or weeks, or months. Same goes for SongPop. Try HQ Trivia too.
Subway Surfers – Those looking for a casual and fun game similar to Temple Run, try Subway Surfers. It's free.
Alto's Adventure – Jump and ski your way to the bottom of a never-ending mountain as you collect llamas, run from village elders and collect power ups.
Agar.io – Control growing circle that expands as it absorbs smaller circles until you are the biggest blob on the board. Simple, but addicting. This game won tons of awards.
Fallout Shelter – Manage resources and grow your shelter in this Fallout game that is a perfect fit for Android phones. Fun and frustrating at the same time as you balance inhabitants and resources.
Minecraft: Pocket Edition – It really needs no introduction. Minecraft Pocket edition brings the world of building and exploration to mobile devices. There are some mods too, and it works great on any and all Android devices.
Pokemon GO – Yes, it has to be on this list. For a while in 2016 Pokemon GO literally took over the world, parks, business and more. It's still fun, gets a ton of updates, and is going strong here in 2020 with Legendary monsters and monthly community days. Catch Em All! Plus, the developers behind Pokemon recently released Harry Potter: Wizards Unite.
Or, download some emulators and enjoy old school classics on Android. Many of them work great with a bluetooth game controller.
Best Shopping Apps
I do most of my shopping online these days, and you'll probably want at least a few of the apps below to get all your shopping done with ease.
Amazon –  Amazon has one of the biggest and best selections around, not to mention you can't beat free 2-day shipping with Prime. It's my go-to app. I've probably spent sooo much money on Amazon. And, if you have the app, you get discounts on food at Whole Foods.
eBay – I don't use eBay as much as I did 6-7 years ago, but it still has plenty of stuff you otherwise can't find elsewhere. Plus, in 2019 they made a huge push to try and take on Amazon and Walmart. I still browse occasionally and use PayPal for my purchases. But seller fees keep me from selling anything.
CPro for Craigslist – Craigslist is one of my favorite sites for shopping, but use caution and watch out for scams. I always meet buyers or sellers at a gas station or inside retail store. Better safe than sorry. And hey, in 2020 we'll finally get an official Craigslist Android app, finally.
Best Buy  – The Best Buy app shows current specials, gaming information, and rewards for My Best Buy.
PayPal – I use the PayPal app to check on balances for purchases I make online and to check incoming payments for various projects. This is also a place to see receipts for PayPal debit card purchases. These days though, I use Venmo more than PayPal.
Meh Notifier – Meh.com is one of my favorite sites. Like Woot.com back in the day, Meh.com has one sale a day that's usually pretty good. And don't forget about Two for Tuesdays. I've bought over 20 things from this darn site in the last 8 months. The app is decent, but I'd just go to the site as it has an excellent mobile layout.
Gas Buddy – Find the cheapest gas near you and get an alert when gas prices are about to go up so you can fill up before the price changes.
Starbucks – With the mobile ordering option skip lines and get that overpriced coffee even faster. They do have some good drinks, and a nice points system for free drinks.
OpenTable – This is the fastest way to get a reservation at a restaurant. Forget calling and checking multiple times over the phone and checking with your group. See what is open and then book it without making a call.
Flixster – This could be in entertainment, but I use it to browse and buy my movie tickets. Flixster has an awesome design, movie previews, reviews and rating, and lets you buy tickets right in the app. Including Fandango ones.
Walmart Grocery – Wal-Mart recently released a brand new app dedicated to shopping. You'll still have to go in the store, but this app lets you send your grocery list and someone else gathers everything. Next, just go pick up your order. Don't forget to use Walmart Savings Catcher.
Best Social Apps
These days social apps and social networks run the internet, and you'll want to have some of the best apps available to keep in touch with friends, family, or all those funny GIF's or memes floating around.
Twitter – The stock Twitter app is fine for most, but I prefer Falcon Pro, or Talon is a good choice too.
Facebook – We can't forget about Facebook to keep in touch with friends or family, or to see every ridiculous post that one friend makes on an hourly basis. Or, to see more stupid politics posts.
Facebook Messenger – Facebook's Messenger app keeps getting better and better. From messages, calling, emoji's, voice messages and more. Keep in touch with this SMS replacement app. It also is taking on Snapchat and Instagram lately, so give it another try.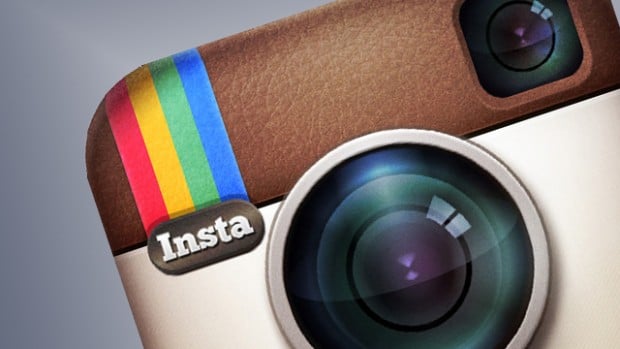 Instagram – Obviously, Instagram is one of the best when it comes to posting beautiful photos, or keeping up with friends. It's almost more popular than Facebook these days, especially with the younger crowd. Also, try Prisma, it isn't a social site but has beautiful filters better than the IG.
Snapchat – If you've never used it, Snapchat allows for fast and easy communication with friends. More importantly, it's the easiest way to instantly send videos back and forth on Android, mainly because Android doesn't have iMessage. Add a caption and hit send, and the image or video deletes itself for security reasons after being viewed. I use it simply to communicate with my iPhone family members.
TikTok – Surely you've heard of TikTok by now. This social app started out as Musica.ly and was basically kids lip-syncing, but has grown into a social media powerhouse that sort of took over the internet in 2019. It'll be an app worth using in 2020, for personal use AND for business.
Shabaam – Imagine making a GIF with sound. Sounds awesome right? This app does exactly that.
Untappd – This is a social network for beer lovers that can help you find new beers to try and enjoy. I've recently started brewing my own.
TapaTalk – If you're on a forum for a passion, interest, hobby, or like talking about your truck with other truck enthusiasts, Tapatalk is one of the best forum apps.
Signal – Apple users have iMessage, and those on Android who want to send messages privately and secure should use this app. It's one of the best around. Or you could attempt to get friends on Google Allo.
Android Apps You'll Love
We've already gone over some of the most important and best apps, but here are a few more you'll find useful and end up loving.
Dropbox – Although Google Drive is useful, Dropbox is the could storage service I use most. This is how I move files, photos, ringtones and screenshots between devices. And I have a huge collection of GIF's and funny photos making fun of the Bears or Patriots.
ES File Explorer – File explorers are extremely useful to manage and find important things or documents. I recently started using Astro, but there are plenty of good options.
Yelp – Everyone knows about Yelp, but there are millions that don't take advantage of this tool to find stores, places to eat, and more in your neighborhood or city.
Groupon – Everyone likes saving money, finding good deals, or doing fun things you never knew were available in your town. I've gone bowling, horseback riding, done Archery and more all at huge discounts thanks to Groupon. One day I'll use a coupon for a week getaway vacation to Italy.
Google Opinion Rewards – Speaking of money, want to earn up to $100 a year just by answering a quick survey every few days? I'm serious. It usually takes about 5-10 seconds, and you're all done. Enable location, answer questions and get paid. I've earned over $150 with Google Opinion Rewards. You can too. I spend it on Clash Royale and it covers my $10 a month YouTube Music subscription.
Best Android Travel Apps
StubHub – Finding tickets for an upcoming Packers game or the next Nick Swardson comedy special is easy and safe with StubHub. It's the most trusted place to get tickets and not get scammed.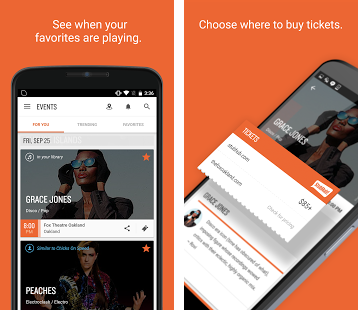 Flightaware – Always know where a flight is. This is the best way to track the flights that your loved ones or business associates are on. Then, use VRBO or AirBnB to find a place to stay after your flight.
TripIt – The best all in one travel organizer that tracks your hotel, flight, car rental and other activities simply by connecting your email to the app or forwarding a reservation. Or the best way to book all of that is Trivago.
Grub Hub – An essential tool for ordering delivery from restaurants without making a phone call. Available in 800 cities and includes 30,000 restaurants.
Hotel Tonight – Find last-minute reservations at great hotels for a bargain. You can book up to seven days out, then save money to enjoy your vacation.
TripAdvisor – Find, book, read reviews and more for anything that has to do with a trip. I use TripAdviser anytime I go out of town and rely on it for activities and helpful information.
Waze – While I normally rely on Google Maps, Waze helps deal with traffic. Google recently bought them, but I still use it occasionally. That or Google Now. I also use Waze or Speed Trap to tell me where the cops are.
Glympse – This tool can help you tell people when you will get to a location. Just share a Glympse with them and they can see your current location and estimated time of arrival.
Today Weather – Many people use their stock weather app, but if you want one with a beautiful sleek design and some extra features, try this brand new app. It's minimalistic yet powerful.
Best Business Apps for Android
Keeping up with business-related things on our Android smartphones or tablets is now easier than ever. We're in an "apps world" and there's an app that will make everything easier. Check these out.
UPS – With UPS My Choice and this app I can see when packages will come and even change delivery options if I need to.
Fedex – With this app and registration with FedEx I can see all FedEx packages coming to my house from Ground and Express in one place. Even when I don't have a tracking number.
ParcelTrack – If you get a lot of packages or delivers from multiple shipping companies, you'll absolutely love ParcelTrack. It tells me where everything is, when it's coming, delays and more.
Tiny Scanner – Use this quickly scan in a document without a scanner. The results are amazing and you would swear that it came from a full-size scanner in an office.
Hangouts Meet – Google's popular Hangouts messenger is now a platform like Slack. Rebuilt from the ground up for businesses. And a new addition to that is Hangouts Meet. It's like GoToMeeting but free and made by Google.
Speedtest – Whenever you need to check your business WiFi or 4G LTE signal, or just make sure you have good internet before uploading a file, use this. It checks the speed and performance of the internet you're using. Or just go to Fast.com
Facebook Pages – I use this app to manage several Facebook pages. There is no real alternative, but it is still one of my must-have apps.
WordPress – If you work in WordPress this app is a lifesaver at times. For whatever reason, it lags at times and can drain the battery, but it's great when you need it.
Expensify – An easy to use expensing app that captures receipts and cash transactions easily. You don't need to enter in dollar amounts, it scans the images for you. Then submit an expense report to your boss or any email address in minutes.
Quickbooks – When you need to look over or find important information on your books, this account manager is the tool for you.
Parkmobile – No change, no problem. Use ParkMobile to find and pay for parking at some of the most popular areas in the United States.
Sheets – Working while on the go, doing spreadsheets or dealing with important information? Sheets is my go-to web app for business.
Google Docs – Just like sheets, those dealing with a lot of documents absolutely need to take advantage of Google Docs. I use this a few times a month for work, and you'll love it.
Dropbox – Still the most accessible and easy to use cloud storage client I've found. This is an easy way to get to my files and to upload files for access from anywhere.
Random or Unique Android Apps
In closing, we wanted to highlight a few more random or unique apps that many should use. Some are apps that a lot of people don't know about, or just didn't fit anywhere else on our list.
Snapdragon Battery Guru – This free app analyzes your smartphone to deliver better battery life. It only works on devices powered by Qualcomm Snapdragon processors, which most high-end phones are.
Google Home or Amazon Alexa – Lets face it, almost everyone has a Google Home or Amazon Alexa in their house these days. And if you don't, get with the times, it's 2020 over here. You'll want Google Home or the Alexa app to connect, control, and manage your assistant.
iMDb – Movie trailers, news, information and more. I love this app because I'm a movie buff.
Wear OS – For those still using and enjoying Wear OS smartwatches, you'll need this.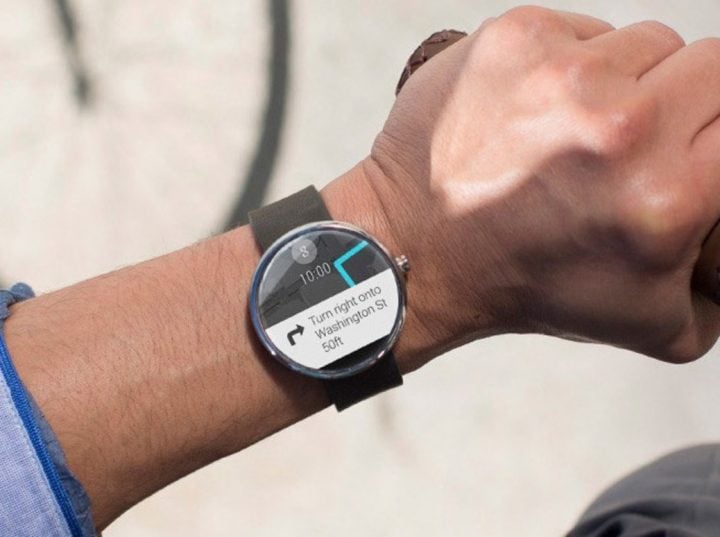 HD Widgets – HD Widgets gives you those pretty clock and weather widgets, and tons of quick toggles like tethering, bluetooth, and more for easy access. The app doesn't get updates anymore, but I still love it.
Zedge – Zedge has the biggest collection of wallpapers, backgrounds, ringtones, text alerts and more. I have the Mario Bros Coin sound for my SMS thanks to Zedge.
RunPee – If you're in a movie and don't want to miss an important scene or some action, use Runpee to know when it's safe during a movie to take a quick break. You're welcome!
Push Bullet – Have you ever wanted to send and receive your text messages on a computer or PC. Push Bullet does that and much more. Transfer files, manage images or send messages through your phone on a PC.
Smart Tools – Have you ever needed a ruler, compass, flashlight or even a bubble level while doing things? If so, Smart Tools is for you. I use it to hang photos on the wall, measure things in a pinch and more.
Of course, this is just the tip of the iceberg, mainly because there are over 2.9 million apps on the Play Store. Still, we consider these some of the best Android apps available. Then, throughout the year we're expecting more greatness across categories like gaming, VR, and productivity. As more apps get released that enable our smartphones to do incredible things we will update this list.
We hope these apps help you do more on your phone in 2020 and beyond.