8 Best Chromebook Alternatives with Windows
Lenovo N24 - $279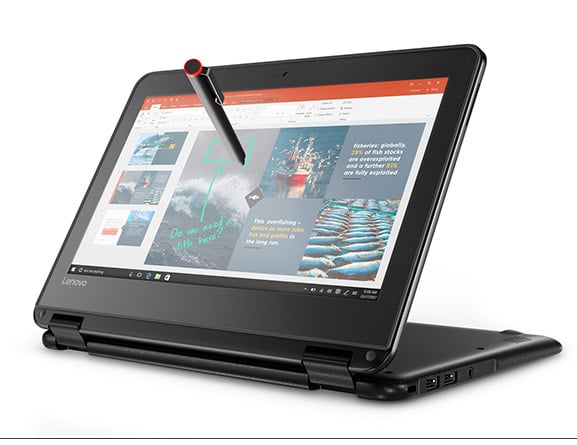 The Lenovo N24 is for students who want to work on a keyboard, take notes with a digital pen and aren't very careful with their possessions.
This laptop has a textured, durable shell that will stand up to anything and special hinges that let you transform it from an 11-inch laptop to an 11-inch tablet with pen input in seconds. Its keyboard is spill-proof, and you can wipe it down without worrying that they will ruin the electronics underneath.
The Lenovo N24 comes loaded with Intel Celeron N3450 or Pentium N4200 processors, so performance in productivity apps shouldn't become a problem. Multitasking is snappy since there's 4GB of RAM. At 8 hours, the battery life is on-par with other laptops in its class. Its 1366 x 768 11.6-inch touch display has a holder on its side for Lenovo's Active Pen accessory. You can use the Active Pen to scribble notes and draw on the display.
Storage shouldn't be a problem. It has 64GB of internal storage and a MicroSD card slot to add more. It also has a single USB 3.0 port, 2 USB 2.0 ports and a headphone jack.
You can't install programs from the internet without upgrading the Lenovo N24 to Windows 10 Pro because it has Windows 10 S. On the other hand, Windows 10 S starts faster and boosts battery life.
The Lenovo N24 starts at $279.99 directly from Lenovo. It only comes in black.

Buy the Lenovo N24 from Lenovo for $279