Best External Hard Drives for MacBooks
Whether you're low on MacBook storage or you need a storage drive for Time Machine backups, here are the best external hard drives for MacBooks.
Hard drives are getting cheaper and cheaper nowadays, and you can easily get a couple of terabytes for under $100, which is amazing considering that wasn't the case just a couple of years ago.
If you're in the market for an external hard drive for your MacBook, there are a lot of options to choose from. Not only are there several different kinds of external hard drives, but there are also a handful of manufacturers to choose from. You might get overwhelmed with your options, but that's where we'll help you narrow down your choices and help you choose an external drive that will last you a long time.
This is why it's important to pick an external drive that's a quality one, and we'd recommend going with a reputable brand like Western Digital or Hitachi, but there are also other brands to consider as well, including Seagate, which is known to have less-than-stellar reliability numbers. However, if the price is right, I'd easily go with a Seagate.
In any case, here are the best external hard drives that you can get for your MacBook.
Western Digital My Passport Ultra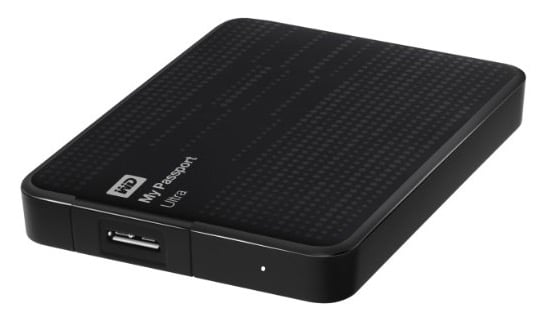 Western Digital has some of the most reliable hard drives on the market, which is why its My Passport Ultra portable external drives are really great. Out of over 6,000 reviews on Amazon, the My Passport Ultra has a rating 4.5 out of 5 stars, which is insanely impressive when that many reviews are involved. From that alone, you can guess that it's a good drive.
The My Passport Ultra isn't the thinnest portable drive around, but it isn't trying to be. What's most important is that it has USB 3.0 and can fit easily into a bag to take with you, along with you MacBook.
The drive comes in 500GB, 1TB and 2TB storage options, and also comes in a few colors to choose from, including black, blue, red and gray. Prices start at $59 for the 500GB, but that's really not the best bang for your buck, as it's 11.8 cents per gigabyte, whereas the 2TB model offers the best value at $99, which is a cool 5 cents per gigabyte.

As an Amazon Associate I earn from qualifying purchases.