Best Car Chargers for the Samsung Galaxy S9
Keep your Galaxy S9 charged on the go with one of these fast car chargers. Did you know the Galaxy S9 can recharge just as fast in the car as it does at home? As long as you buy a certified fast car charger. With that in mind, here's what you need to know and a list of the best car chargers for the Galaxy S9.
Read: 15 Common Galaxy S9 Problems & How to Fix Them
Buying the right charger will make a big difference in terms of how fast your phone recharges. Whether you're trying to fix bad Galaxy S9 battery life or just want a faster charge, this is one of the easiest methods. Buying any random car charger isn't going to work. Instead, you'll want to choose one from a reputable brand. Some on our list are as cheap as $10, while others from Samsung cost a little more but ensure the best and safest experience.
How Quick Charging Works
Samsung's Galaxy S9 uses a technology called adaptive fast charging. Similar to Qualcomm Quick Charge. With this, instead of taking 3 hours to recharge phones can fill up in around 80-90 minutes. Additionally, it enables the Galaxy S9 to go from 0-50% in just 25 minutes.
When the battery is very low, the charger will deliver more power than usual so it charges very quickly. It does this safely, at the right voltage recommended by Samsung. Then, after 20-30 minutes it goes back to regular speeds to preserve the life of the battery cells. It's still fast, just not as fast. Otherwise, your battery would degrade over time and no longer hold a full charge. That's why the first half of the charge cycle is faster than the second half.
However, without an adaptive or quick charge certified charger, your Galaxy S9 will take between 2-3 hours to recharge. See the benefit? This means that old car charger you bought at a gas station or have used for years isn't going to work. Well, it works, it's just not going to charge very fast.
In closing, Samsung provides one fast wall charger in the box, and you'll want those same super-fast speeds in your car or while traveling. With that in mind, we've round-up a list of the best fast car chargers for the Galaxy S9 in our slideshow below.
Samsung Adaptive Fast Car Charger ($16)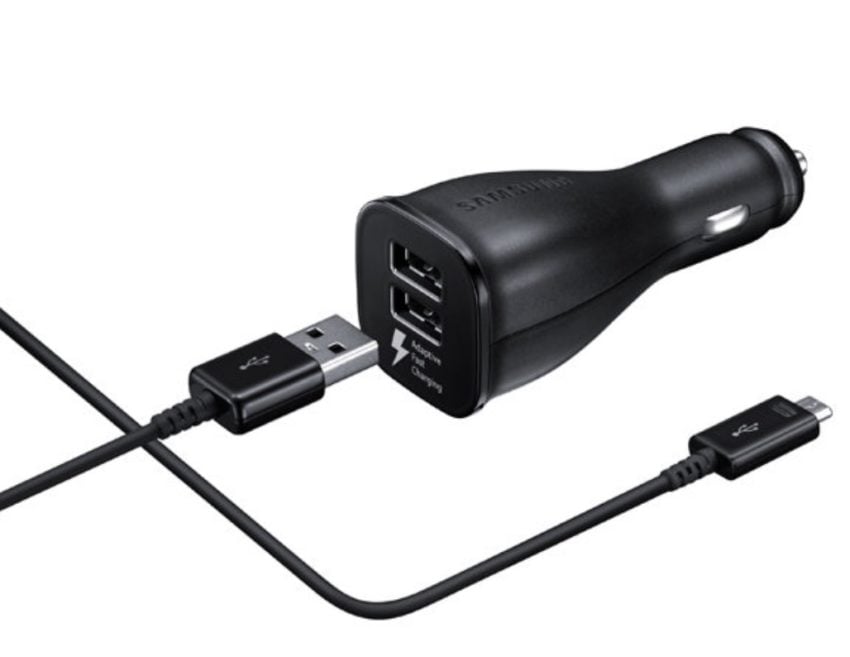 Our first recommendation is Samsung's very own "adaptive fast" car charger.
This has precise power output levels perfect for the Galaxy S9 or S9+ and is nearly identical to the wall plug that came in the box with your phone. Better yet, Samsung's fast car charger has two USB ports, allowing owners to plug in more than one device at a time and get a quick recharge.
This ensures a safe, fast and efficient charging experience while you're traveling. Keep in mind that only one of the two ports is "fast charge capable" although the second one still uses a decent 2.0 amps of output power.
Samsung provides both a USB Type-C and a micro USB cable in the box.

As an Amazon Associate I earn from qualifying purchases.