Best FIFA 18 Black Friday Deals
These are the best FIFA 18 deals you will find on Black Friday and early FIFA 18 Black Friday deals you can buy right now. You can save $30 on FIFA 18 if you buy the new FIFA this week.
We are seeing a ton of FIFA 18 Black Friday deals that allow you to save 50% on the new FIFA game. Some of the deals are available now, while you will need to wait until mid-week for others.
The best FIFA 18 deals do not require Best Buy Gamers Club Unlocked or an Amazon Prime membership.
Best FIFA 18 Black Friday Deals
Here are the best FIFA 18 Black Friday deals you can find. You can buy now to start playing without waiting up late at night or standing in line.
Most deals are available on the disk version of the game, but there are some FIFA 18 deals on the digital version.
Early FIFA 18 Black Friday Deals
You can get some FIFA 18 Black Friday deals right now, without waiting for actual Black Friday deals.
FIFA 18 Black Friday Deals
On Black Friday and throughout this week you will see other deals at retailers that cut the price lower.
GameStop – $27
Best Buy – $30
Target – $30
Toys R US – $30
Walmart – $29
These are the best deals we will see, and you can buy most of them in store and online. We recommend looking online unless you like standing in line.
When to Expect Bigger FIFA 18 Deals
Don't expect to see any bigger FIFA 18 deals after Black Friday. This is 50% off the new FIFA game and it is unlikely that we will see any more deals through Christmas that beat it. We might see some deals come close, but we don't expect any to beat it.
FIFA 18 vs FIFA 17: What's New
My Journey Season 2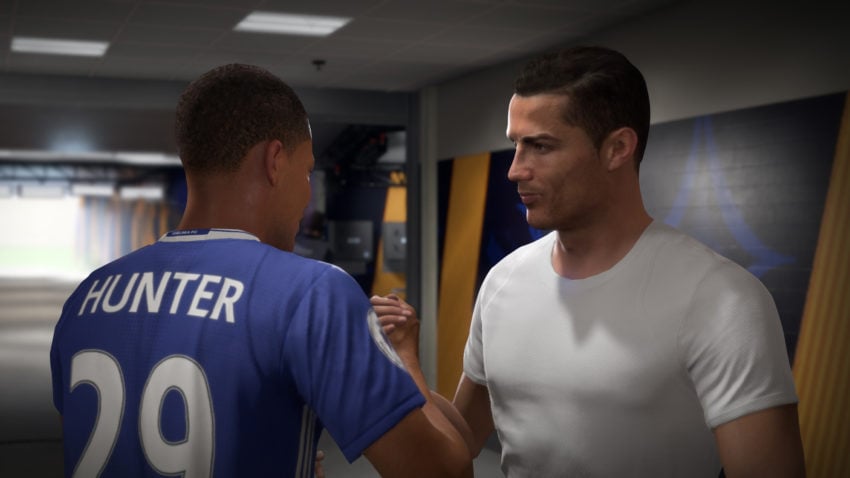 Did you enjoy playing as Alex Hunter in The Journey? If so, you are in for a treat. EA is bringing The Journey back in FIFA 18 with all new seasons and you'll likely see him switch clubs.
EA did not share many details about the new season of The Journey, titled Hunter Returns. We do know that Cristiano Ronaldo is one of the new cast members that you will see in The Journey as Alex Hunter learns from Ronaldo. You'll find yourself playing in Brazil on a summer break and then off to LA to start your pre-season tour.
Expect to learn more about this mode soon with a proper trailer for The Journey: Hunter Returns that can outline some of the major plot points.

This article may contain affiliate links. Click here for more details.