FIFA 18 Release Date Details You Need to Know
The early FIFA 18 release dates are here and hardcore fans can pay to play early, but if you are a casual player like us, you are waiting for the FIFA 18 release date that arrives on Friday September 29th.
This is what you need to know about the FIFA 18 release date, new FIFA 18 features, special editions of FIFA 18 and other key details.
The FIFA 18 release date is set for tomorrow unless you pay $20 more for the Ronaldo Edition or spring for EA Access on Xbox One.
EA remains fully committed to The Journey with season two taking Alex Hunter to new heights and putting you into new challenges that you will need to navigate.
This is focused on the FIFA 18 release for the Xbox One, PS4, PS3, Xbox 360 and PC. There is a special Nintendo Switch FIFA release that isn't the same game, but it will arrive on the same day.
Join us a look at the essential FIFA 18 release date, new FIFA 18 features and what you need to know about new FIFA for 2017.
FIFA 18 Release Date
The FIFA 18 release date is September 29th for all players, but if you buy the special Icon edition you get to play three days early. The FIFA 18 ICON Edition release date is September 26th. Although it is not the same version of FIFA, the Nintendo Switch FIFA 18 release date is also September 29th.
EA Access and Origin Access subscribers get a FIFA 18 trial five days before the public release.
You can pre-order FIFA 18 at Amazon, Best Buy, GameStop and other retailers. Amazon finally offers a physical version that includes Prime Savings, but you have to make sure you select it otherwise you'll end up with a full price digital copy.
FIFA 18 Demo Details
You can play the free FIFA 18 demo right now on PS4, PC and Xbox One which will allow you to test out the game, see the new gameplay and decide if FIFA 18 is worth buying.
FIFA 18 Graphics
In the new FIFA 18 gameplay trailer, we get a look at the new FIFA 18 graphics and some of the new FIFA 18 features. We're waiting for the actual gameplay that you and I will see while playing, but this gives a sneak peak of where Frostbite is taking the game in year 2.
Expect the best looking games on the Xbox One and PS4. There is a special Nintendo Switch FIFA 18 release, that is not built on a Xbox 360 or PS3 build, but we still don't expect it to live up to the graphics on the Xbox One or PS4.
We could see the PS4 Pro gain some enhancements and possibly a better look on the Xbox One X. EA confirmed that Madden 18 will look better on the Xbox One X, so there is a good chance this will happen for FIFA as well.
FIFA 18 for Nintendo Switch, Xbox 360 and PS3
We are approaching that time in the life of the Xbox 360 and PS3 that EA could stop making the game, but that's not happening this year. EA confirms that FIFA 18 is coming to the Xbox 360 and PS3 as a Legacy edition. EA explains what this is,
"A 'Legacy Edition' of EA SPORTS FIFA consists of kit and squad updates to reflect the latest changes in the world of football. Legacy Editions do not include any new gameplay features or innovations."
The FIFA 17 Xbox 360 and PS3 version did not use Frostbite, so don't expect it on any potential PS3 or Xbox 360 FIFA 18 release. EA shared the following about the Nintendo Switch FIFA game for 2017, and we know that this is not coming with Frostbite.
"EA SPORTS FIFA on Nintendo Switch will be the most immersive, social, and authentic sports game ever created for Nintendo players.

It will deliver the FIFA experience custom built for Nintendo Switch…so you can play anywhere, play with anyone, and play how you want to play.

If you're at the park, at your friend's house, or on vacation, you can always stay connected to the biggest matches. You'll be able to get on the pitch with your favorite players and teams from the world's best leagues in iconic stadiums from around the world…all with the unmatched authenticity and depth that FIFA is known for."
We know that the Nintendo Switch FIFA release is not built off a version for Xbox 360 or PS3.
New FIFA 18 Features
As you can see in the video below, Alex Hunter is back for Season 2 of FIFA 18 The Journey. In this mode, you will continue where you left off in FIFA 17. If you are just picking up FIFA 18 without playing the first part of this story mode, expect a quick catch up, or watch the story parts on YouTube.
Here's what's new in FIFA 18;
My Journey Season 2
4K Gaming & Upgraded Graphics
New Crossing Controls
New Dribbling Mechanics
Team Styles Influence Play + Player Personalities
We'll be adding new FIFA 18 features to the game as we learn about how they work as the release approaches. You can see some of them in action in the slides below.
FIFA 18 vs FIFA 17: What's New
My Journey Season 2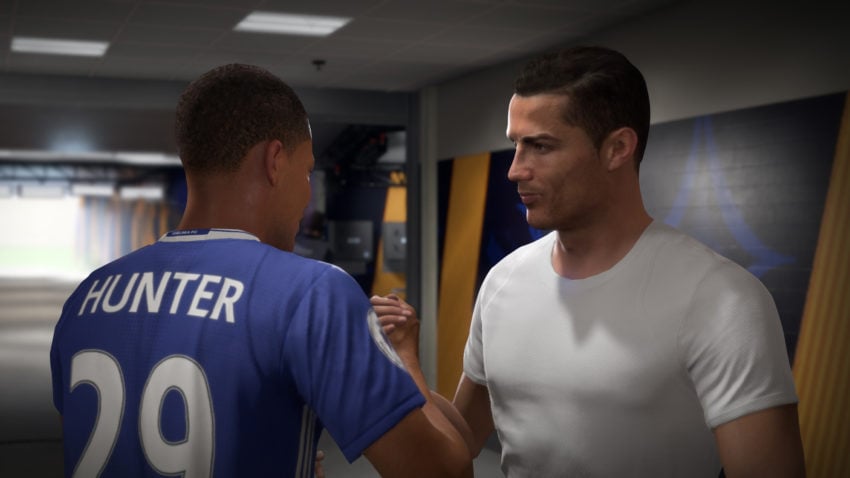 Did you enjoy playing as Alex Hunter in The Journey? If so, you are in for a treat. EA is bringing The Journey back in FIFA 18 with all new seasons and you'll likely see him switch clubs.
EA did not share many details about the new season of The Journey, titled Hunter Returns. We do know that Cristiano Ronaldo is one of the new cast members that you will see in The Journey as Alex Hunter learns from Ronaldo. You'll find yourself playing in Brazil on a summer break and then off to LA to start your pre-season tour.
Expect to learn more about this mode soon with a proper trailer for The Journey: Hunter Returns that can outline some of the major plot points.