Is Gamers Club Unlocked Worth Buying?
With Best Buy Gamers Club Unlocked you can save 20% off every new game you buy and if you pre-order top games you can save another $10.
Read our Gamers Club Unlocked review to find out how I buy new video games for less than $40 on release day and how you can save on every video game purchase from Best Buy.
In the last year I haven't paid full price for a video game, and I am already able to order some of the most exciting games for 2016.
Best Buy Gamers Club Unlocked is a paid service, but it is no longer an expensive $120 subscription. Gamer's Club Unlocked is just $30 for two years of discounts and benefits.
After crunching the numbers and weighing the disadvantages of essentially locking myself into buying my games at Best Buy instead of digitally or from Amazon it's clear that Gamer's Club unlocked is a good deal for me.
Here's a more detailed look at the Best Buy Gamers Club unlocked service, how much I saved and how many games you need to buy to make Gamers Club Unlocked Worth Buying.
What is Gamers Club Unlocked?
Anyone with a My Rewards account at Best Buy gets a free Gamers Club account, but if you pay $30 you get a two-year upgrade to Gamers Club Unlocked. Both memberships include double points on video game software, accessories and digital content, plus 2 points for every dollar when you trade in games. The Gamers Club also includes points on consoles, reward certificates and exclusive offers, but when you upgrade you unlock the real benefits.
20% off New Video Games
10% Trade In Bonus
10% Off Pre-owned Games
Coupons – Buy 2 Get 1 Free Pre-Owned Games, 50% off Strategy Guide
The coupons are only available when you join, but the percent off is valid anytime. You need to go in store to buy the Gamers Club Unlocked membership, but once that is done you can buy games online or in store and save.
The only real limit is that you cannot buy more than three of the same game at the discounted price for a specific console. This is to prevent you from buying a bunch of games and reselling them. In six months I've never run into an issue with buying too many of a game and I own multiple systems.
The 20% off discount also works when games go on sale later, not just on release day. For example, when Fallout 4 is on sale at $29.99 Gamers Club Unlocked members pay $24. Games that drop to $39.99 shortly after release and are just $32 for members.
You can also use this on special editions for 20% off, which is an especially awesome deal.
Best Buy Gamers Club Unlocked Deals
With a Best Buy Gamers Club Unlocked membership you can save big on every game purchase and you can stack this with the $10 reward bonuses that come with most pre-orders. By combining the two offers I can buy most new games for $38 on release day.
That is a $12 up front discount and $10 to use towards a new game or other item later. Here's a short list of games that are available for what amounts to $38 when you are a Gamers Club Unlocked member;
LEGO Star Wars The Force Awakens
Madden 17
Mafia III
Gears of War 4
Battlefield 1
Call of Duty: Infinite Warfare
NBA 2K17
Last year we saw bonus offers arrive for many other games so it makes sense that we will see FIFA 17 and others added to the list after E3 and near the busy fall release.
Gamers Club Unlocked Review
After over a year with Gamers Club Unlocked I've saved over $100, with the combined discount and the bonus reward certificates. That is a conservative estimate considering all the games I buy for work.
This includes $12 off games like Uncharted 4 and buying Fallout 4 for $9 when it went on sale thanks to 20% off and rewards coupons.
Even if you only buy a few games a year, three new releases will pay for the price of Gamers Club Unlocked and after that the rest of it is all savings.
For anyone who loves to play games and hates waiting for new game deals to arrive, this is an essential purchase.
Unlike the Amazon Prime deals, you can use this 20% off discount at any time, not just within two weeks of the release. That makes adding to your collection when deals arrive easier and you have the convenience of in store pickup.
15 Exciting 2016 PS4 Games
No Man's Sky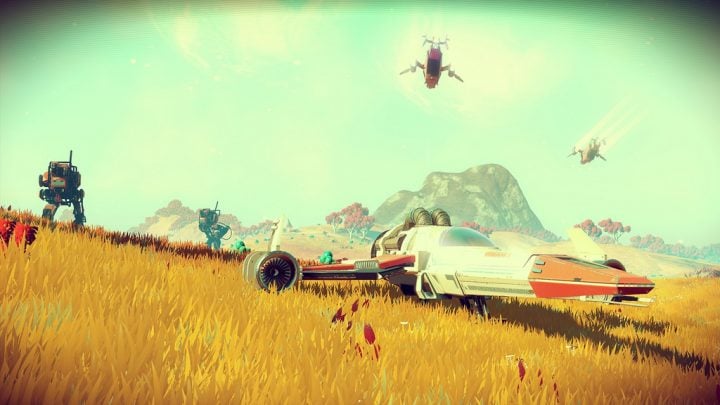 No Man's Sky Release Date: August 9, 2016, PS4 & Windows
No Man's Sky is a constantly generating open galaxy game with space exploration, world exploration and more as you work through an ever-expanding solar system of planets. Each of these planets is filled with new species and a new landscape.
Your goal is to find ancient artifacts that will help you understand the universe. As you make discoveries you can share with other players or keep it all a secret. As you explore and interact with worlds you can leave a trace of yourself behind.
In addition to the digital release there is now a Blu-Ray release of the game.

As an Amazon Associate I earn from qualifying purchases.