Best Free Ringtone Apps for Android
This guide details some of the best free ringtone apps for Android, and why you might want to use one. And while adding custom ringtones to your phone isn't as popular as it once was, there are still plenty of options. With that in mind, below are some of the best apps full of free ringtones and notification sounds.
One of the quickest and easiest ways to customize a new smartphone is by changing the notification sounds or ringtone. Otherwise, it sounds like every other phone or every other Galaxy S8.
Read: How to Create Custom Ringtones on Android
Another reason to use a different ringtone is to assign specific songs or sounds to each contact. That way you know who is calling without ever looking at your screen. Additionally, you can download unique sounds or songs for notifications, ringtones, and alarms. Whether you want the latest Game of Thrones intro song for your ringtone, or something else, these are the apps you'll want to use.
Best Free Ringtone Apps for Android
You can customize your own ringtones with songs you already own using our guide above. Otherwise, try any of the apps below for quality sounds and tones. These range from hit songs, old-school telephone sounds, funny sayings, nature-inspired noises and more.
Today's Hit Ringtones 
If you're looking to add some customization to your smartphone or tablet, try Today's Hit Ringtones. The idea here is simple, this app gives you a selection of top hits and popular music for a ringtone. It curates a list of music from the top of the charts, for each genre, and lets you use them on your Android smartphone.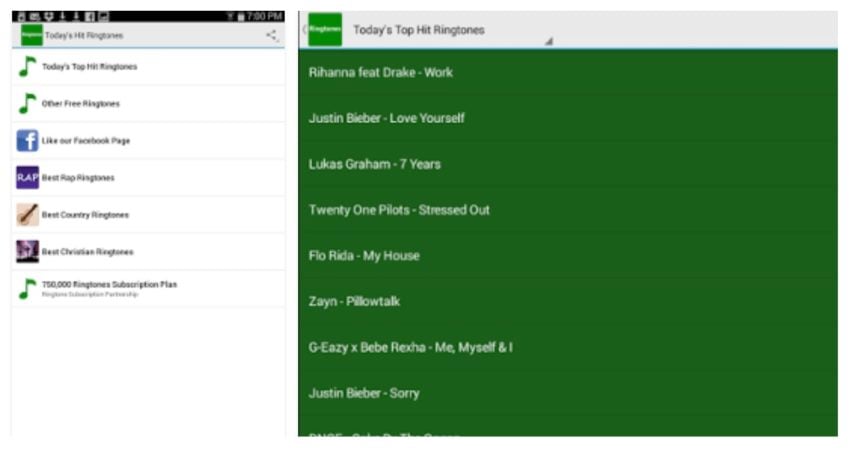 You know that song you keep hearing on the radio with the catchy beat, well, it's probably on this list. You can tap each song to hear a preview, or long-press to set it as the default ringtone on your device. Additionally, these are the real songs too, and not knock-offs that just sound similar.
There is one small downside with Today's Hit Ringtones, which is you can't search for a song. They create a list of top hits for you, instead of letting you search for anything and everything. If you're looking for a bigger selection, keep reading.
Download – Today's Hit Ringtones
ZEDGE Ringtones & Wallpapers
If you've ever added a ringtone to your phone or tablet before, you've probably tried this app. If not, you're missing out. ZEDGE is by far the most popular ringtone, alarm, sound, and wallpaper app for Android. You'll find popular songs, artists, soundtracks, electro sounds, pop, rock, jazz, and anything in between.
Not only does ZEDGE deliver millions of free ringtones, alarm and notification sounds, but they have tons of beautiful wallpapers too. It's one of the most trusted apps for this type of content. Then, a relatively new feature we like is the swipe for related content. While you're hearing a song or looking at a wallpaper, just swipe to the side to see similar content. That way you'll find new and exciting music you've never heard before. If you like one, just make it your ringtone with ease. Give it a try today.
Download – ZEDGE
MTP Ringtones & Wallpapers
Another excellent option for ringtones and wallpapers comes from MTP. This app is essentially the only solid competition for ZEDGE. It features a premium user experience that's easy to use and navigate. And best of all, it's completely free. That way you're finding great sounds, songs or wallpapers without spending a penny.
Our favorite feature in MTP is the ability to set custom ringtones or notification sounds for individual contacts right inside the application. This means you won't have to fumble through settings or deal with confusing menus on your phone. Instead, do everything right in the beautiful and easy to use app.
Download – MTP Ringtones
Audiko Ringtones
If you've tried ZEDGE and a few other apps without any luck, or only found the same few sounds, give Audiko a try instead. They pride themselves on offering over 2 million songs, 15,000 beautiful wallpapers, and fresh new content that gets updated every single day. That means you'll always be able to find something unique and new to customize your phone.
One thing we like about Audiko is you can connect it to your Google Play Music account. Then, import songs and use them as a ringtone if you can't find what you want in their collection. Additionally, the app supports customization and cut/splicing of music tracks. Meaning you can import your own music, cut down the length, and use it as a ringtone all in a matter of minutes.
Audiko has all the genres you'd expect, along with a top hits list that gets updated daily too. They recently added a subscription model if you want to change songs often, but if not, you'll still be fine.
Download – Audiko Ringtones
Mobile 9 Ringtones, Themes & Fonts
Next up is Mobile 9, which does things a little different. Mobile 9 is essentially a little of everything for those looking to customize their smartphone experience. They offer your typical selection of ringtones, alarms, alerts, and sound files for notifications, but then plenty more.
Mobile 9 delivers over 3 million different songs, beautiful wallpapers, themes, and fonts. Then, they have a wide selection of sticker packs for text messaging, and tons of other unique content. Then, in an odd move, Mobile 9 has an entire section dedicated to funny photos, GIFs, memes, and videos.
Basically, this one app will customize your phone, change how it looks, feels and sounds, then keep you entertained for hours on end.
Download – Mobile 9
Funny & Telephone Sounds
Last but not least, we have two other popular categories in one. If you're looking to change-up your phone, try one of these two apps. The first one is "Super Funny Ringtones" which delivers funny sounds, movie lines or quotes, or sayings you can use for ringtones and notifications. If you've ever heard a snarky (or explicit) notification sound from someone's phone, chances are they got it from this app.
Whether you want Minion noises, babies laughing or crying, or other funny sounds, this is a good place to start. Then, we also recommend checking out Telephone Ringtones. These days our smartphones are so advanced it's nice to go back in time to something simple like an old telephone ringing. Reminding you of when you were a child. Telephone Ringtones has a wide selection of old phone sounds, noises, or ringers to make you feel right at home.
Download – Super Funny Ringtones, or Telephone Ringtones
Now that you know where to find some of the best free ringtones for Android start customizing your device today. While you're here, take a look at these 35 best free Android games.