10 Best Samsung Galaxy Note 10+ Cases
These are the best Samsung Galaxy Note 10+ cases available in 2019. While you might want to show off the beautiful new colors on the back, you'll also want to keep its big screen and glass back safe. Which is why we recommend everyone gets a case. These are some great options that also fit the Galaxy Note 10 5G.
Below we recommend everything from thin cases, clear cases, cheap options to heavy-duty protection. Not to mention wallet or kickstand cases and official accessories made by Samsung. Some cost a few bucks, while others are more expensive but are from reputable brands. Either way, they'll help you keep your Galaxy Note 10+ (Plus) safe and scratch-free for years to come.
Best Galaxy Note 10 Plus Cases
1. Spigen Liquid Air Armor Case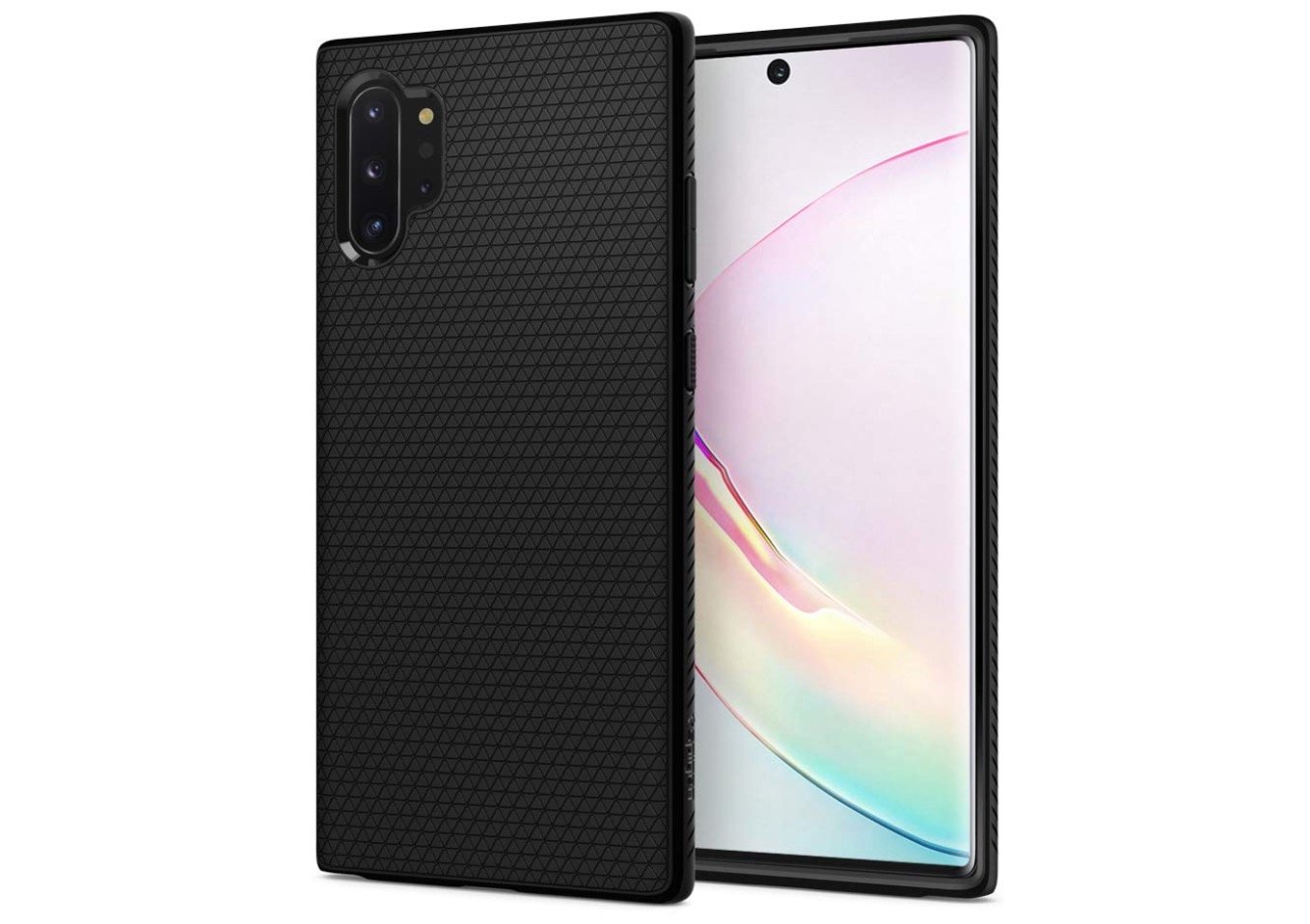 Typically the first case brand we recommend is Spigen, as they offer a slew of styles, designs, and durability levels for every major phone release. Our favorite two cases are the Spigen Liquid Air Armor or the Neo Hybrid.
Each Spigen case is made from a durable shock-absorbing TPU material that's shock-resistant, lightweight, and flexible. Spigen reinforced the frame at each cutout for the buttons or charging port, and uses air cushion technology in the corners to help keep the screen safe during drops or accidents. We love the herringbone texture on the back, and the oversized tactile and easy to press buttons. Seriously, anything from Spigen is a good choice. 
2. Caseology Vault Series for Note 10+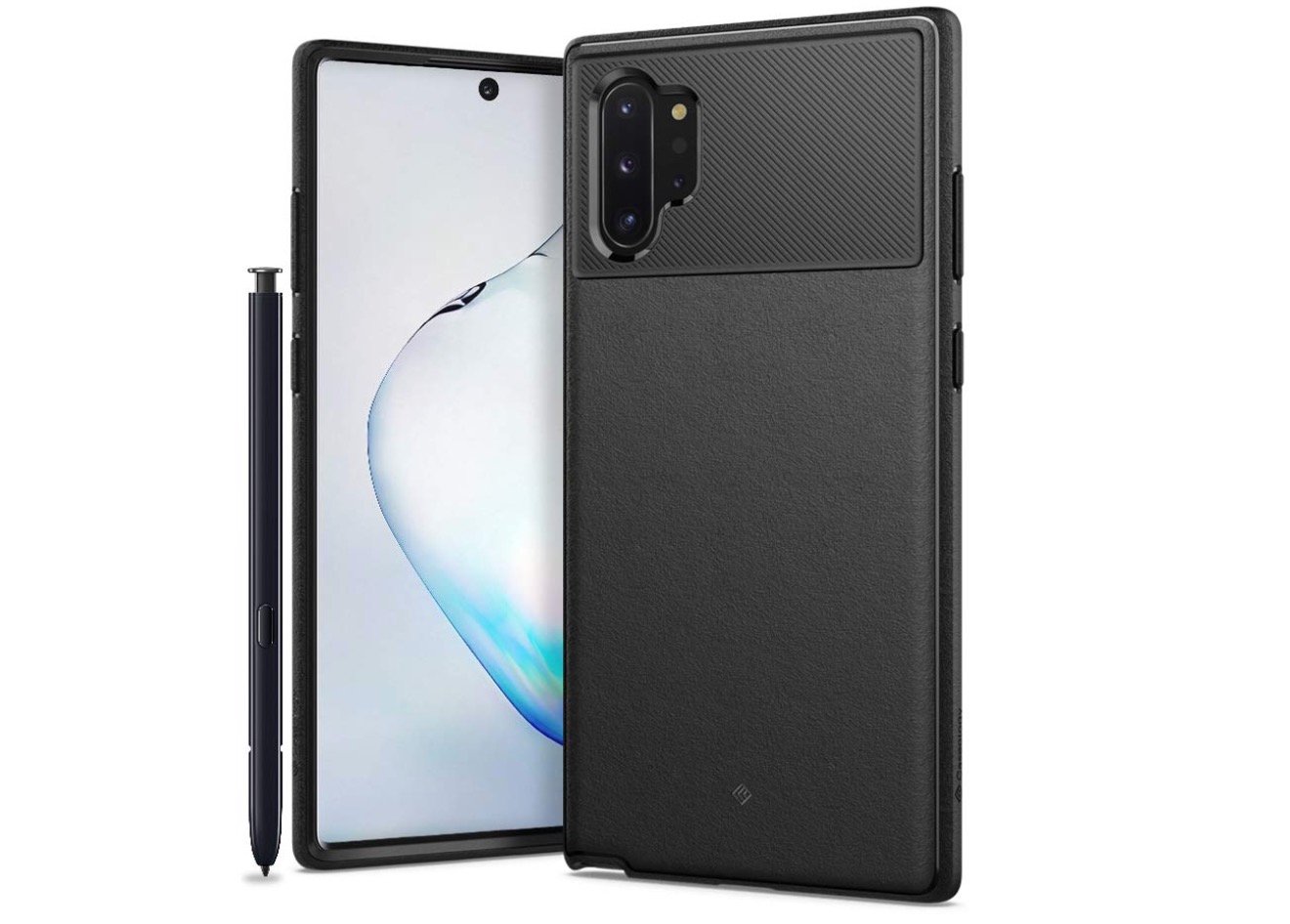 Caseology is another brand that makes great cases in several styles, and the Vault series is always a go-to choice. Mainly because while it's thin, lightweight and flexible, they're still plenty durable and actually have a military-grade drop rating.
This year the Vault series has a sleek new design even though it's still made from impact-resistant TPU material. They're using a nice slim profile, oversized tactile buttons, and a textured finish on the back that almost resembles the grip on a handgun. This texture ensures you won't accidentally drop you big, oversized, slippery phone. Consider this or anything else from Caseology. And yes, it works with wireless charging.
3. MoKo Crystal Clear Hard Shell
Sometimes all people want is a durable, strong, yet clear case that won't make their phone feel like a brick, and look good at the same time. And while beautiful Auro Glow and Blue color options for the Note 10, you might want to consider a clear case.
The MoKo crystal clear hard shell is exactly what the name suggests. A durable polycarbonate clear plastic case that won't show fingerprints or discolor over time. Then, they add reinforced dual-layer TPU material on the corners for added drop protection. Oh, and they do all this while keeping it super affordable.
4. Otterbox Commuter Series for Note 10+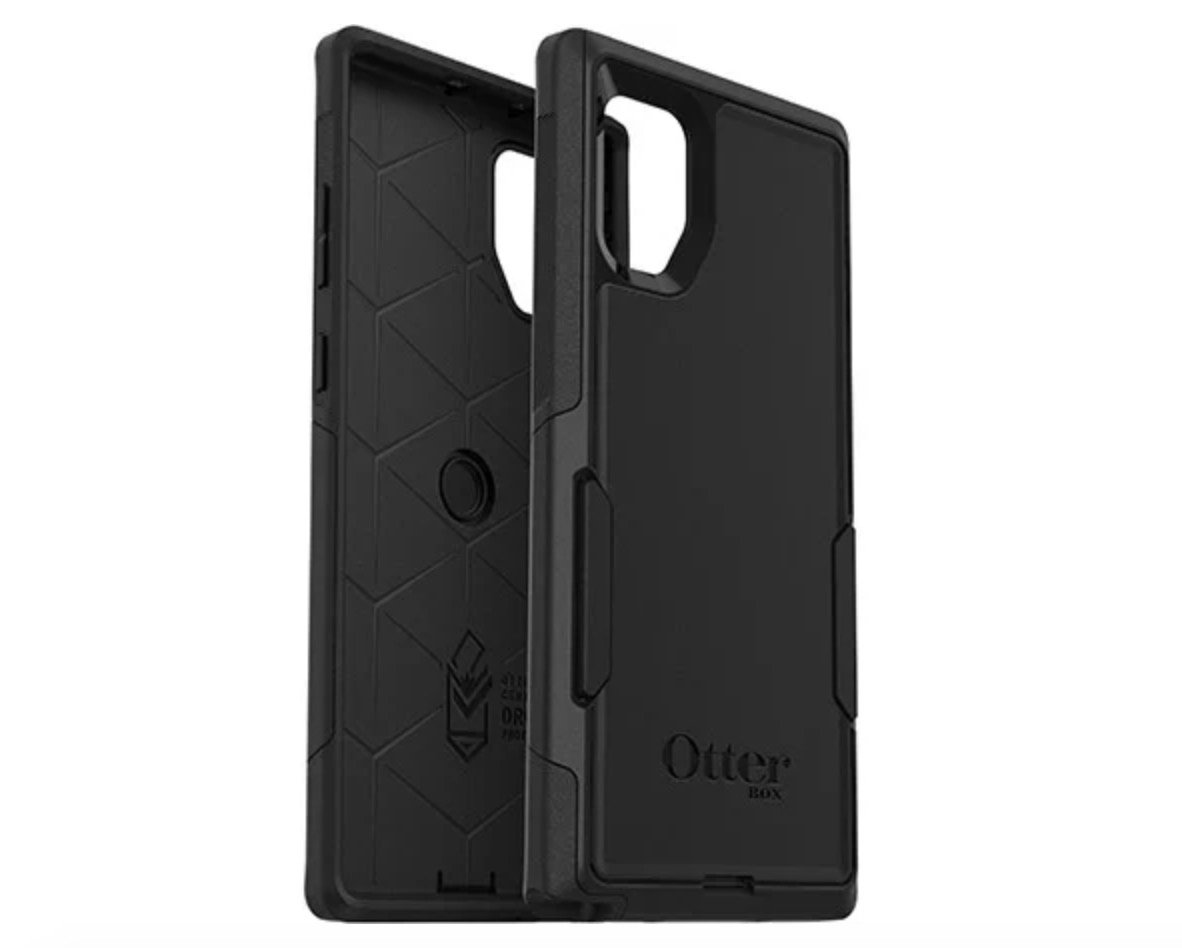 Buy it Now from Otterbox for $40
Otterbox is a brand that needs no introduction these days. They make some of the most robust and rugged cases on the market. However, they're also known for huge cases that are so bulky it feels like you're holding a brick. That's no longer the case. The Otterbox Symmetry series is extremely popular, but our favorite is the Commuter case.
The Commuter case is perfect for the Galaxy Note 10 Plus. It's not too thick, not too thin, durable, rugged, and will keep your phone safe. They use a soft TPU material on the inside and a hard polycarbonate plastic on the outside. Combining both to make a strong dual-layer case that anyone can appreciate. It comes in a few different color options and is a great case that will ensure your Note 10 lasts a while.
5. Spigen Slim Armor CS Wallet Case
As we said earlier, Spigen makes several different case styles. And while the Tough Armor with a built-in kickstand is probably the most popular, the Slim Armor CS is more useful. This case will totally keep your Note 10 safe, but it also doubles as a wallet at the same time. Giving you one less thing to worry about or remember when you're running out the door headed to work.
Spigen's Slim Armor cases use the popular dual-layer design style that most other case brands use. That means the inside is a soft shock-absorbing TPU material, while the outside has a reinforced hard polycarbonate shell. Then, this one actually slides open revealing a hidden pocket that holds two credit cards, some ID, or some cash. You still get the Air cushion corner protection and everything else we love about Spigen, with the addition of a small hidden wallet. Give it a try.
6. Speck Presidio Pro Case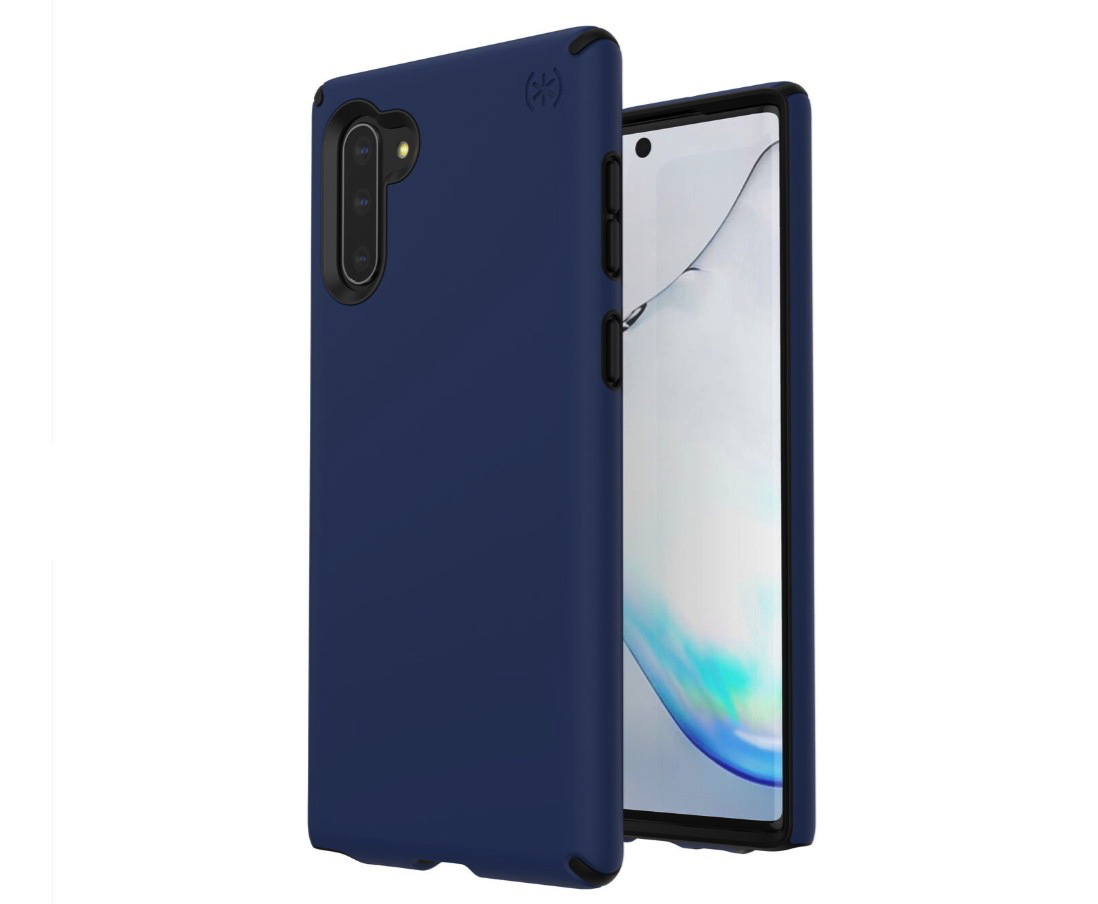 Another option is the Presidio Pro from Speck, a brand that you've probably seen in every carrier or retail store for the last several years. Everyone carries Speck because they make some of the best, most durable, shock-resistant and military-grade cases around. In fact, they offer a 13-ft drop protection guarantee.
The Speck Presidio Pro uses a unique dual-layer design with both hard polycarbonate plastic and soft TPU for absorbing any impacts from drops or accidents. And while most cases have raised edges that keep the screen safe, they do so more than most ensuring that big 6.8-inch Note 10 Plus screen doesn't get damaged the first time you drop it. Then, the outside has an extremely texturized soft-grip finish for ease of use.
7. UAG Plasma Case
Urban Armor Gear makes some truly strong cases, but they have a unique look that isn't for everyone. However, if you like the style you'll love the protection from each UAG case for the Galaxy Note 10.
These rugged cases have a featherlight composite construction with a soft impact core and small elements of hard polycarbonate on the outside for added strength. UAG adds reinforced dual-layer materials to all four corners, oversized tactile and easy to press buttons, and little "skid pads" around the screen to keep your phone completely safe. These cases meet military-grade 10ft drop ratings while still offering wireless charging. They're perfect for someone who lives an active lifestyle.
8. Sucnakp Rugged Shield
Another solid option is the Sucnakp Rugged Shield. This case uses multiple layers of a strong yet flexible TPU material to ensure your Note 10 is completely safe. Then, they separate the case into several squares to help disperse any forces from drops or accidents.
The angled sides help send the brute force from drops away from the screen too, which should keep your phone lasting longer. We really like the raised edges and oversized tactile and textured buttons for ease of use. This is a good little cheap case worth trying.
9. Samsung Rugged Protective Kickstand Case
Buy it Now from Samsung for $40
These days Samsung makes some pretty excellent official cases and accessories for every phone they sell. The model we've heard fans love the most is the Rugged Protective Kickstand case. Mainly because it's durable, thin, yet will totally keep your phone safe.
Furthermore, Samsung's case is perfectly designed to fit your phone. Then, the lay-flat kickstand will fold out giving you an easy way to watch Netflix, YouTube and more hands-free. We love the kickstand and think you will too.
10. Incipio DualPro Case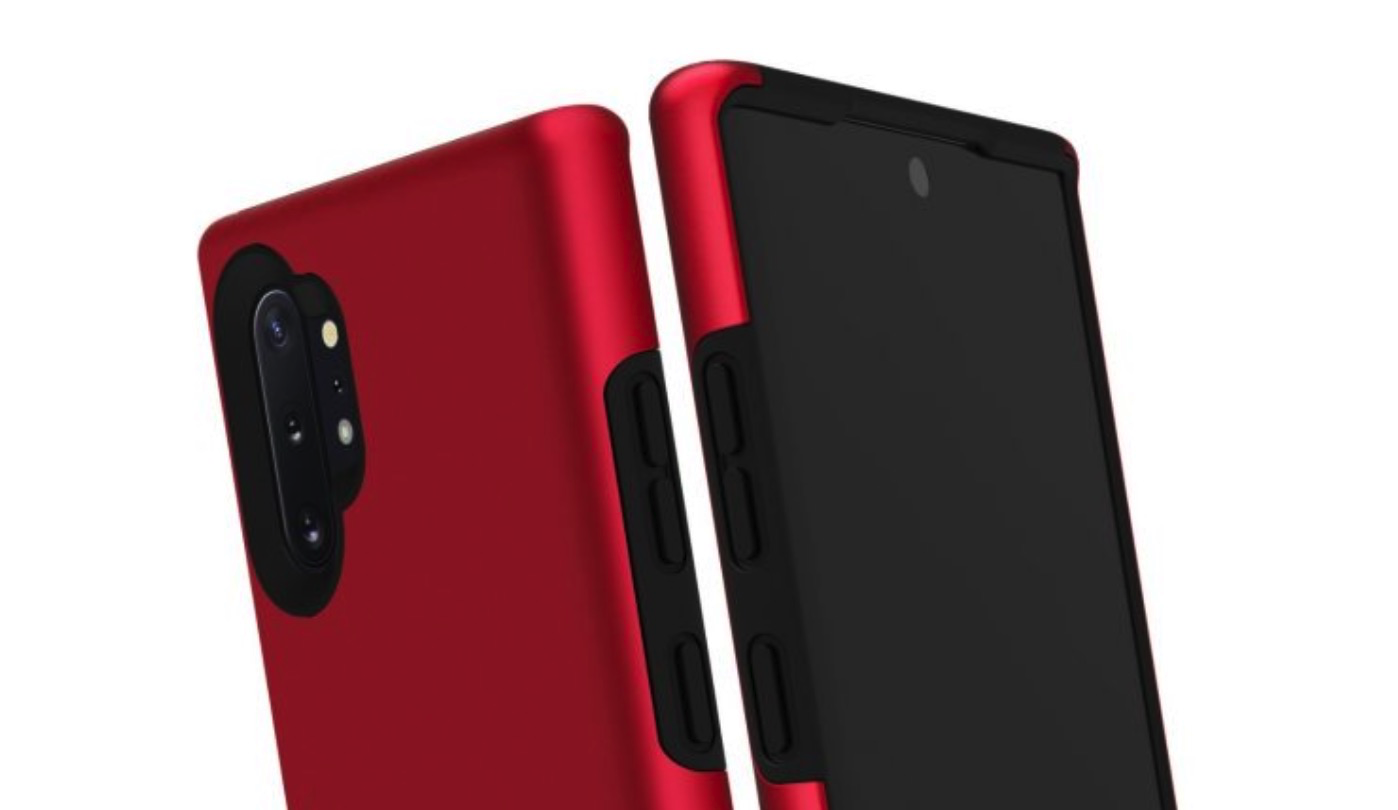 Buy it Now from Incipio for $30
Last but not least is the Incipio DualPro case for the Galaxy Note 10. Fun fact, Incipio was one of the pioneers of the dual-layer case strategy for smartphones. Giving you a phone case that's not too thick, not too thin, yet extremely strong and will keep your phone safe for years to come.
Each DualPro case comes with a soft impact-resistant TPU core that'll prevent damage from accidents. Then, they add a strong polycarbonate plastic to the outside for extra durability. And finally, the DualPro has a soft-touch matte finish to help you keep a good grip on your phone. It comes in several colors, but we really like this red one.
Conclusion
In closing, some of our favorite Galaxy Note cases come from Spigen, Speck, and Incipio, which is why they all made this list. These are the best Galaxy Note 10+ cases we've found so far and we'll update this list as more get released. We'll also buy and test several Galaxy Note 10+ cases, and report back with the best ones worth buying.