Best Galaxy Note 10 Screen Protectors
These are the best Samsung Galaxy Note 10 screen protectors available in 2019. While the Note 10 is the smaller of the two devices, you'll still want to keep it protected. The ultrasonic fingerprint scanner under the screen works through these screen protectors. And no, they don't have a circle cut out of the protector either. We don't recommend those.
Instead, we've found durable tempered glass screen protectors that work perfectly with the Galaxy Note 10. Then, we'll suggest some cheaper film style protection that perfectly fits the curved screen. there are a few under $10, which is far cheaper than the $250+ you'll spend to replace a broken screen. Or, you can spend around $30+ on protection from popular and more reputable brands.
Not everything you find on Amazon will work or fit, which is why we've gathered a list of the best options for you.
Best Galaxy Note 10 Screen Protectors
1. WhiteStone Dome Glass UV Screen Protector
No products found.
2. DONWELL UV Tempered Glass 2 Pack
No products found.
3. LK Clear Film 3-Pack
No products found.
4. SQMCase Tempered Glass 2-Pack
No products found.
5. MAG Glass Durable Tempered Glass Protection
No products found.
6. amFilm Tempered Glass Screen Protector
No products found.
7. InvisibleShield Ultra Clear Film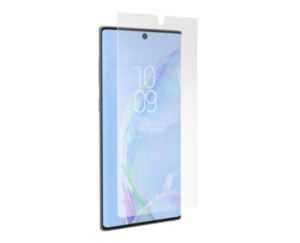 Buy from InvisibleShield for $30
Another option is the InvisibleShield Ultra Clear. This is a company that's been around for years, as we all know, and they make quality products you can trust. InvisibleShield's film is extremely durable and originally created to protect the edges of helicopter propellers, so it'll certainly be able to save your screen from a scratch or two. Plus, this film has self-healing properties, anti-fingerprint coatings, and is a good option for most owners.
In closing, these are among the best Galaxy Note 10 screen protectors we've found so far. As more products get released and we test others, we'll update this list with what works best, fits perfect and is easiest to install. Screen protectors are a little tricky these days on curved Samsung screens, but these are still your best bet. Try one today.
Last update on 2023-10-03. This post may contain affiliate links. Click here to read our disclosure policy for more details. Images via Amazon API

As an Amazon Associate I earn from qualifying purchases.