Best Galaxy Note 10 Screen Protectors
These are the best Samsung Galaxy Note 10 screen protectors available in 2019. While the Note 10 is the smaller of the two devices, you'll still want to keep it protected. The ultrasonic fingerprint scanner under the screen works through these screen protectors. And no, they don't have a circle cut out of the protector either. We don't recommend those.
Instead, we've found durable tempered glass screen protectors that work perfectly with the Galaxy Note 10. Then, we'll suggest some cheaper film style protection that perfectly fits the curved screen. there are a few under $10, which is far cheaper than the $250+ you'll spend to replace a broken screen. Or, you can spend around $30+ on protection from popular and more reputable brands.
Not everything you find on Amazon will work or fit, which is why we've gathered a list of the best options for you.
Best Galaxy Note 10 Screen Protectors
1. WhiteStone Dome Glass UV Screen Protector
Galaxy Note 10 Screen Protector, [Dome Glass] Full 3D Curved Edge Tempered Glass Shield [Liquid Dispersion Tech] Easy Install Kit for Samsung Galaxy Note 10 - One Pack
✔️ High response and high transparency and dust-free, fingerprint-free, one-push super easy installation, bubble free
✔️ Advanced Solution for Ultrasonic Fingerprint - Our liquid dispersion technology works with the ultrasonic fingerprint reader, so you can keep your phone sharp to your touch, you do not have to give up the touch sensitivity for extra protection
✔️ Bubble-Free Installation Kit - To prevent errors and air bubbles, the install frame and UV curing light are included with purchase. Quality is reflected through commitment, so make sure you have enough time and patience to get an undeniably perfect result
✔️ Full Clear - Dome Glass is ultra-clear high definition with high transparency to allow an optimal and natural viewing experience
2. DONWELL UV Tempered Glass 2 Pack
3. LK Clear Film 3-Pack
LK 1 Pack Screen Protector Compatible for Samsung Galaxy Note 10 Flexible TPU Film HD Clear Bubble Free
[Ultra Clear & High-response] 99% HD transparency screen protector promises sensitive touching performance which keeps high image quality and fast phone responsiveness.
[Self-Healing] The Screen Protector can Self-heals minor scratches and bubbles over time to continuously protect your screen.
[Easy installation] Please watch our installation video first and use the included tool kit when you install this Samsung Galaxy Note 10 Screen Protector.
[Case-Friendly Design] LK screen protector is designed to be compatible with most cases. Extra space is left around the borders for your case to wrap around the edges of your mobile without interfering with the film.
[Top Grade Protection] Made from superior 9H tempered glass that is shatterproof protecting your screen from scratches to high impact drops.
4. SQMCase Tempered Glass 2-Pack
Galaxy Note 10 Screen Protector, [HD Clear] [Bubble-Free] [Anti-Scratch] [Case Friendly] Tempered Glass Film for Samsung Galaxy Note 10, 2 Pack
[Full Coverage Protection]: The newest 3D Glass Bent Technology makes the glass bent to perfectly fit Galaxy Note 10 2.5D round edge, protect Galaxy Note 10 screen in full frame. With Black stickiness frame, it will sitck stronger than ordinary screen protector. Compatible with the ultrasonic In-Display fingerprint sensor.
[Easy Installation]: Advanced fitting technology of anti-static silica membrane, to make convenience for the fitting and dismantling. Note: Comes with 1 Set of Wet Wipes and Dust Removal Stickers, in case of bubble, please clean the dust in advance and press the screen protector for a while when you are installing.
[Thin & Anti-scratch]: Thanks to a tough-as-nails 9H hardness rating with tempered layering and reinforced shatterproof construction. Enjoy crisp, responsive touch inputs courtesy of the embedded PIXEL GRID technology and 0.3MM ultra thin profile.
[High Definition & Transparency]: Features high-resolution Retina display as the original screen of Galaxy Note 10 does. Promises better touchscreen sensitivity. Ultra-clear with 99.9% transparency.
[Hassle-free service]: provides lifetime protection for your screen protector.Whenever you have any issues on our samsung galaxy note 10 screen protector or your order, please kindly contact us via Amazon message. We will response within 24 hours and provide the best after-sales service for you.
5. MAG Glass Durable Tempered Glass Protection
6. amFilm Tempered Glass Screen Protector
amFilm Glass Screen Protector for Galaxy Note 10, Tempered Glass 2019, Dot Matrix with Easy Installation Tray (Not Compatible with The Fingerprint Scanner)
Specifically designed for the Galaxy Note 10, Full Coverage, Edge to Edge
This protector WILL NOT WORK WITH THE IN-SCREEN FINGERPRINT SCANNER on the Galaxy Note 10 (2019).
Protects your screen from daily scratches, dust, scrapes, and normal signs of wear!
Easy Installation Guaranteed! This screen protector comes with an easy installation tray to help you get the perfect alignment, every time.
Includes 1 Glass Screen Protector, Easy Installation Tray, Wet Wipes, Microfiber Cloth, and Installation Guide.
7. InvisibleShield Ultra Clear Film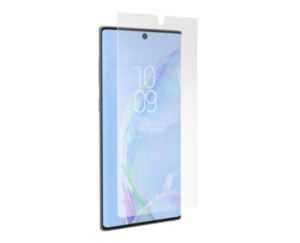 Buy from InvisibleShield for $30
Another option is the InvisibleShield Ultra Clear. This is a company that's been around for years, as we all know, and they make quality products you can trust. InvisibleShield's film is extremely durable and originally created to protect the edges of helicopter propellers, so it'll certainly be able to save your screen from a scratch or two. Plus, this film has self-healing properties, anti-fingerprint coatings, and is a good option for most owners.
In closing, these are among the best Galaxy Note 10 screen protectors we've found so far. As more products get released and we test others, we'll update this list with what works best, fits perfect and is easiest to install. Screen protectors are a little tricky these days on curved Samsung screens, but these are still your best bet. Try one today.
Last update on 2020-12-15. This post may contain affiliate links. Click here to read our disclosure policy for more details. Images via Amazon API

This article may contain affiliate links. Click here for more details.