8 Best Galaxy Note 8 Battery Cases
ZeroLemon 10,000 mAh Note 8 Case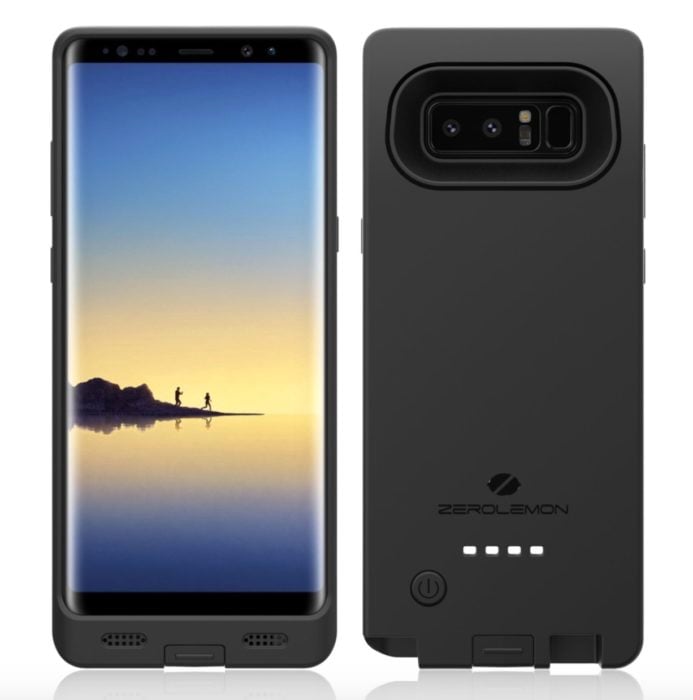 If you're one of the few that absolutely must have amazing battery life, this is it. ZeroLemon is a brand almost any battery case fan knows and knows well. They often offer the biggest battery cases on the market, and the Note 8 is no exception.
And while ZeroLemon does sell a 5,000 mAh battery case, it's the 10,000 mAh one we want to highlight. The Note 8 has a small 3,300 mAh battery built-in. Buying this case straight up triples battery life. Pretty insane, right?
The company uses a strong polycarbonate shell for durability along with a soft TPU outer shell for drop protection. Then, they added four LED's on the back for battery status information.
Our favorite part though is the ZeroLemon case offers simultaneous charging (both the case and phone at the same time) and data passthrough. This is important because cheaper battery cases don't offer either of those. You can't transfer data or music and photos without taking the case off, and most only charge the case, or the case first and then the phone. Finally, this case routes sound from the bottom speaker into the frame and delivers front-facing speakers. Reviews are mixed when talking about the overall quality, but try one yourself today.

As an Amazon Associate I earn from qualifying purchases.