8 Best Galaxy Note 8 Battery Cases
These are the best Galaxy Note 8 battery cases available and why you'd want one. Buying the right case will keep your phone safe and nearly double its battery life at the same time. Whether that's to get better battery life, or simply because you're going on vacation.
With a huge screen and glass covering both the front and back of the phone, your Note 8 is somewhat fragile. That's why we recommend getting a good case. While you're at it, get one that improves battery life.
Read: 10 Best Galaxy Note 8 Screen Protectors 
There are multiple reasons to get a battery case for your phone. Some want one just to make it last longer, while others choose this type of case for traveling. Or, you might just need extra juice for playing games like Pokemon Go. We've found some cheap no-name brand battery cases that are very affordable. Some cost as little as $26 although you'll need to spend a little more to get one from a reputable brand.
The Galaxy Note 8 has a massive 6.3-inch Quad-HD display, but only a 3,300 mAh battery. That's smaller than the companies own Galaxy S8+. And while it's enough for some, battery life is one of the biggest complaints we continue to receive. Here are some tips to improve battery life, then get a case from our slideshow below.
Samsung isn't offering battery cases for the Note 8 like we saw with the Galaxy S7 in previous years. The phone also doesn't have a removable battery. Meaning you have a limited number of options. As a result, the next best thing for users is a portable charger pack or a Galaxy Note 8 battery case.
Read: Best Fast Chargers for the Galaxy Note 8
Buying a cheap $39 battery case is better than nothing, and will keep your phone safe while offering 160% more battery life. That's cheaper than replacing a broken screen for $150+, and you'll enjoy your phone more too. Popular options like Mophie have battery cases with wireless charging built-in, so you won't lose features.
These cases can make the Galaxy Note 8 easily last 2-3 days on a single charge, or longer. Perfect for going on vacation, business users, or those constantly on the go. Even if you don't use it daily, a battery case is a good accessory to have for when you need it.
With that all said, these are the best Galaxy Note 8 battery cases available right now. Get one today and enjoy your phone without worrying about finding a wall outlet.
Mophie Juice Pack (2,950 mAh)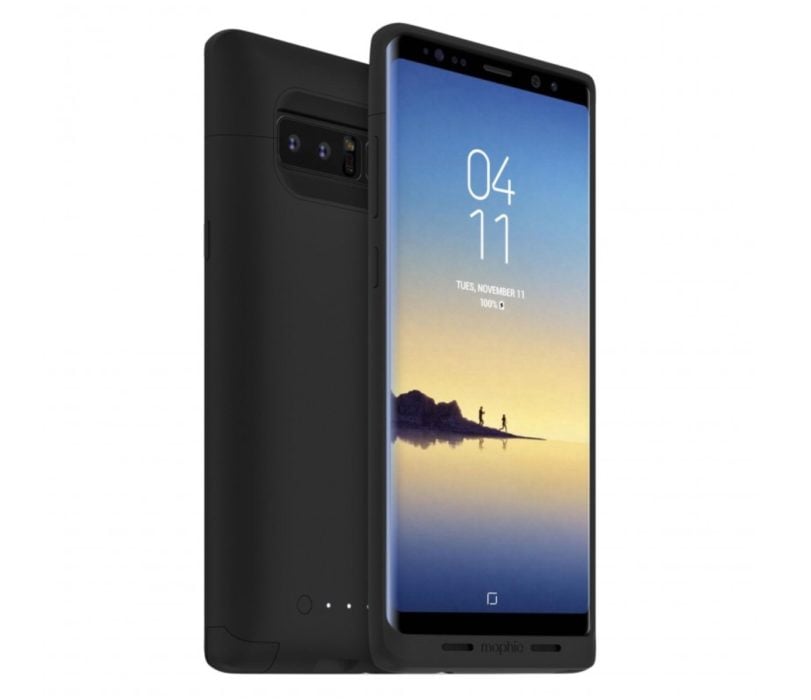 Our first recommendation is the Mophie Juice Pack. They're one of the most trusted brands in smartphone protection and battery cases. In fact, they're one of the original battery case manufacturers that made this category popular.
The Mophie Juice Pack is one of the most feature-complete cases available. You'll get an extra 2,950 mAh of battery so your phone lasts over an entire day. This case has wireless charging built-in, too, so you're not losing features.
We also like that it supports pass-thru for data transfer and fast charging. That means you'll still get fast charging on the Galaxy Note 8, which is a very big deal. It allows the phone to recharge in about 80 minutes, instead of 2-3 hours. Additionally, pass thru means you don't have to remove your battery case to plug in a USB cable and manage files, photos, or content on your device.
Furthermore, the Mophie uses industry-leading dense batteries, durable polycarbonate to keep your phone safe, a low-profile design, and routes the speakers to front-facing. It's the best battery case around.