5 Best Galaxy S8 Battery Cases
Are you looking to protect your Galaxy S8 and get better battery life at the same time? If so, you'll want to consider a Galaxy S8 battery case. Samsung's phone gets pretty decent battery life already, but if you're searching for more juice while traveling or at work, this is a great way to get it. In this buying guide we'll share a list of the best battery cases available and explain why you'll want one.
With a big curved display and glass covering the front and the back, the Galaxy S8 can easily get damaged. That's why we recommend getting a good case, and while you're at it one that extends battery life.
Read: 8 Best Galaxy S8+ Screen Protectors
There are a few different choices for a battery case. From cheap no-name brands that may not last as long as advertised, to quality cases from brands we know and trust. We've found options as low as $26 although you'll need to spend around $60 to get a battery case from a reputable brand. Here are the best options available, or head down to the slideshow below for more details and a link to buy one today.
Best Battery Cases for the Galaxy S8
i-Blades Galaxy S8 Smart Case
VProof Power Bank 5,000 (or 5,500 for Galaxy S8+)
Mophie Juice Pack Battery Case
AlpaTronix 4,500 mAh Wireless Charging Battery Case
Trainium Atomic Pro 4,500 mAh
The Galaxy S8 and S8+ come with a large 3,000 and 3,500 mAh battery packed inside. However, that battery is not removable. As a result, the best thing for users is a portable battery charger, or a battery case.
Another reason people buy battery cases is after they've had a phone for a year or so. Over time, your battery will start to degrade a little bit, and eventually, you'll get worse battery life than when you first bought it. If you don't want to upgrade to the Galaxy S9, we'll help you fix your Galaxy S8. Here are some tips to fix battery life, otherwise, check out our case recommendations.
These cases can make your S8 last for 2-3 days on a single charge. Perfect for road warriors, business users or someone on vacation. Even if you don't use it daily, a battery case is a good accessory to have when you need it. These are basically durable and rugged cases with a battery pack built-in. Giving you a little extra protection to keep your phone safe, and keep it juiced up at the same time. Some have a detachable battery so you can snap it on when you need it, and keep your phone thin and easy to carry when you don't. Buy one today.
i-Blades Smart Case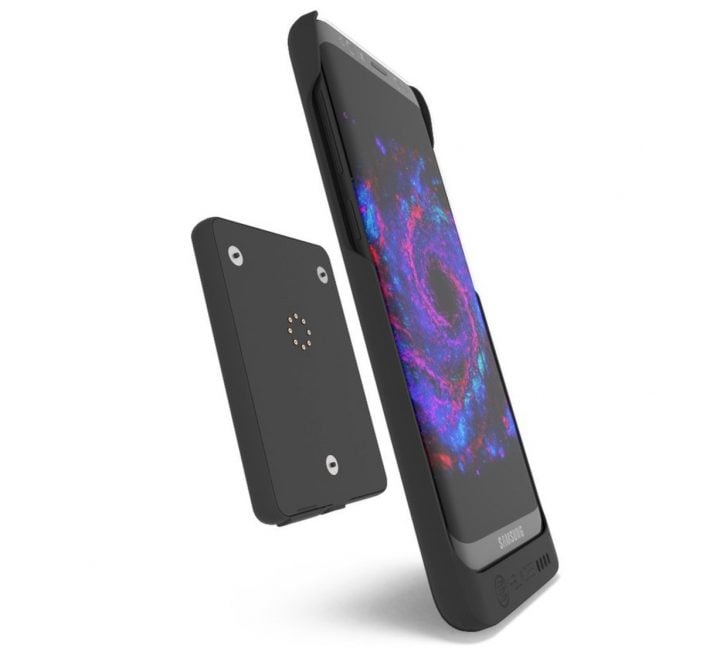 First up is a unique case from the guys at i-Blades. They actually call it a "smart case" for one of the smartest phones on the planet, the Galaxy S8.
The i-Blade Smart Case for the Galaxy S8 does a lot more than just extend the battery life. It's a traditional thin case that offers decent protection, but then there are four connection points on the back that allow modules or "blades" to snap on. It isn't extremely pretty, but the blades add a lot of value.
For $99 the i-Blade Battery attachment adds 12 hours of battery life, 64GB of storage (so 128GB total) and a second microSD slot for even more storage. Technically with their case, the Galaxy S8 can last nearly two days and have over 600GB of storage in total. Pretty neat right?
The case also has sensors to monitor air quality around you, and there will be more snap-on blades released at a later date.
Buy it Now for $99 It's also available for the Galaxy S8+