How to Fix Bad Samsung Galaxy S8 Battery Life
If your Galaxy isn't lasting as long as expected here are over 10 tips to fix bad Galaxy S8 battery life. These problems apply to the Galaxy S8+ as well. Samsung's phones still have a lot to offer even though they're over two years old, but they're not perfect.
Owners received a big boost in performance and battery with the Galaxy S8 Android Pie update, known as One UI, but that isn't enough for everyone. As a result, here are some settings to change, options to consider and quick tips to get you the best battery life possible.
How to Fix Bad Galaxy S8 Battery Life (Or S8+)
Samsung phones have tons of options, controls, and settings that you can change for an improved experience. And while some of them are great, others simply drain the battery even if you don't use them. We'll cover which ones to use, and what you might want to turn off. Additionally, you can take advantage of Samsung's battery saver modes and performance modes to get the most out of your phone.
Find Apps Eating Up Your Battery
The first recommendation is always to check if apps are incorrectly draining the battery too fast. If you want to fix your bad Galaxy S8 battery life, keep an eye on the stats and running apps. When an app misbehaves it can cause all sorts of trouble.
Read: How to Enable Full Screen Apps on the Galaxy S8
Whether these are pre-installed apps or something you downloaded from Google Play, there is a chance a rogue app is causing an issue. This goes for all Android devices, not just the Galaxy S8.
If you use an application a lot, it's going to drain your battery. But there are also times where bugs or issues might cause an app to go rogue and start abnormally draining juice. We've seen this with the Oculus app Samsung pre-installs on the phones and even Facebook.
Above is a screenshot showing a good day with the Galaxy S8+. Getting nearly 23 hours of usage, with more than 4 hours remaining and over 4 hours of the important "screen on time". Some days are better than others, but this is typical for me.
Keep in mind Android System usually uses the most battery, which is fine. If an app is using more battery than Android System and listed higher in the battery usage section, something is wrong. If so, uninstall it to prevent further drain. If you need it, try uninstalling it then reinstalling the app.
Reboot Your Galaxy S8 or S8+
If the battery is running down quick, there's a reason for it. GPS, WiFi, or an app could be the problem. Something isn't right, but we don't know what yet. A quick reboot will often fix this, and save owners from dealing with a dead battery later in the day. In fact, you can fix almost any small problem by doing a quick reboot.
Read: 10 Cool Things the Galaxy S8 Can Do
This sounds like a silly recommendation, but you'd be amazed how many times I've fixed problems on a family members phone just because I chose to reboot it. Seriously, reboot your phone at least once a week.
Screen Brightness & Sleep Time
Most people check their phone over 140 times a day. Constantly turning it on but then set it down without hitting the power/sleep button to turn off the screen when they're done. This means the screen is on for no reason. Do this 140 times a day, and battery life will suffer. Simply hit the same wake/sleep button to turn off the screen before you set it down. It's an easy habit that makes a big difference.
The screen-on time under the battery stats page in settings is important, as the display will usually be at the top of the list. As a result, you'll want to head into Settings > Display > Brightness and choose something that works for you. Auto isn't ideal for conserving battery, and I use somewhere around 30-35% brightness because the S8 screen is so bright. This saves a lot of battery. You can even quickly turn it up in the notification bar if needed.
While we're in display settings some owners will want to lower the "screen timeout" option. This is how long the phone stays on before the screen auto dims and turns off to save battery life. By default, it is set to 1 minute, try 30 seconds. This way every time a user turns on their phone it isn't staying on for 1,2, or even 5 minutes at a time. Remember, it all adds up after 8-10 hours.
Disable the Always-On Display
Hands down one of my favorite features on the Galaxy S8 and other phones is the always on display. Being able to glance over to see the time, date, battery and incoming notifications without turning on the screen.
Samsung even claims the AOD feature will drain less than 5% throughout an entire 8 hours at work. So while it's a small difference, if you're looking for every advantage turn it off. Head to Settings > Display > scroll down and disable the Always-On display feature.
WiFi, 4G LTE, Bluetooth & GPS
This one is a toss-up, but every little bit helps. Right? If you aren't using WiFi or Bluetooth, you might as well turn them off. Even though they're minimal when it comes to battery drain. It's one more quick and easy step. If you're in a WiFi location (coffee shop) yet not using WiFi, certainly turn it off as the device will continuously search for a network. It's a huge battery saver at home to use WiFi, but if it isn't being used, disable it. These are right at the top of the notification pulldown bar.
However, the biggest drain on the battery is location services and GPS. So using Google Maps, letting Facebook Messenger use GPS to find your location and other things of that nature. GPS has always been something I turn off and see dramatic improvements. Your Maps may act funny and struggle to find your location though. If so, turn it back on as needed.
Head into Settings > Privacy & safety > Location > and select Location Method, then choose "Battery Saver" or the middle WiFi and Mobile networks. This kills GPS which really hurts batter throughout the day. Even if you're not using it.
Use a Black Wallpaper
Pretty wallpapers are pretty. That said, using a black or dark wallpaper will, in fact, improve battery life. Samsung's AMOLED display technology works differently than most screens. Pixels don't need to turn on individually, or as high, to display a black image.
After you've downloaded a nice wallpaper long-press a blank area of the screen and go into Wallpapers to apply it. Again, it's the little things combined that all work out in the end.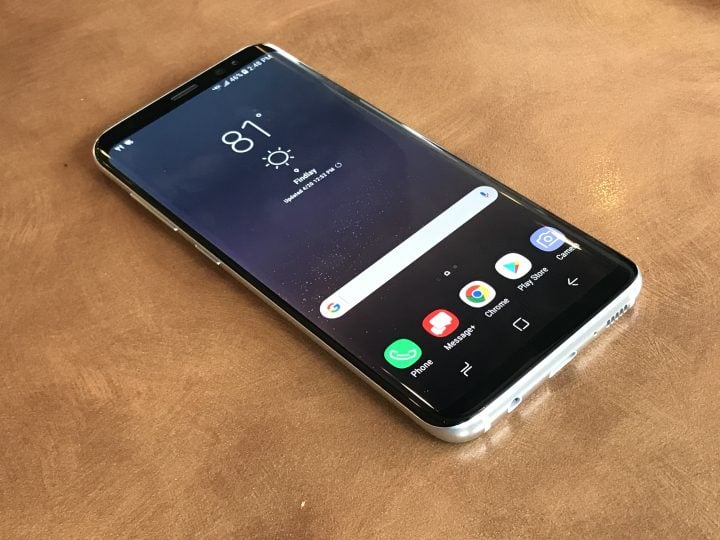 Turn Off Galaxy S8 Features You Don't Need
Samsung phones have software features that can hurt battery life, and others that improve things. As a result, you'll want to disable features you never use.
Any previous Galaxy owner knows all about the many gestures or motion controls. If you don't use them, turn them off to help save juice. Like swiping a hand over the screen to take a screenshot, keeping the screen on if the sensors see a face looking down and more. They even have a feature where putting a phone to your ear while reading a message instantly starts a phone call. It's helpful, but disable it and just do things the old fashion way.
Head into Settings > Advanced Features > and turn off things like Smart Capture, Palm Swipe Capture, Direct Call, Easy Mute, and disable "Smart Stay" in the display settings. These all need power and sensors inside the phone for things we rarely use.
Battery Saver & Performance Modes
Like most phones, Samsung built-in some battery saver and performance modes to help performance and battery life. Under Settings > Device Maintenance > Battery you'll find new performance modes. Basically, owners can choose what works best for them. This will change screen brightness and resolution, slow down performance if you need to extend the battery throughout the day and other things. Click here for more information.
As you can see game mode will really get things going, including screen brightness getting a kick higher. These are a little silly in a sense but are extremely helpful for average users that want the phone to do things for them.
This replaced the old school "battery saver mode" or ultra saving options from past devices. That said, you can tap the three dots up top and head into advanced settings for more controls. Giving us access to limit and manage each app for improved battery life.
Furthermore, the Galaxy S8 Android Pie update added Google's "battery optimization" controls which should further refine the system and your experience.
Galaxy S8 Android Pie Problems
While the highly anticipated Galaxy S8 Android Pie update improved the phone for most people, some users are experiencing issues. One, in particular, is regarding abnormal battery drain. Samsung's One UI software is great, but it's also brand new, and there will be a few bugs and issues they'll iron out in the coming weeks.
As a result, we've put together a detailed Galaxy S8 Android Pie problems and fixes guide. This will help you with issues specifically related to Pie. Pie just arrived, but you can expect another update in 2-3 months to fix a few lingering issues.
Other Battery Tips & Tricks
Of course, battery life always comes down to personal usage and preferences. Some are heavy users, some aren't. We also recommend trying apps like BetteryBatteryStats to see what apps are causing problems. It's a pretty powerful tool that will give you more insight into your daily usage.
Another thing to consider is Bixby, Samsung's virtual assistant. Don't use the always listening wake commands, or customize how much Bixby does. This will help battery life too.
Read: Best Galaxy S8 Battery Cases
Don't forget about Airplane mode. It works wonders for preserving battery when a phone isn't needed. Airplane mode turns off all data, radios, services and more and most phones can last 4-5 days with it enabled. If you're traveling, give it a try.
Weekly device restarts can also help to flush out the system and keep things running smooth. Again, the battery life isn't too bad on the Galaxy S8 but we can always make it a little better.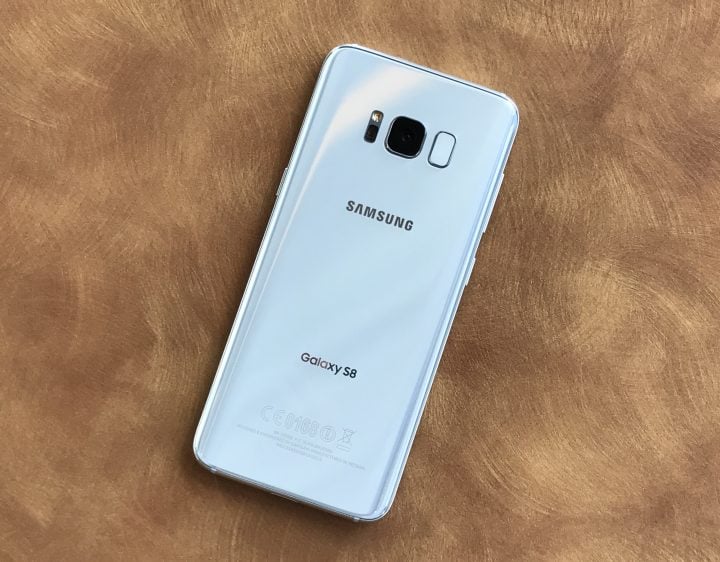 With the Galaxy S8 Samsung used a new battery technology. After one year of daily use, most phone battery's start to degrade and only have around 80% capacity. Meaning they never charge to 100%. They degrade over time and simply don't last as long. With the Galaxy S8 and S8+ Samsung claims after 1 year, they retain around 95% capacity. Now that they're over two years old though, how is yours holding up? Let us know in the comment section below.
Our advice here is only the tip of the iceberg. Try a new launcher, download third-party text apps, or even better, uninstall Facebook. If you're still not satisfied with battery life or need additional juice while out and about, take advantage of the fast charging technology in the Galaxy S8 and buy a fast portable battery charger. While you're here take a look at the best cases below to keep your phone safe.
20 Best Galaxy S8+ Cases
Samsung Alcantara Case ($20)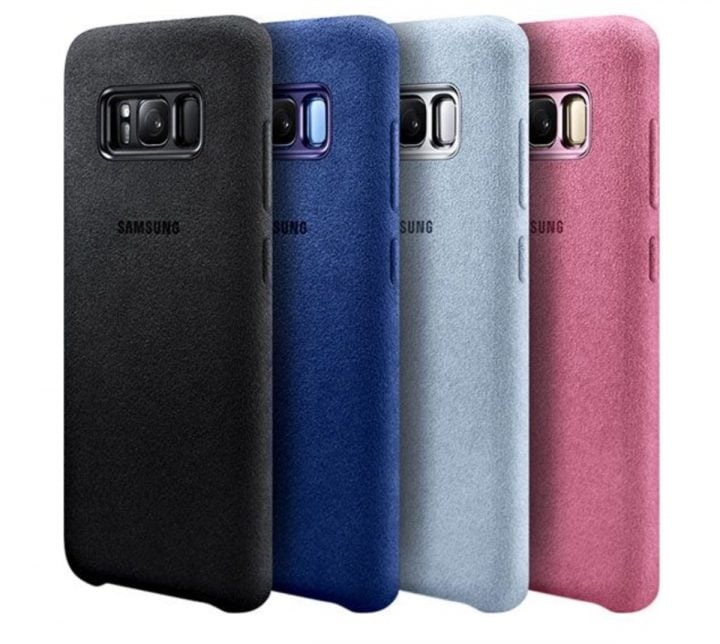 A neat case from Samsung for the Galaxy S8 is the Alcantara case. It's a beautiful and durable hard case that's covered in Suede-like material. It looks good, feels incredibly soft and is "stain-resistant" too. This is our first recommendation of many. Your phone will be safe, and look good doing it. Since it's a fabric the first few days it may shed, but that quickly went away on ours.
Samsung makes some of the best cases, of course, and this will be no exception. It comes in four different colors and looks pretty unique. Get one for your Galaxy S8+. For whatever reason, most of Samsung's best cases aren't available on their own online shop. If you want one, check out MobileFun.com for all your needs.

As an Amazon Associate I earn from qualifying purchases.