5 Google Maps Features You're Not Using
Google Maps is continuously improving which is why it remains one of the best tools for directions and navigation. Millions use it daily, but most don't know about all of the options and controls available. With that in mind, below we'll be sharing some helpful Google Maps features you're probably not using.
Over the past few years Google has evolved Maps into an extremely capable app. Full of features like offline navigation, transit times, find nearby restaurants and more. It has a lot to offer. Those are just a few of many awesome tips or features that many don't know about, but should.
Read: 12 Google Maps Tips & Tricks
I use Google Maps at least a few times a week, but typically just use my voice to ask for navigation instructions. Then close it when I'm done. Did you know there is actually a slew of awesome features that can make the app even better? Hiding in settings are some of the most useful tools, but most don't know they exist.
In fact, in March of 2017 Google added one of the most requested features to Maps. Which is real-time location sharing. Whether you're on a road trip or just heading to a meeting, you can share the trip with people. So family won't have to ask for ETAs or checkin to make sure you arrived to another state safely.
Considering that feature is brand new and just added, most don't know about it. Not to mention there are controls to make the map always face upwards and North, which I didn't know until just recently. When the map rotates and isn't facing the right direction it can be frustrating, so we'll explain that and a few other features below.
Without further delay, these are some of the best Google Maps features you're not using, but should be.
Save Maps for Offline Use
One of my favorite features for traveling is savings maps for offline use. Essentially users are able to select a large portion of an entire city or highway, and save the map temporarily to their device. This is extremely helpful when traveling out of state, or somewhere you know you won't have cell service.
As you probably know, Google Maps won't work very well without 4G LTE or a solid internet and data connection on your phone. If that might be an issue, save the map offline. You'll have the same zoom options as before, making sure you're never lost.
For more details you can checkout this full How-To Guide, or watch the video below. It was made a few years ago, but the same steps apply.
Essentially just have the portion you want to save on the screen and hit the voice button. Then say, "Ok Maps" and it will popup with an option to download that entire area. Or type it into the navigation search bar. Easy enough, right.
Google has increased this to allow for huge areas of a map, around 250MB worth, and they save temporarily to your device for 30 days.
Keep Map Facing North and Up
One of the most frustrating things while looking at a map or using navigation is when the map is turned sideways. It throws you off, gets people turned around, and can be very confusing.
Did you know hidden deep in settings is an option to force Google Maps to always have North facing upwards, like it should be? Well, now you do.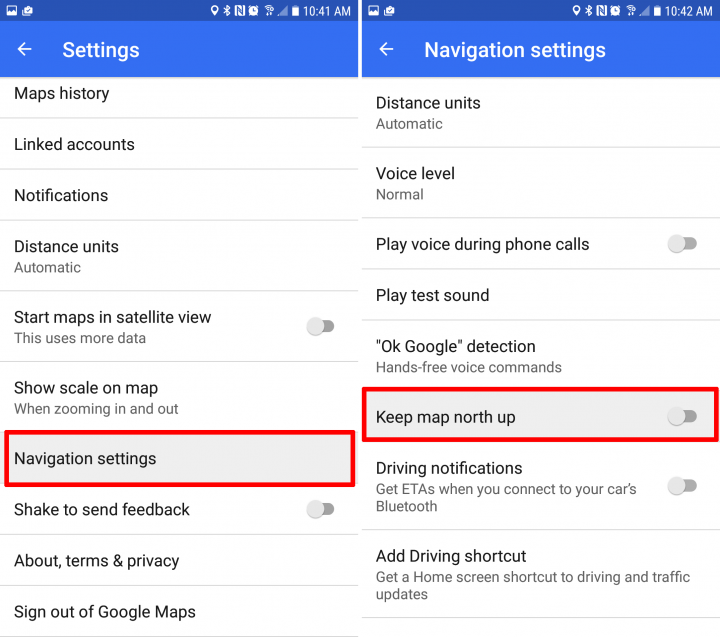 Open Google Maps and swipe from left to right to open the side menu. Next scroll down and select settings. Inside settings scroll down again near the bottom to "Navigation Settings". Now just turn on the option (flip the switch) labeled "Keep map north up". Now whenever you're using Maps it will face upwards and the right way, making navigation or getting directions even easier. This should be enabled by default.
Turn Off Navigation Voice During Phone Calls
These days most people have their smartphone connected to their car or stereo with Bluetooth. Allowing for hands-free calls, music and navigation. Keeping your eyes and hands where they should be, and not on a phone.
Read: How to Send Map Directions to Android from PC or Mac
If you've ever been using Maps Navigation and had to answer a phone call, or call a friend to get further instructions, you've experienced this problem. While on a phone call the voice instructions for Navigation will continue to go off in the background, loudly, through the car speakers. Making it difficult to stay on a phone call. Or even without bluetooth, it still happens.
Don't toggle the mute button every time you need to, let Maps do this automatically instead.
Just like our instructions above, head into Google Maps settings, and then the option labeled Navigation Settings. The third option in here is "Play voice during phone calls" which is the audible turn-by-turn navigation instructions.
Simply swipe the switch to off, and we're all done. Now you'll have voice instructions for navigation as always, but it will turn off automatically during a phone call, and come back on when you hang up. Making navigation easier and keeping users safe.
Navigation Instructions While Offline
Similar to saving maps for offline usage, there's another option for full turn-by-turn navigation instructions when we don't have an internet connection or cell service. This is far more helpful than just saving a map, as the app will continue to give you full instructions even without having service. Perfect for cross-country road trips and such.
The full set of instructions on how to use navigation offline can be found here.
Simply search for a location, city or destination. Once Maps finds it, swipe up from the bottom of the screen. You can save the destination, share it with friends or start navigation, but there's also a big "Download" button. Click this, and it will save turn-by-turn navigation instructions from your location to the destination. It's very similar to saving the map offline, and extremely useful.
Share Location and ETA
Last but not least, is the newest and one of the most helpful features in Google Maps. The ability to share your location, or even navigation progress, in real-time with friends and family. Think about all those questions you get while traveling. When will you be here? How far are you? What's your ETA? Or even, did you make it there safe?
All of those questions can be answered instantly and automatically be sharing your location with a friend or family member. Instead of replying to texts and taking eyes off the road, use this feature. For your sake, and for the others on the road.
This is the newest feature added to Google Maps. Location can be shared by email, text message or other means. And can be shared once, for 15 minutes, or up to three days. Then a family member can see where you are, watch you drive in real-time, and see the same estimated time of arrival as you. Knowing exactly what time you'll get to town.
While using navigation just swipe from left to right, or tap the blue dot (which is you and your location) and hit "Share Location". Next just choose for how long, and who, and send it using your messaging service of choice. You're all done. Maps will have a visual reminder on the screen at all times when location is being shared, for privacy reasons of course.
Should You Use These?
And that's it. These are five extremely helpful features that many don't know exist inside of Google Maps. Make the map face north and upwards at all times. Save maps or navigation offline so it works without cell service. Don't let turn-by-turn voice drowned out your phone calls, and share your location with friends or loved ones.
Whether you want to use these features or not is up to you. Some may like the map turning, but I want it facing North. It's all about personal preference, but all five of these relatively unknown settings or features can really help users get the most from Google Maps. Enjoy.