6 Best Google Pixel 3 Screen Protectors
In this guide we'll share a list of the best Google Pixel 3 screen protectors and why you'd want one. With a bigger 5.5-inch HD screen dual front-facing speakers, we highly recommend screen protection. Here are the different types available, how durable they are, and what each one has to offer.
Google's latest Pixel phone is durable and water-resistant, but it's not shatter-proof. And while the smaller Pixel 3 doesn't have curved sides or a big notch, you'll still want to keep it safe from life's daily hazards. If you need a Pixel 3 XL screen protector click here.
Google's latest Pixel 3 is a beautiful phone with tons of neat features. One of the first things we recommend every owner do is buy a screen protector, then throw it in a case. And while you can use a cheap $2 HD film or plastic screen protector from big-box retailers or a carrier store, what you should buy is a tempered glass screen protector. They use reinforced glass that's both scratch and shatter resistant.
Even if you buy a case, we still recommend a screen protector. Mainly because a case won't protect your screen from a pocket full of change, keys, dust and lint. Not to mention all of life's other hazards. Accidents can and will happen, so be protected from all the mayhem. Whether that's a cheap film or more expensive tempered glass. We've found some priced under $8, and others for $12, which is much cheaper than the $150+ it'll costs to replace a damaged screen.
With that in mind, these are the best Pixel 3 screen protectors to keep your phone safe. Quality glass protection from big names like Zagg, IQ Shield, Supershieldz and more. Buy one today from our roundup below.
TopACE Tempered Glass 2-Pack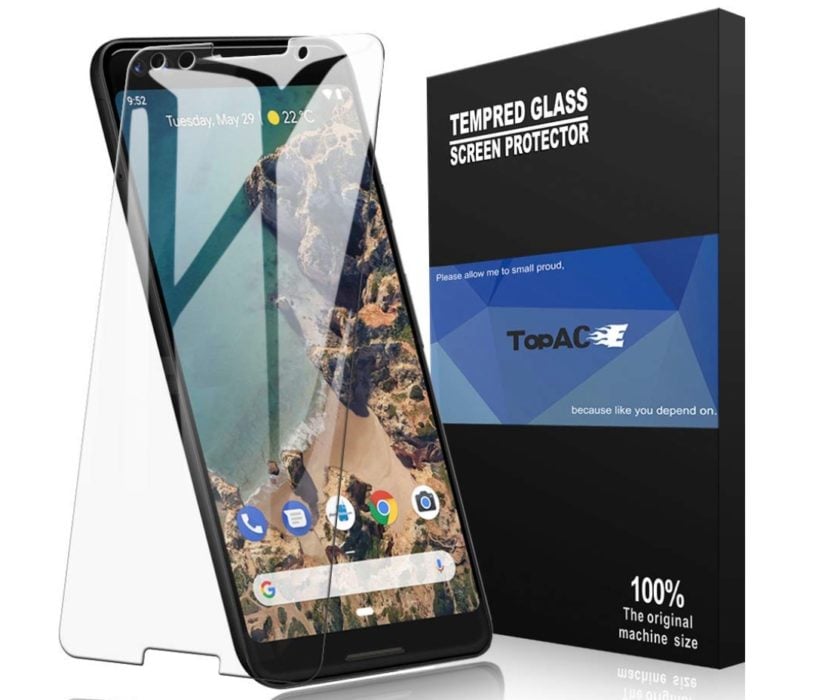 One of our favorite brands for both cases and screen protectors is TopACE. In fact, this Pixel 3 screen protector received the Amazon Choice Award, so you know you're getting a good deal.
TopACE uses extremely thin 0.3mm glass that you'll barely even notice on your phone. This allows it to stay out of your way, you can still use a case, yet it keeps your screen completely safe.
They precisely cut out holes for all the cameras, speakers, sensors, and more. Then, the glass has a 2.5d rounded edge to prevent chips, cracks, and stops cases from raising it up and ruining your protection.
And finally, like most of the others on this list, you'll get full 100% coverage, 99.9% clarity and an oleophobic coating to reduce fingerprints. It's as good as it gets, and you have a backup in case the first install goes south.