20 Best iPhone 7 Plus Cases
The iPhone 7 Plus is beautiful, especially in the new Jet Black iPhone 7 Plus color, but you will likely want to use one of the best iPhone 7 Plus cases to keep your new iPhone safe. This is especially true if you are using it to take a lot of photos with the new dual camera system.
Here are our favorite iPhone 7 Plus cases to protect, add features and style to your new iPhone. We've added an awesome clear case and an iPhone 7 Plus battery that you can use with any case and avoid the bulk when you don't need more power.
The best iPhone 7 Plus cases vary from one user to the next, but they should include protection from drops, not add much bulk and deliver more features than you have without a case.
Many iPhone 7 Plus users will want to stick with slim and minimalist iPhone 7 Plus cases that don't add too much bulk and still allow users to fit the larger iPhone in a pocket.
We have a collection of beautiful iPhone 7 Plus cases that can protect your iPhone 7 Plus, spruce it up with beautiful looks and a case that will help you keep the iPhone 7 Plus safe in water deeper than the new water-resistant feature.
We've tested iPhone 7 Plus cases from all the companies on this list, and they deliver the best protection and features for the price.
You cannot use your iPhone 6s Plus or iPhone 6 Plus case on the iPhone 7. The new dual-camera system is larger and will not fit in the camera openings of most older iPhone cases.
Here's a list of the best iPhone 7 Plus cases you can buy;
Tech 21 Evo GEM iPhone 7 Plus Case
Apple iPhone 7 Plus Leather Case
Pad & Quill Woodline iPhone 7 Plus Case
Speck Presidio iPhone 7 Plus Case
LifeProof iPhone 7 Plus Cases
Moshi iPhone 7 Plus Cases
Peel iPhone 7 Plus Case
Sena Ultra Thin Snap-On & Lugano Wallet iPhone 7 Plus Cases
tech21 Evo Check iPhone 7 Plus Case
Olloclip iPhone 7 Case & Lenses
Nodus Access Case 2 for iPhone 7 Plus
Spigen Ultra Hybrid S iPhone 7 Plus Case with Kickstand
SCOSCHE MagicMount PowerBank iPhone 7 Plus Battery
tech21 Impact Clear iPhone 7 Plus case
The Jimmy Case iPhone 7 Plus Wallet
tech21 Evo Wallet Active Edition
Carved Cases iPhone 7 Plus Wood Case
Mous Limitless iPhone 7 Plus Case
Spigen iPhone 7 Plus Cases
Apple Silicone iPhone 7 Case

We've looked through nearly a hundred iPhone 7 Plus cases to help you find the best iPhone 7 Plus cases that you can buy at any price range.
Tech 21 Evo GEM iPhone 7 Plus Case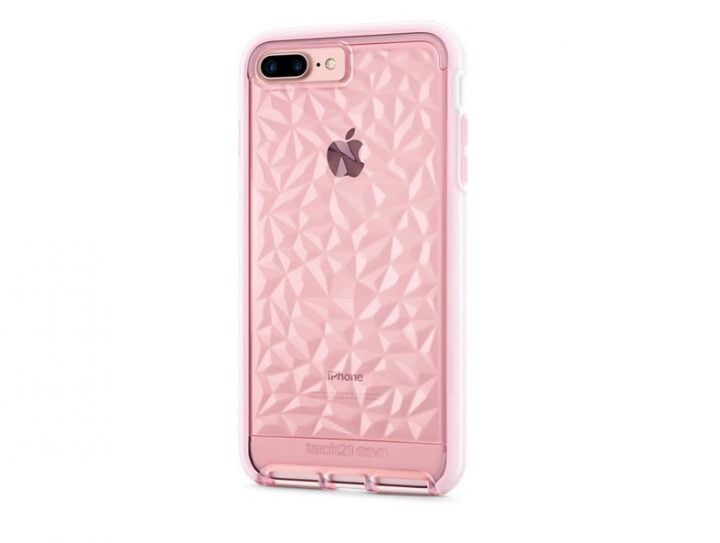 The tech21 Evo Gem iPhone 7 Plus case delivers more protection than the pink and sparkly exterior would lead you to believe.
Like the rest of the tech21 cases there is material in the edges of the case that senses shock from a drop and spreads the impact out over the full area of the case. This prevents a sharp impact on a corner from deliver all of the force on that corner, which is what would normally lead to a broken screen.
In addition to the FlexShock material, there is a raised lip to keep the screen safe when you set it on a table and there are openings to easily access all ports and to listen to the iPhone 7 Plus stereo speakers. Available in Rose, Purple and Green.
$39.95 at tech21