Best LG G5 Deals & Discounts
The LG G5 is available from all carriers and retail stores in the US after being released on April 1st. Now that it has been available a while more and more G5 deals or discounts are surfacing. Below is a continuously updated list of the best LG G5 deals available right now.
At Mobile World Congress on February 21st Samsung and LG both announced their new flagship smartphones. And while the Galaxy S7 and S7 Edge have been available for months, the G5 was pushed back until April 1st. Now that it's here, users can get a free batter, charging cradle, type-c cables and more.
Read: LG G5 Release Date, Specs, Features & Videos
In late March the LG G5 went up for pre-order from most outlets, and was eventually released to mixed reviews. While it has plenty to offer and a great camera, the modular design is a bit of a toss up. We gave it a good review, not great, but those who are still interested will want to check out all the deals below.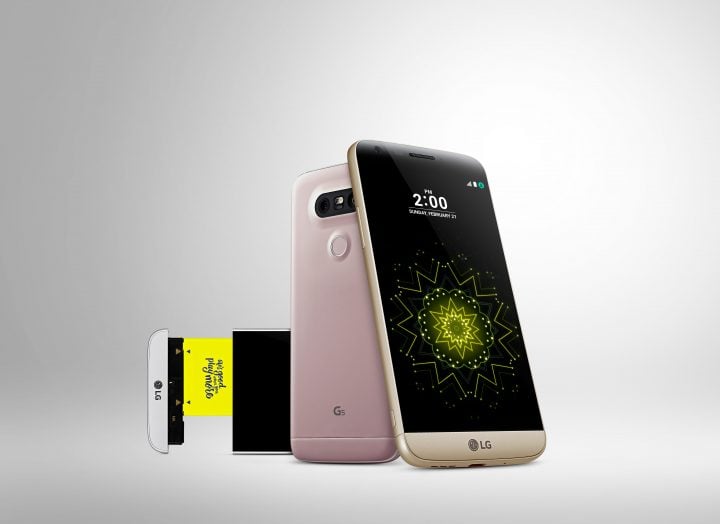 While we aren't seeing free micro-SD cards like last year, or a free Gear VR headset like Samsung is offering with the Galaxy S7, LG, carriers, and retail stores all have exciting offers in place in an effort to get buyers on board, and in their doors. We'll start with what's been announced so far, and update as more information is revealed.
This year the LG G5 is completely different from prior models. They've ditched the cheap plastics and have an all aluminum design in four beautiful colors. It has dual cameras on the back, an improved wide-angle front and rear camera, a fingerprint scanner, removable battery, micro-SD slot, and tons of accessories that snap onto the modular design that houses the removable battery. The LG G5 is one of the most unique smartphones ever released.
It has a powerhouse Quad-core Snapdragon 820 processor with 4GB of RAM, 32GB of storage and up to 200GB with the micro-SD slot. Then of course the 16 and 8 megapixel dual camera setup, and runs Android 6.0.1 Marshmallow. It has a lot to offer, but buyers who get it from our sources below will get more for their money.
LG G5 Deals
Similar to last year it looks like LG will be allowing almost everyone who orders the LG G5 from any retail store or carrier to go to their promotions page and get some free goods. LG is giving buyers a free spare 2,800 mAh battery and an external charging cradle for free. Update: The promotional launch month deals have since ended, but other good deals can be found below.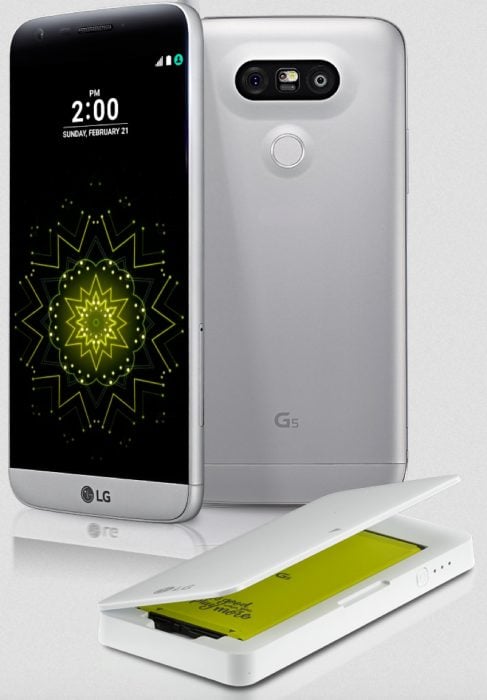 Simply head to the LG promotions website once you've received the LG G5, fill out the forms, and wait for the free second battery and charger. The easiest way to recharge a phone, is to replace the battery. Something that's only available on the LG G5.
AT&T LG G5 Deals
As a part of AT&T's ongoing Buy one Get one Free deal that recently was extended to the Galaxy S7, the LG G5 is also getting the same treatment, and we can expect something similar from T-Mobile. Those who get the LG G5 from AT&T can get a second one for free, with a new or existing line of service of course.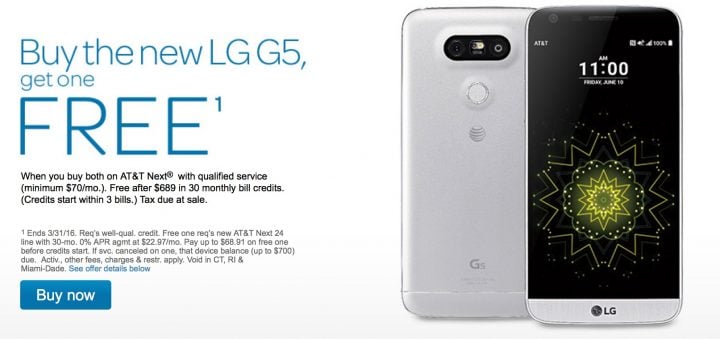 The LG G5 on AT&T is $22.97 a month, or $688 total, and the free model comes in the place of monthly installments credited to the account. So essentially each month the amount will be deducted over the course of 30 months. It isn't straight out a free phone. That said, buyers will pay the monthly $22.97 a month and have two of the latest and greatest phone. AT&T's BOGO deal ended on March 31st, so only worked for pre-orders. AT&T shipped pre-orders early and many arrived yesterday.
Get the LG G5 from AT&T today.
Best Buy LG G5 Deals
Best Buy is hosting some deals on the LG G5 as well, for all carriers but T-Mobile. For starters, get an LG G5 on Sprint or Verizon from Best Buy, and pay only $99 with a new 2-year contract. Typically it's $199 or $299 with a new contract. Most carriers have ditched contracts, and both Verizon and Sprint do have payment plans available too.
As a result, those who'd rather not sign a 2-year contract with Sprint or Verizon can choose to skip that Best Buy deal, and instead the retail giant is giving out a $100 Best Buy gift card and some free goodies. The $100 BB gift card applies to Verizon, Sprint, or AT&T.
Update: Best Buy now has the LG G5 for only $99 from Sprint or Verizon with a 2-year contract, or a $100 gift card from all carriers but T-Mobile, along with the charging cradle, spare battery, a USB Type-C adapter for owners to use old cables from prior devices and more. This was only available for pre-orders, but it's now live for all customers.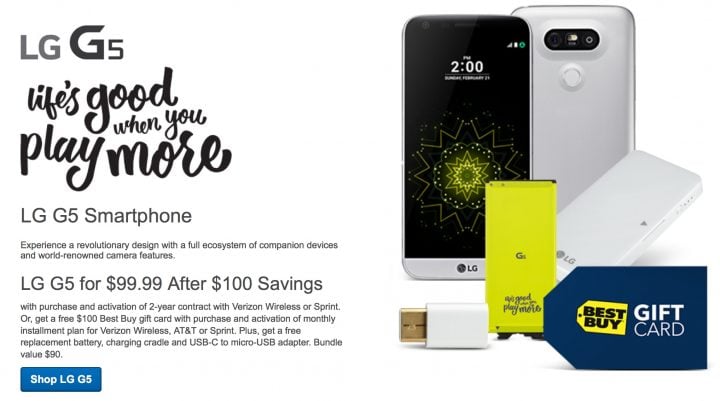 The LG G5 supports Type-C and Quick Charge 3.0, which can recharge it from 0-80% in just 35 minutes. That's crazy fast, or buyers can just swap out the battery for a fully charged one.
T-Mobile LG G5 Deals
While T-Mobile didn't get in on the deals at Best Buy, they have a great option of their own. Pre-orders open on March 29th, and the phone will be in stores on April 1st. However, T-Mobile too will be giving out a free spare 2,800 mAh battery and charging cradle, but taking it one step further by giving buyers a free LG 360 VR CAM too. A bundle of accessories valued at $280.
It's worth stating the free battery and charger promotion ends on April 17th, and those who want the LG 360 VR Camera will need to pre-order or buy the LG G5 from T-Mobile before April 4th. So keep that in mind and decide before it's too late.
Pricing on T-Mobile is $26.25 for 24 months, or $629 total, coming in over $50 cheaper than AT&T is asking.
Verizon LG G5 Deals
Verizon is offering the same battery charger bundle as all other carriers, simply because that deal is directly from LG, not carriers. However, like like T-Mobile, Verizon is giving out a free LG 360 VR headset to those who pre-ordered. Meaning if you pre-ordered on Verizon you'll get a free headset, but those who walk in and buy one today, won't.
Verizon is asking $26.00 a month for 24 months, or $624 outright for the modular smartphone.
Now that April 1st has passed we can expect to learn more regarding LG G5 deals, discounts, accessory packs and more from all outlets. Again, we'll update this list in the future with more deals as they become available, so stay tuned for the best savings possible or get one with many of the options outlined above.
Other LG G5 Deals
At this point now that the LG G5 is seeing only mild success, we're starting to see more discounts surface. From carriers dropping the price, huge price-cuts on Amazon, to even excellent deals on eBay.
The best price we've seen yet is this week on eBay, where users can get a brand new LG G5 for only $574, and it's factory unlocked and supports most carriers, but not T-Mobile LTE. That's one heck of a deal for a pretty good and unique smartphone. If you like the design or possibilities of the modular removable parts, buy one today.
14 Official LG G5 Accessories
LG G5 Replaceable Battery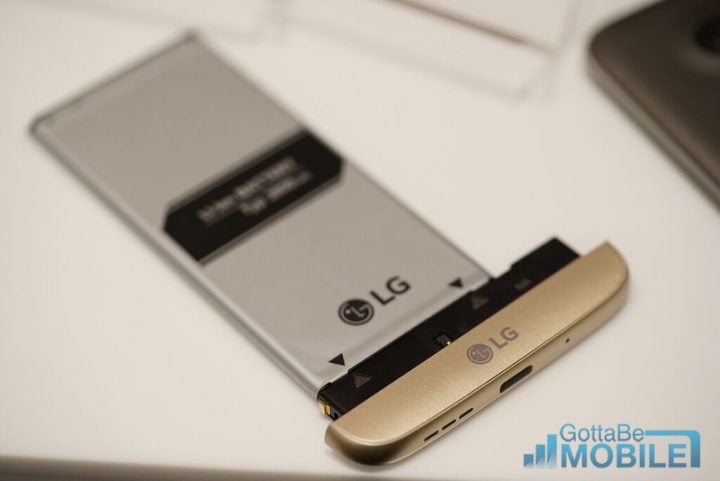 These days most smartphones have a fixed battery, meaning it cannot be removed. LG claims the fastest way to recharge a smartphone or the G5, is to replace the battery. Something that's easily achievable with the LG G5 and its modular design.
Click the little button on the bottom of the LG G5 and the battery is completely removable. The bottom slides out, and the battery can be replaced in seconds. It isn't the biggest battery, being just 2,800 mAh, but it's easy to replace. Additionally, it recharges faster than any LG phone to date, has battery saving features, and runs Android 7.0 Nougat. Meaning battery life shouldn't be a big concern.
Those who grab the LG G5 will want to get a spare battery to easily throw in when the phone is dead. Perfect for traveling or while busy at work when you need to recharge your phone.