8 Best MacBook Cases, Skins and Covers
These are the best 2015 and 2016 MacBook cases and covers that you can buy for the 12-inch MacBook. This thin and light MacBook comes in four colors that you can still show off while you protect it.
After spending at least $1,299 for the new MacBook you may want to protect your investment with the best MacBook cases and covers that you can buy. All these options fit the 2015 and 2016 MacBook with a 12-inch screen.
There are cases that snap to the MacBook to keep it safe all the time, thin and light covers that you can slide the MacBook 12-inch into and sleek cases that offer a handle or strap to carry the notebook with you without a lot of bulk.
Apple designs the 2016 MacBook with aluminum that traditionally holds up pretty well, but if you plan to use your MacBook on rough surfaces a good MacBook case can keep it looking like new and safe from scratches and scuffs on the aluminum. Without some form of  protection on the bottom, expect your MacBook to show wear
If you love to cover your MacBook in stickers a protective skin or case makes it easy to restart with a fresh canvas when you need to resell the notebook or just need a change in looks.
Here are the best 2015 and 2016 MacBook cases, covers, sleeves, and keyboard protection you can buy.
8 Best MacBook Cases, Skins and Covers
Moshi Muse for MacBook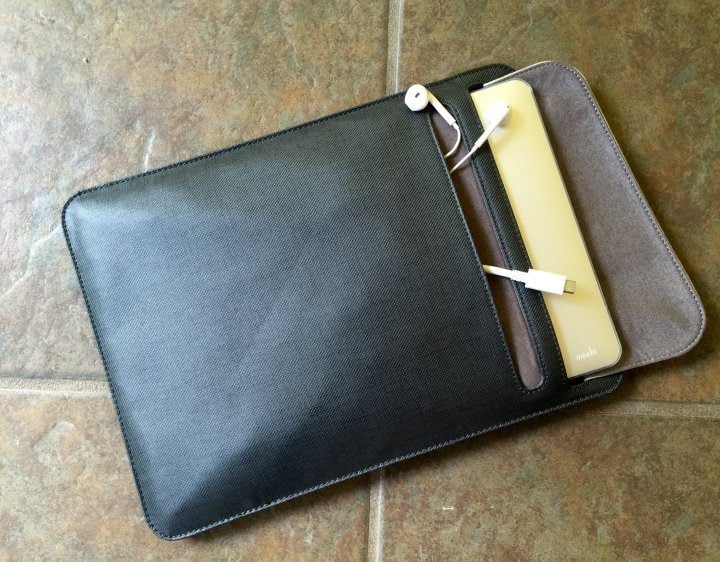 When you need a small 2016 MacBook sleeve to hold your new MacBook and the collection of adapters that you need to get work done the Moshi Muse for MacBook is an excellent option.

Read: Moshi Muse Review
This case features a stay tight design that keeps your MacBook in the sleeve without velcro or zippers and the microfiber interior protects the finish of your notebook while also wiping fingerprints off the finish. An outer pocket allows users to slide in a few small adapters so you have what you need to get work done.
$44.95 at Moshi and available at the Apple Store.

This article may contain affiliate links. Click here for more details.