5 Best Moto G6 Screen Protectors
These are the best Moto G6 screen protectors to protect your phone and keep the screen looking new. With a big 5.7-inch display, you'll want protection. We'll also explain the different types of screen protection available, and why you might want one.
The new Moto G6 comes with a premium design and a big 5.7-inch HD display. It's one of the biggest screens in the budget Moto line. And while it's really durable, it's not shatterproof.
Read: 10 Best Moto G6 Cases
This is an affordable phone, but that doesn't mean you shouldn't protect it. In this roundup, we'll recommend two different types of screen protectors. One is a thin film and the other is a more expensive and durable glass. We've found awesome Moto G6 screen protective for as low as $6, which is cheaper than the $100+ it costs to repair a damaged screen. Tempered glass coverage from reputable brands costs a few more dollars.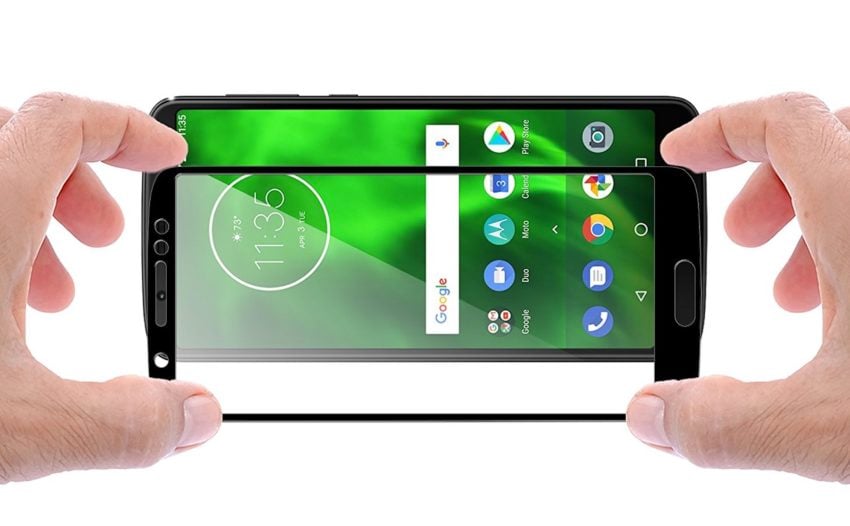 The Moto G6 doesn't have a curved screen like the Galaxy S9 or other high-end phones, and that's a good thing. That means a glass screen protector will fit perfectly.
The cheapest screen protection is a film or HD film. This is a thin layer of durable military-grade material that's scratch resistant and is typically very inexpensive. One of these is better than nothing and will give you some peace of mind. They're also easy to install. Next, the more expensive protectors use a chemically hardened and strengthened glass like what's already on your screen. This tempered glass is extremely scratch and shatter-resistant. These usually take the damage from accidents, leaving the phone's screen safe underneath.
Even if you buy a case, we still recommend using a screen protector. That's because a case won't protect your screen from life's daily hazards. Things like a pocket full of keys, or when you throw it in a purse or bag. If you want to keep your new Moto G6 in great shape, get one of our recommended screen protectors below. We've found great options from popular brands we know, use, and trust for screen protection.
amFilm Tempered Glass 2-Pack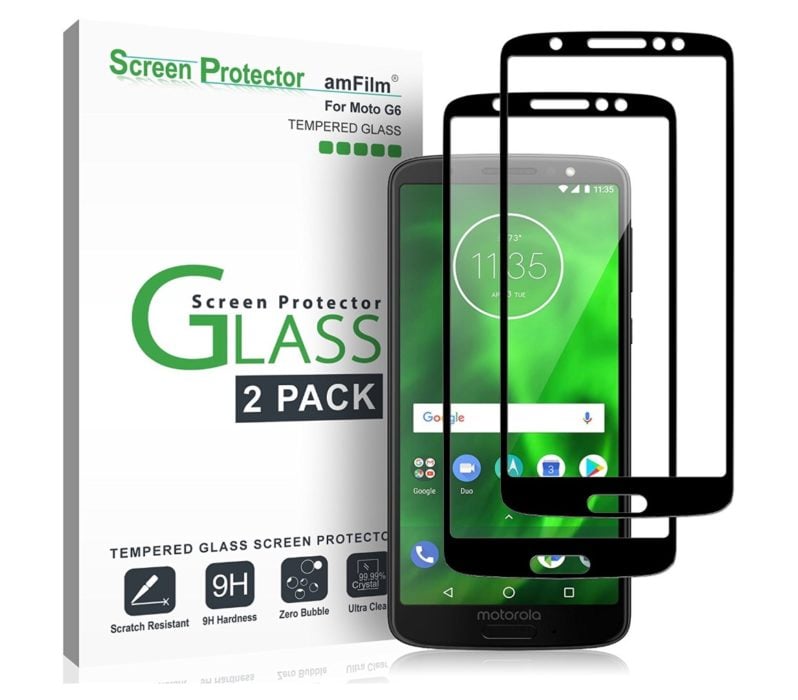 Our first recommendation is a full-coverage tempered glass screen protector from amFilm. This brand gained popularity for having some of the best protectors for Samsung's curved devices, as they're made with perfect precision.
The amFilm Tempered Glass 2-pack will keep your Moto G6 safe, and each protector is case-friendly. They use a full-coverage design with color-matched bezels so it looks stock. This way it doesn't look or feel like you're using a protector. It simply covers the entire front of the device. Of course, there are cutouts for the fingerprint scanner, sensors, and front-facing camera.
amFilm is ultra durable while being only 0.3mm thick. Each glass has a 9H hardness rating, coatings to prevent fingerprints or smudges, and is shatter-resistant. If you drop your phone this will break, not your screen. And, if you need, you have an extra in case the first install goes wrong.