Best Moto G7 Screen Protectors
Even budget phones need protection which is why we've gathered a list of the best Moto G7 screen protectors. That way you can keep the big 6.2-inch screen scratch-free and safe. We'll explain the different types of screen protection available, and why you might want one.
Motorola's new Moto G7 series has a lot to offer along with bigger screens and small bezels. They're durable phones, but it's not shatterproof.
We've found awesome Moto G7 screen protection for under $8, which is cheaper than the $100+ it costs to repair a damaged screen. Tempered glass coverage from reputable brands costs a few more dollars. Here are your options.
There are two main types of screen protection. One is a durable, rugged, very strong tempered glass similar to the glass covering the display on your phone. This is your best bet, and what we recommend. However, you can always add a thin flexible military-grade 3M film, if you don't want a tempered glass screen protector. We've added both below so you can choose what's best for you.
1. TopACE Tempered Glass Moto G7 Screen Protector 2-Pack
One of our first recommendations for Moto G7 screen protection comes from TopACE. They make quality screen protection for almost every phone, and this 2-pack is only $8. That way you'll have an extra, or a spare for your significant other.
Each piece of TopACE glass scores a 9H on the hardness scale so it's very durable. They're precision cut to match the phone, have no borders or black bezels, and a small cutout at the top for the front camera. And yes, it covers the entire front past the display and over the Motorola logo, keeping the entire face of the phone safe. Plus, it's Amazon's Choice in protection.
2. Mr. Shield Tempered Glass 3-Pack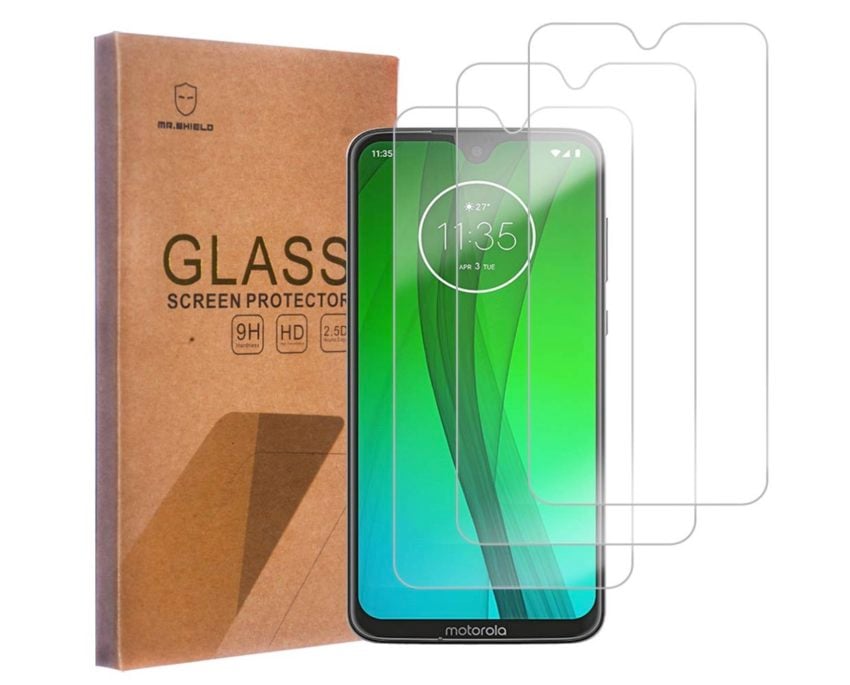 Another solid option is the Mr. Shield 3-Pack, that way you'll have an extra no matter what happens to your Moto G7 phone. They use laser-cut ballistic glass sourced from Japan, and it's very durable. It offers 99.9% clarity, perfect touchscreen response, and rounded edges for ease of use.
One added benefit of buying a Mr. Shield glass is the lifetime warranty replacement. You get three, but if you happen to go through them all they'll give you a no-hassle replacement.
3. IQ Shield Full-Body Skin
Some people hate using cases but still want some sort of protection on their phone. That's where the IQ Shield full-coverage liquid skin comes in. IQ Shield makes some of the best "film" screen protectors on the market. They're rough, self-healing, easy to install (with an easy installation tray) and have an anti-glare coating.
This isn't just a film to cover the screen, either. In fact, this is a full-coverage shield that will cover every aspect of your new Moto G7 phone. The front, back, top, bottom and sides. Keep that phone safe.
4. Supershieldz Tempered Glass 2-Pack
If you want to stick to a tried and trusted brand that's offered screen protectors for several years, give Supershieldz a try. Like most, these offer 99.9% clarity, 9H on the hardness scale, precision cut for a perfect fit and rounded edges.
The 2.5d rounded edge ensures a comfortable experience in use, but it also prevents chipping or cracks over time from wear and tear. Then, Supershieldz adds a hydrophobic and oleo-phobic coating to protect against sweat and reduce fingerprints. 
5. AVIDET Full Coverage Tempered Glass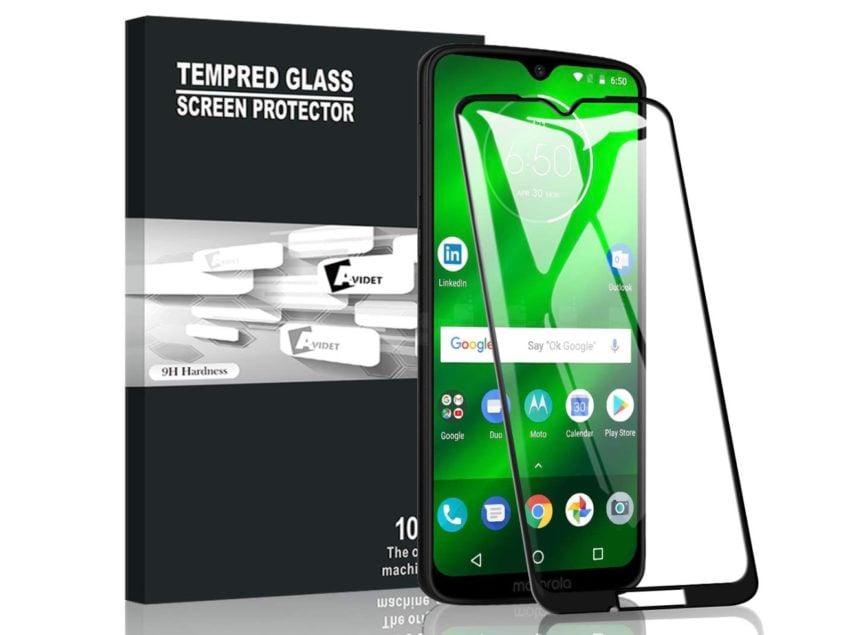 Last but not least is the AVIDET full coverage tempered glass screen protector for the Moto G7. What's different about this over the others is the full-screen protection and color-matched bezel on the screen protector. That way it seamlessly blends in with the phone.
Motorola is using slightly curved edges to the glass on the Moto G7 screen, like most phones or the iPhone, and that means screen protectors end up with a halo around the screen, or are made slightly smaller to miss that curve in the glass. Most brands on our list made their protectors a hair smaller than the actual screen, to avoid the curved edges.
However, AVIDET added a black bezel that covers the entire front so it fits like a glove. It fully covers the entire front. And yes, you can still use a case with this screen protector because it's super thin being only 0.3mm thin.
These are your best options to keep that Moto G7 safe so buy one today.

As an Amazon Associate I earn from qualifying purchases.