Here's How to Get a Galaxy S10 for $449 on Black Friday
If you're looking for the best Samsung Galaxy S10 Black Friday deal this is one of them. While you can find savings on the Galaxy S10, S10+, Note 10 or even the cheaper Galaxy S10e anywhere, even before Thanksgiving, waiting for Walmart's deal is your best bet.
Yes, you can easily get the Galaxy S10 for just $449 at Walmart, or the Galaxy S10+ for only $549, which is a crazy good deal. Once you buy it they'll give you a $450 Walmart Gift card, making the phone's total price under $500. No gimmicks or trade-ins required. However, if you do have an old device, you can get another $250 by trading it in — potentially making the Galaxy S10 only $199.
Here's what you need to know about the Wal-Mart Galaxy S10 Black Friday deal, and any other deal available these holidays.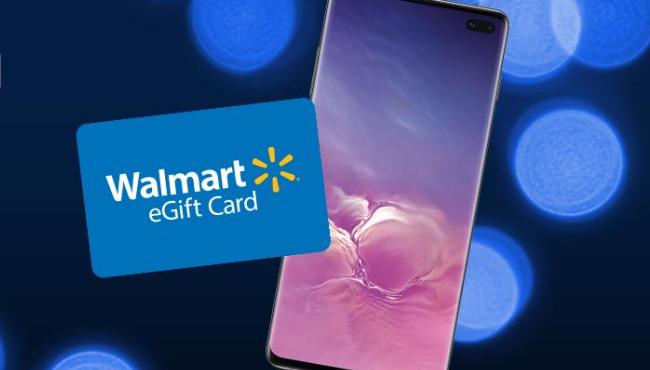 You can find some early Samsung Galaxy Black Friday deals from carriers, but the biggest deals will be at retailers like Walmart, Best Buy, Target, and other stores. Even Samsung.com has a decent deal right now and is offering $200 off retail pricing.
How to Get the Galaxy S10 for $449?
When you buy the Galaxy S10 or Galaxy S10+ from Walmart on Thursday, November 28th, or on Black Friday, they'll give you a $450 Walmart gift card. It's that simple, as long as your account has an eligible upgrade or is new. No adding extra lines or any of that junk. Click here for more details.
It looks like this deal is available in-store OR online for Verizon and AT&T, but those on Sprint have to go to a physical Walmart store and deal with the Black Friday crazies and super long lines. The online promotion is valid from 7 p.m. (PST) November 27, 2019 through 3 p.m. (PST) November 28, 2019 and from 9 p.m. (PST) December 1, 2019 to 11:59 p.m. (PST) December 2, 2019.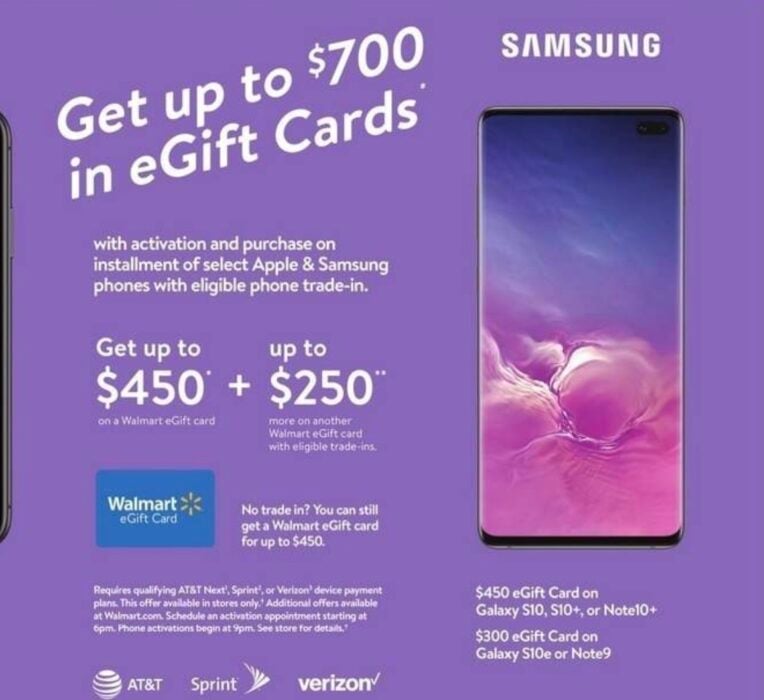 As you can see above, you'll outright get a $450 gift card just for buying the Galaxy S10 or S10+, along with a few other phones. Then, Walmart will give you an additional $250 if you have something like a Galaxy S9 to trade-in, but that's optional, and not required to get the $449 Galaxy S10 promotion.
It's worth noting that this same crazy good deal is available for the iPhone 11 Pro or the Galaxy Note 10+. Then, cheaper devices like the Galaxy S10e or Galaxy Note 9 are available and come with a smaller $300 e-gift card.
Personally, the bigger Samsung Galaxy S10+ for just $549 is the best deal we've seen so far for Samsung Black Friday deals, and it's what we recommend most people choose. Then, if you don't want to wait or can't wait until next week, here are some current deals available or coming up.
Best Samsung Galaxy Black Friday Deals & Discounts
These are just a few of the many Galaxy S10, Galaxy S10+, Galaxy S10e and Galaxy Note 10 deals available right now or coming up on Black Friday. And while you'll find discounts just about everywhere, most of them are with a new line, a trade-in, or in the form of bill credits. That means you pay full price, but then AT&T gives you the money back off of your bill each month. You're saving a lot of money, but over the course of 30 months.
With Walmart's Black Friday Galaxy S10 deal you'll instantly receive a $450 e-gift card you can use on anything Walmart offers, which is a great way to get a new phone and finish your x-mas shopping at the same time.
Stay tuned, as we'll update this post with the best options and biggest deals we find. Then, don't forget to get a Galaxy S10 case, screen protector, and read our guide about all the cool things your new phone can do.