Best Samsung Galaxy S10+ (Plus) Screen Protectors
Here is a list of the best Galaxy S10+ (Plus) screen protectors available in 2019. And yes, the ultrasonic fingerprint scanner will still work with these protectors. That way your display will stay nice, new and scratch-free.
Galaxy S10+ screen protectors come in a few different styles and durability levels. Starting with cheap films to strong tempered glass. We have a few under $8, which is way cheaper than the $200+ you'll spend to replace a shattered screen. Then, we have better options for $10, or more popular brands and UV install kits for around $30.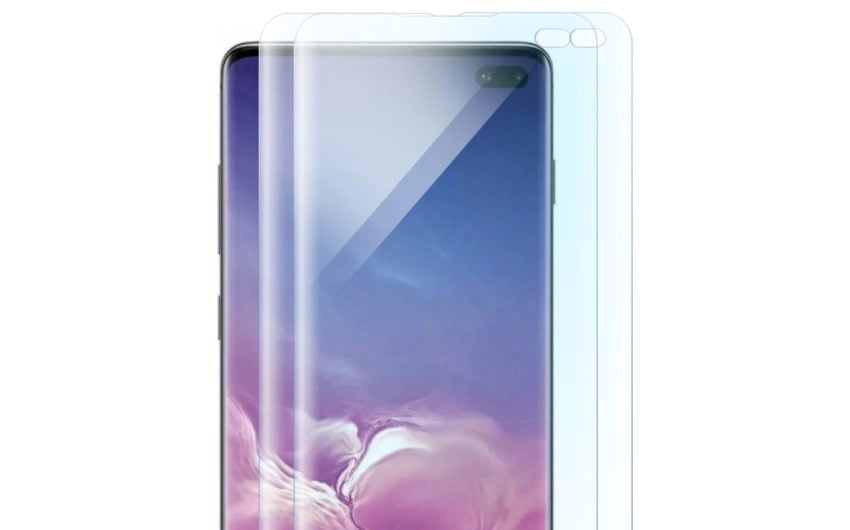 Before we begin, it's important to mention that the Galaxy S10+ actually comes with a screen protector pre-installed from Samsung. That's both a good thing and a bad thing. It's good, as now you won't need one right away, but it's bad because it's a sign that regular cheap options from Amazon might not work very well with the ultrasonic fingerprint scanner.
Either way, do not pull it off when you get your phone. Not unless you get a replacement from our list below or if you're having problems with the fingerprint sensor. And with those curved edges and the new in-screen fingerprint scanner choosing the right screen protector is more important than ever.
You can't have any air bubbles or gaps in the screen, which is often a problem on curved edges, otherwise, the sensor might not work or you'll have touch response issues. Even big-name brands skipped making S10 protection. That said, the popular Whitestone Dome Glass guarantees its protector works perfectly with the Galaxy S10 series, and most UV install protectors do too. We mean ones that use a UV light to cure the adhesive, guaranteeing a tight fit with the phone.
Even if you plan on using a Galaxy S10 case we still recommend buying a screen protector to keep your phone and screen safe from life's daily hazards. So, here are the best ones available so far. We'll update this list as we learn more, test more, and verify which ones work and fit the best.
Whitestone Dome Glass UV Kit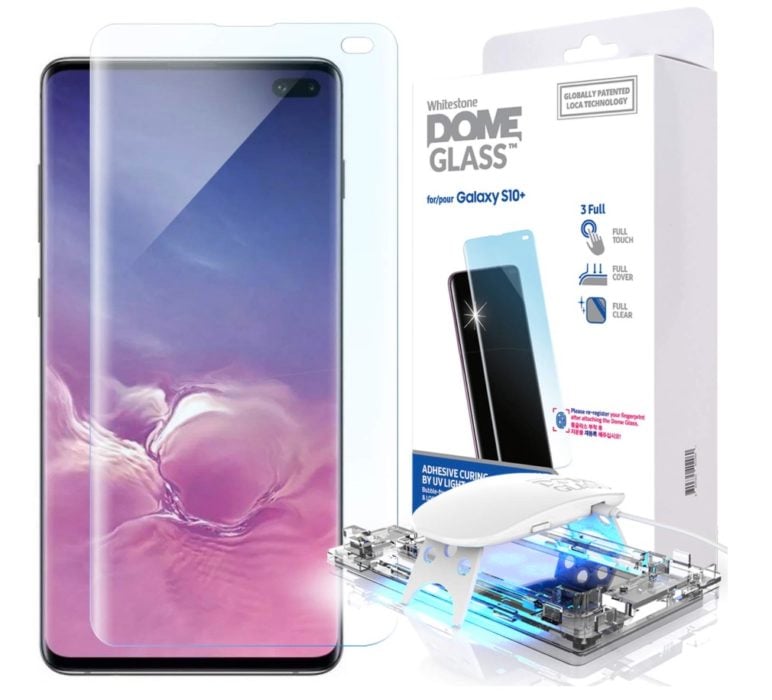 Our main recommendation for the best Galaxy S10 Plus screen protector is the Whitestone Dome Glass. They've been the #1 option for the last several years if you have a Galaxy phone. Plus, they're the only company that guarantees the product works with the S10.
You lay your Galaxy S10+ into an easy installation tray, secure it in place, and drip the "liquid clear adhesive" onto the screen. Then, simply drop the tempered glass screen protector perfectly into place using the alignment tray.
From here, Whitestone's Dome Glass kits use patented technology and ultra-violet lights to CURE the screen protector to your phone. And so far, they claim to be the only tempered glass screen protector that works with Samsung's ultrasonic fingerprint sensor inside the display. It's expensive, but they fit the best and are easy to install.
Get one for $45 or a 2-pack for $70. That's a lot, but it's worth protecting a $1,000 phone.

As an Amazon Associate I earn from qualifying purchases.