21 Best Target Black Friday 2019 Deals
The 2019 Target Black Friday ad is live and with it, we have a look at all the deals you will find at Target on Thanksgiving and Black Friday. This is the first of the big retailers to release a full ad, and there are some highlights already.
The Target Black Friday doorbusters are good, but some of the biggest deals are further into the ad where you can find big iPhone 11 deals, PS4 and Xbox One deals, Samsung deals, smart home, and security deals and Black Friday TV deals.
Target Black Friday deals start at 5 PM Thanksgiving Day and they close at 1 AM before re-opening at 7 AM on Black Friday. These are limited quantities and not all deals are available online. You can shop the early Target Black Friday deals online starting Friday.
Here are our favorite 2019 Target Black Friday deals so far;
65-inch TCL ROKU 4K TV – $399.99
Amazon Fire TV Stick – $19.99
iPhone 11 or iPhone 11 Pro – $200 Gift Card with Verizon or AT&T Activation
iPhone XS or iPhone XS Max – $200 Gift Card with Verizon or AT&T Activation
AirPods 2 – $144.99
iPad 10.2 – $249.99
Apple Watch Series 3 – $169.99
Buy One Get One 30% off App Store & iTunes Gift Cards
Galaxy S10, Galaxy S10+ and Galaxy Note 10 – $400 Gift Card with Verizon or AT&T Activation
Pixel 4 or Pixel 4 XL – $300 Gift Card with Verizon or AT&T Activation
Ring 2 pk Indoor Cam  – $199.99 + $20 GC
HP 11.6-inch Chromebook – $99.99
GoPro Hero 8 Bundle – $349.99
Call of Duty: Modern Warfare – $45
Madden 20, FIFA 20, NBA 2K20 & Ghost Recon Breakpoint – $29.999
PS4 Bundle $199.99
Xbox One X – $349.99 + Gears of War 5 + $40 GC
Xbox One S with Star Wars Jedi Fallen Order – $199 + $40 GC
PS VR Bundle – $199.99
Hue Light Strip – $89.99 + $35 GC
Hue Color Starter Kit – $199.99 + $55 GC
You can check out the full Target Black Friday ad for more deals, but keep in mind not everything listed in the ad is actually a good deal, or worth wasting your Thanksgiving for. Specifically, the Nintendo Switch Deal isn't that great. We should see the Walmart Black Friday ad arrive soon and will help you compare and find the best deals in several areas.
2019 Walmart Black Friday Ad: 5 Things to Expect in 2019 & 2 Not To
Don't Expect a Valid 2019 Walmart Black Friday Ad Leak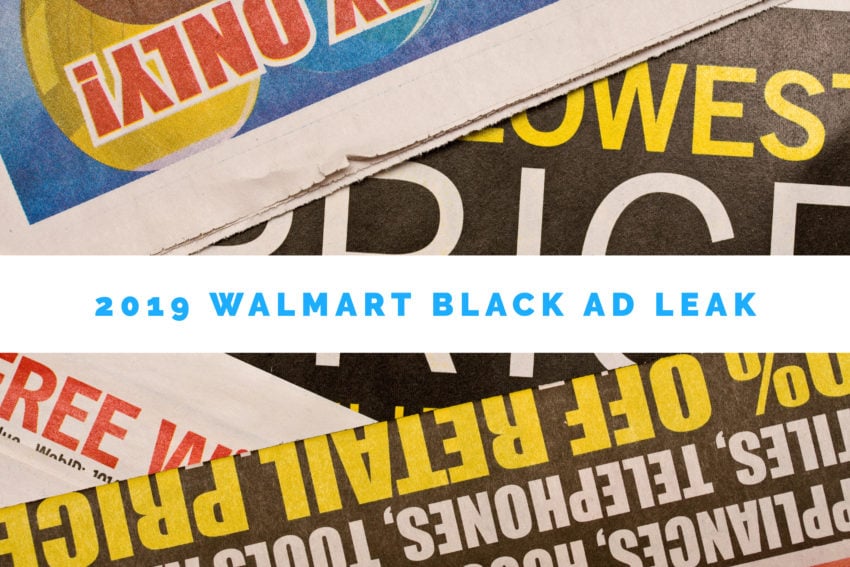 We've seen one reported Walmart Black Friday ad leak, but it looks too much like the previous Black Friday ad, with not enough information and there's also the fact that Walmart is notorious for lockin down their ad.
While there is a slim chance that ad shows some deals, and they are within the realm of possibilities, you shouldn't expect to see a full leak for the 201 Walmart Black Friday ad.
Instead, Walmart will announce the ad in about two weeks and show you everything that you need to know about the deals, the full ad and even some early deals.

As an Amazon Associate I earn from qualifying purchases.