Best Android Twitter Apps
When it comes to using Twitter on Android users have a lot of different choices. There are dozens of apps available, and the official Twitter app, but not all of them are equal. With that in mind, here we've rounded up some of the best options available. Delivering extra features, themes, color options and more to improve your Twitter experience. If you use the social network daily, these are worth trying.
The stock Twitter app is pretty nice but has changed so much in the past few years that it's hard to recommend. Instead, get one of the many excellent 3rd party options made by some of the best Android developers around.
Read: 100 Best Android Apps to Try Today
Whether you're looking for customization, or just want something different, these apps have you covered. Our suggestions are the best Twitter apps out of the dozens available. They are fast, simple, powerful and just work. It's worth noting that a few of these have been available for years, but are still great.
Times have changed for Twitter, not to mention all the accompanying apps for Android. Without going into too much detail Twitter imposes a 100,000 user "token" limit on Android apps. Meaning once more than 100,000 users sign-in with the app, no more can use it. As a result, some developers abandon beautiful apps and start others simply to allow another 100,000 downloads. It's a messy situation.
Many excellent apps won't make our list, simply because they've exceeded that "token limit" and now require users to jump through hoops to even install and use the app. Falcon Pro is hands down one of the best Twitter apps available, and what I still use today. Letting new users try it though, is a huge hassle that isn't worth the trouble when we have many options below.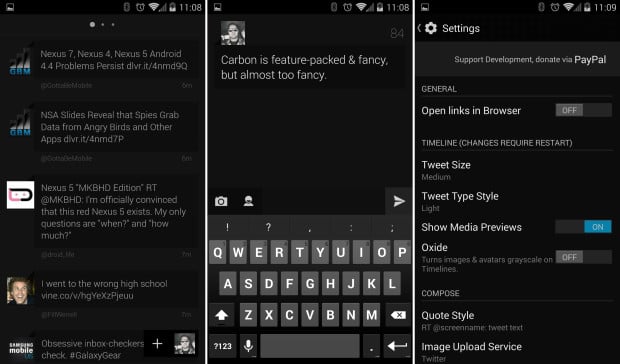 The same goes for Carbon. It's extremely powerful, fancy, and sometimes the UI is too overbearing, but it's also reached the limit and thus, new users can no longer enjoy it. Many apps like it have since been removed from Google Play.
As a result, developers often abandon their applications, or simply don't put in enough time and effort to create great apps. Simply because they can only get so much for all that hard work. Some apps could potentially have millions of downloads and users, but Twitter doesn't allow it.
With that all said, don't just settle for the bare-bones official app. Check out the slideshow below for five or six wonderful Android Twitter apps. We even have a list of honorable mentions if none of them are what you're looking for. We have something for everyone. From clean minimalist apps to feature-packed options full of customization. Super-charge your Twitter experience today.
Robird for Twitter
Robird is one of those hidden gems not too many users know about. It's extremely minimal, powerful, and customizable, yet works great at all times. From floating compose buttons to matching Google's material design. It was our favorite of 2016, but is now showing some age. There's a newer version, too.
Robird has push notifications, streaming timeline over WiFi or mobile data, TweetMarker sync, auto refresh, save drafts, inline image previews (and disable options), a card-style UI, and tons of notification options. Add in the themes, add-ons, and everything else, and this is certainly worth considering.
Sadly the developer somewhat quit development and now has a completely new version called Robird Reborn. It's another excellent option, but paid, and then has in app purchases. Stick to the older Robird or try another from our list below.

As an Amazon Associate I earn from qualifying purchases.