7 Best Waterproof Smartphones for 2014
A waterproof smartphone can mean the difference between wiping a phone off and paying hundreds of dollars for a replacement. There are many waterproof android phones on the market and a growing number of waterproof iPhone 5s cases to deliver a similar experience.
Waterproof smartphones are not new, but for 2014 we see a wider range of waterproof and water-resistant smartphones. This year consumers can choose from the best waterproof smartphones ever, with more  high-end options that cater to users that want a great phone that is also waterproof or water-resistant.
Before you buy a waterproof smartphone you need to figure out what you need from that phone because waterproof, water-resistant and rugged all mean different things and not every phone that can survive a short dunk is designed to go survive a drop.
This list of water proof phones includes everything from the Galaxy S5 that can survive 30 minutes in a few feet of water to devices designed to withstand drops and humidity.
Officially most of the phones on this list are water-resistant but for many consumers this is as close to waterproof as you can get.
Apple still does not offer a waterproof iPhone, and while we can hope for a water-resistant iPhone 6 this fall, there are several great waterproof iPhone 5s cases and waterproof iPhone 5 cases available to help iPhone users protect their phone as well.
Here are the best waterproof smartphones for summer 2014 from the Galaxy S5 to the iPhone 5s with a nice case.
Samsung Galaxy S5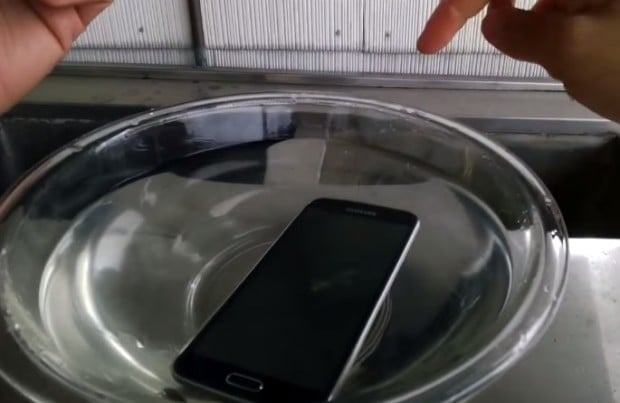 The Samsung Galaxy S5 is one of the best waterproof smartphones you can buy right now. Officially this is only water-resistant, but it offers the same 30 minutes at three feet protection as pretty much any smartphone on this list.


Watch Galaxy S5 Water Test


In addition to the standard back providing enough protection to be waterproof for most consumers Samsung sells a S View Flip Cover case and a wireless charging Galaxy S5 back that snap on and offer other features with the same level of protection. Turn on high sensitivity and use the Galaxy S5 even with gloves on.

The Samsung Galaxy S5 includes a 5.1-inch HD display that looks wonderful and a 16MP camera that includes fast auto focus and the ability to record 4k video. The phone runs Android 4.4 KitKat with a Samsung skin on top and includes apps like S Health that can track heart rate, movement and other information.

The Galaxy S5 is $199 on a two year contract but is often available on Amazon for $99 on contract. The Galaxy S5 is available on Verizon, T-Mobile, Sprint, AT&T, U.S. Cellular, Straight Talk, Virgin Mobile and other carriers.

As an Amazon Associate I earn from qualifying purchases.