Black Friday 2014 Ads: Watch Out for Inflated Savings
The Black Friday 2014 ads are leaking and early Black Friday 2014 deals are here — but buyers need to watch out for inflated savings.
Retailers love to use the reputation of Black Friday, the rush to get a deal before it sells out and the hype surrounding the shopping holiday to push shoppers into spending more money.
We always see bad Black Friday deals that everyone should avoid from big name retailers, but we also see Black Friday deals that seem better than they actually are because retailers use an inflated retail price, or an old retail price.
Read: Apple Black Friday 2014 Predictions
When it comes to Black Friday 2014, we're already seeing deals claim inflated savings and there are sure to be more uses of this common Black Friday trick.
The early Walmart Black Friday 2014 ad shows an iPad mini for $199, which was an amazing deal in 2013, offering $100 off, but now it's only $50 in savings on an old iPad. Instead of showing the savings compared to the iPad mini at Apple which is $50, Walmart uses the old list price to show an extra $50 in savings.
To be clear this is the same iPad mini that you can go to Apple or Best Buy today and buy for $250. Saving $50 is a great deal and even on this older iPad it is one that many shoppers should jump on, but by inflating the savings Walmart can convince users that they are getting a better deal which can lead to more spending on accessories and other items.
We expect to see $50 off the iPad mini through Black Friday 2014 in a number of deals that drop the price to $199 — but the savings only adds up to $50.
This is not the only time we will see this happen and as more Black Friday 2014 ads leak we'll see more examples. Three categories where this happens most are tablets, HDTVs and laptops. Retailers love to sell special models of laptops, tablets and HDTVs that are only available for Black Friday.
You'll find nearly identical versions of these devices, but the model numbers will be slightly different from anything you can buy throughout the year. With a new model number retailers often choose a very high starting price, one that you would be hard pressed to find that tablet ever selling for — save two days before Black Friday.
This makes comparison shopping on Black Friday difficult and it can make it seem like shoppers are getting an incredible deal instead of a standard discount.
Savvy shoppers will research the model and look at reviews and prices for items before committing to a Black Friday 2014 deal. If you cannot find the exact model, search the beginning part, which will help you make a good comparison. Traditionally laptops and tablets include the same starting model numbers, with one small change at the end to signify that it is for a specific retailer.
Black Friday 2014 is on November 28th, the day after Thanksgiving. Retailers are already starting early Black Friday 2014 sales and many are open on Thanksgiving Day or planning a full week of deals to capitalize on the frenzy around Black Friday.
Check out what you can expect from top stores on Black Friday in the slides below.
Black Friday 2014 Deals & Ads
Walmart Black Friday 2014 Ad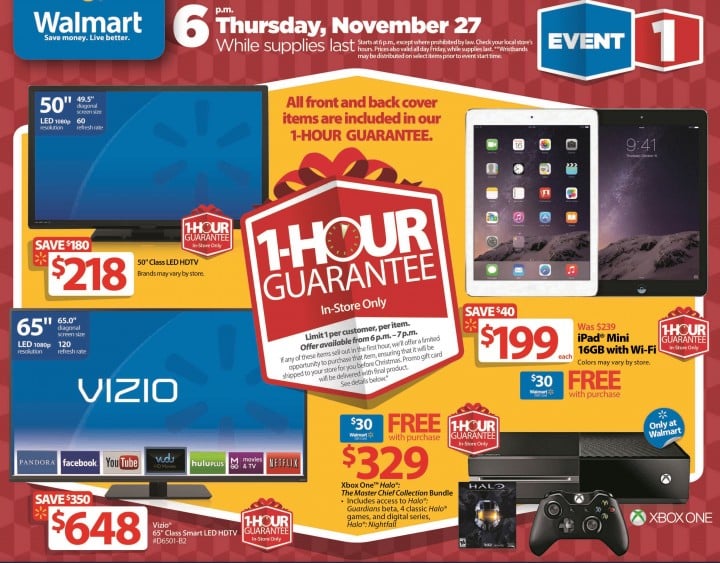 Walmart Black Friday 2014 deals start at 6PM on Thanksgiving and roll all the way through Cyber Monday. There are three specific events on Thanksgiving and Black Friday 2014, including nine 1 Hour Guarantee items that are in stock or you can get it by Christmas at the Black Friday price.
This includes a 65-inch Vizio HDTV for $648, the Xbox One with Halo for $299 after gift card rebate and an iPad mini for $169 after gift card.
You can check out more details on how the Walmart Black Friday 2014 1 Hour Guarantee will work. Duncan Mac Naughton, chief merchandising officer at Walmart states, "We've taken significant steps to improve the 1-Hour Guarantee process from beginning to end. It's simple and seamless."
Walmart beat our Xbox One and PS4 Black Friday 2014 predictions with big savings on the Xbox One and the PS4 GTA 5 and The Last of US Remastered bundle for $399. Here's a look at the nine guaranteed in stock items for 2014.

50" Class LED HDTV for $218 ($180 savings)
Vizio 65" Class Smart LED HDTV for $648 ($350 savings)
Apple iPad Mini 16GB with Wi-Fi for $199 with a $30 Walmart Gift Card ($70 value)
Xbox One Halo "The Master Chief Collection" Bundle for $329 with a $30 Walmart Gift Card
RCA 7" Google Play Wi-Fi Tablet for $29 (special buy)
Samsung Galaxy Ace Style on Straight Talk Wireless for $29 ($100 savings)
LG Blu-ray Disc Player for $35 (special buy)
Beats by Dr. Dre Wireless Headphones for $149 ($130 savings)
HP Intel Celeron Touch Laptop for $249 (special buy)

You can see the full Walmart Black Friday 2014 ad and deals online now. Wlaamrt will post store maps on November 18th and share more detials as the event approaches.