Black Friday 2014 Deals & Ads
With many Black Friday 2014 ads available from Best Buy, Walmart and Target, here is a look at the current deals and predictions for stores that still need to announce their Black Friday 2014 ads.
This year we are seeing early Black Friday 2014 deals arrive at Walmart and other retailers, plus price-matching at Target kick off the holiday shopping season.
The Walmart Black Friday 2014 ad scan arrived right from the retailer, including 1 Hour Guarantee deals on the Xbox One and iPad mini, just a day after the Target Black Friday 2014 ad and the Best Buy Black Friday 2014 ad. The Apple Black Friday 2014 ad won't arrive until later, well after other stores officially announced the Black Friday 2014 deals.
There is a new pushback to keep stores closed on Thanksgiving, but many Black Friday 2014 store hours will keep the deals going from Thanksgiving evening through Black Friday 2014 late in the day — plus deals that run through the weekend and in to Cyber Monday 2014 on December 1st. Kmart is open at 6 AM on Thanksgiving with 42 hours of deals and savings.
Shoppers will see more Black Friday style deals throughout the month of November than in previous years with flash sales online and in stores offering big savings on popular products. Even the standard weekly ads are beefing up on holiday items as stores attempt to convince early-bird shoppers to spend on these early Black Friday 2014 deals.
Ultimately many of the Black Friday 2014 deals are online and in store, so you can save without lining up and leaving the dinner table. Online Black Friday 2014 sales are already in progress, but the big ones will start around 6 PM Eastern on Thanksgiving Day — including a PS4 Black Friday Deal with GTA 5 and The Last of Us Remastered plus many others.
Other online Black Friday 2014 deals will start at midnight on Black Friday, early in the morning and throughout the week leading up to Black Friday. Shoppers will need to tune into social media accounts to learn when exactly many of the online Black Friday 2014 deals will start and what is on sale.
Black Friday is the name for the day after Thanksgiving, when major sales start at many retailers. This typically happens early in the morning or even on Thanksgiving evening, and shoppers line up outside major retailers for hours.
We're taking a closer look at the Black Friday 2014 deals and ads for popular retailers and items in the slides below.
Black Friday 2014 Deals & Ads
Walmart Black Friday 2014 Ad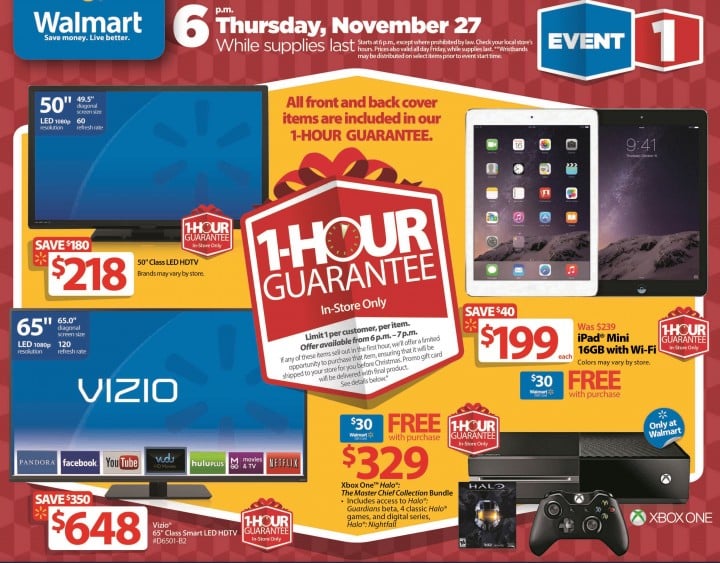 Walmart Black Friday 2014 deals start at 6PM on Thanksgiving and roll all the way through Cyber Monday. There are three specific events on Thanksgiving and Black Friday 2014, including nine 1 Hour Guarantee items that are in stock or you can get it by Christmas at the Black Friday price.
This includes a 65-inch Vizio HDTV for $648, the Xbox One with Halo for $299 after gift card rebate and an iPad mini for $169 after gift card.
You can check out more details on how the Walmart Black Friday 2014 1 Hour Guarantee will work. Duncan Mac Naughton, chief merchandising officer at Walmart states, "We've taken significant steps to improve the 1-Hour Guarantee process from beginning to end. It's simple and seamless."
Walmart beat our Xbox One and PS4 Black Friday 2014 predictions with big savings on the Xbox One and the PS4 GTA 5 and The Last of US Remastered bundle for $399. Here's a look at the nine guaranteed in stock items for 2014.

50" Class LED HDTV for $218 ($180 savings)
Vizio 65" Class Smart LED HDTV for $648 ($350 savings)
Apple iPad Mini 16GB with Wi-Fi for $199 with a $30 Walmart Gift Card ($70 value)
Xbox One Halo "The Master Chief Collection" Bundle for $329 with a $30 Walmart Gift Card
RCA 7" Google Play Wi-Fi Tablet for $29 (special buy)
Samsung Galaxy Ace Style on Straight Talk Wireless for $29 ($100 savings)
LG Blu-ray Disc Player for $35 (special buy)
Beats by Dr. Dre Wireless Headphones for $149 ($130 savings)
HP Intel Celeron Touch Laptop for $249 (special buy)

You can see the full Walmart Black Friday 2014 ad and deals online now. Wlaamrt will post store maps on November 18th and share more detials as the event approaches.