Black Friday vs Cyber Monday: When to Buy in 2014
The best Black Friday deals may not be on Black Friday at all. We'll help you decide if you should wait in line for Thanksgiving Day and Black Friday sales or if you should wait for Cyber Monday. The Black Friday vs Cyber Monday comparison will highlight the top deals and what experts thing you should buy on each day to get the most value out of your dollar.
We're already seeing early Black Friday deals at retailers like Walmart, Target and Best Buy, but many of the biggest deals are yet to come. There are some early Black Friday deals worth jumping on, but if you want name brand savings, you're looking at Thanksgiving, Black Friday or Cyber Monday.
Here's a closer look at what to buy on Thanksgiving Day, Black Friday and Cyber Monday and more details on Black Friday vs Cyber Monday.
Black Friday vs Cyber Monday: Tips
There is no longer a clear divide between Black Friday and Cyber Monday. Years ago Black Friday took place in stores and Cyber Monday took place online, but that's no longer the case.
Black Friday includes Thanksgiving Day and basically all of this week. Cyber Monday deals start on Monday with online sales from retailers big and small.
Know What You're Buying
Black Friday sales start online throughout this week and on Thanksgiving Day and Black Friday. There are even some Black Friday and Thanksgiving Day deals that are only available online — like a huge price drop on a curved 4k TV at Best Buy.
On the other end of the spectrum, there are some specials you'll only find in stores. Many of the iPhone 6 deals are only available in store because the retailers are simply not set up for selling an iPhone 6 at a major discount online.
Know the Deals
For categories like the iPad, Beats Headphones and gaming deals, you can already see most of the Thanksgiving Day and Black Friday deals. It will be a surprise to see Cyber Monday deals beat these prices, so there is no reason to wait for an unannounced deal when there are sure deals available. If all else fails you can order a better deal on Cyber Monday and return or resell the Black Friday purchase.
Do your research early so you can confidently plan on when to shop, and maximize your savings while minimizing the time you spend in line.
Black Friday vs Cyber Monday: What to Buy
If you need a cheat sheet to help you decide what to buy on Thanksgiving Day, Black Friday and Cyber Monday Dealnews has you covered. This publication lives and breathes deals throughout the year and their editors broke down the best days to buy specific items during the next week.
Keep in mind that even though many of their recommendations are on Thanksgiving Day, you can still buy many of these items online. Best Buy, Target, Walmart and Amazon offer online deals on Thanksgiving Day and Black Friday so you don't need to give up Thanksgiving Dinner to get the deals.
Here's when you should look for the best Black Friday deals on top gadget categories in this Thanksgiving vs Black Friday vs Cyber Monday comparison.
You can see the full listing with other categories like travel, clothing, appliances and more at Dealnews. Marcy Bonebright shares, "If you can only shop on one day this year, go shopping on Thanksgiving." Bonebright specifically calls out electronics and entertainment categories for Thanksgiving Day deals.
Check out our Black Friday ads and deals in the slides below for a preview of what you can expect on Thanksgiving, Black Friday and Cyber Monday.
Black Friday 2014 Deals & Ads
Walmart Black Friday 2014 Ad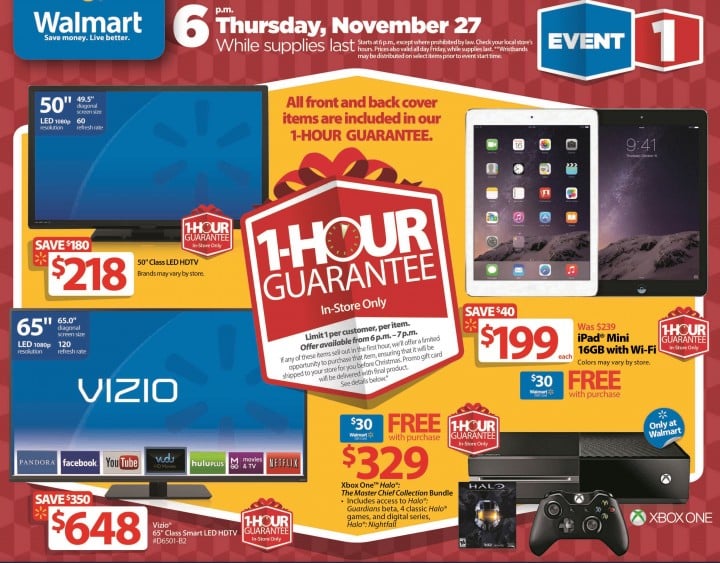 Walmart Black Friday 2014 deals start at 6PM on Thanksgiving and roll all the way through Cyber Monday. There are three specific events on Thanksgiving and Black Friday 2014, including nine 1 Hour Guarantee items that are in stock or you can get it by Christmas at the Black Friday price.
This includes a 65-inch Vizio HDTV for $648, the Xbox One with Halo for $299 after gift card rebate and an iPad mini for $169 after gift card.
You can check out more details on how the Walmart Black Friday 2014 1 Hour Guarantee will work. Duncan Mac Naughton, chief merchandising officer at Walmart states, "We've taken significant steps to improve the 1-Hour Guarantee process from beginning to end. It's simple and seamless."
Walmart beat our Xbox One and PS4 Black Friday 2014 predictions with big savings on the Xbox One and the PS4 GTA 5 and The Last of US Remastered bundle for $399. Here's a look at the nine guaranteed in stock items for 2014.

50" Class LED HDTV for $218 ($180 savings)
Vizio 65" Class Smart LED HDTV for $648 ($350 savings)
Apple iPad Mini 16GB with Wi-Fi for $199 with a $30 Walmart Gift Card ($70 value)
Xbox One Halo "The Master Chief Collection" Bundle for $329 with a $30 Walmart Gift Card
RCA 7" Google Play Wi-Fi Tablet for $29 (special buy)
Samsung Galaxy Ace Style on Straight Talk Wireless for $29 ($100 savings)
LG Blu-ray Disc Player for $35 (special buy)
Beats by Dr. Dre Wireless Headphones for $149 ($130 savings)
HP Intel Celeron Touch Laptop for $249 (special buy)

You can see the full Walmart Black Friday 2014 ad and deals online now. Wlaamrt will post store maps on November 18th and share more detials as the event approaches.

As an Amazon Associate I earn from qualifying purchases.