23 Common Black Ops 3 Problems & Fixes
This is what you need to know about the most common Black Ops 3 problems and how to fix them if you run into a game-stopping issue on PS4, Xbox One and PC.
After months of play, major Black Ops 3 updates and many Black Ops 3 hotfixes there are still a number of Call of Duty: Black Ops 3 problems that can stop you from playing, prevent you from earning camos, unlocking challenges, dealing with Black Ops 3 server problems, spending Call of Duty points and more.
Read: Call of Duty: Black Ops 4 Rumored for 2018
From the frustrating Black Ops 3 ABC error and other problems, we'll walk you through how to fix Black Ops 3 problems. We focus on the Black Ops 3 problems that can ruin the experience on Xbox One, PS4 and PC that we see most.
We also share what to do if you get prompted to buy the new Black Ops 3 DLC after you buy a season pass and what to try if you get a Black Ops 3 Connection Interrupted error message.
The June Black Ops 3 update delivered Contracts and Blackjack, but that's not all There is currently a problem with the Cryptokeys you earn in a match and contract Cryptokeys that can leave you missing rewards from contracts.
There is nothing you can do to fix this Call of Duty: Black Ops 3 problem other than wait. Treyarch knows what is wrong and is working on a fix. It's not clear if this will come behind the scenes or if it will require a hotfix.
If you are playing Call of Duty: Black Ops 3 in 2016 you may see more Black Ops 3 problems than normal as there will be more players joining for the first time and there are some Black Ops 3 DLC problems as well.
We saw some new problems come into play with the latest Black Ops 3 update, and we continue to see some scattered issues right after hotfix updates arrive. The March Black Ops 3 update adds in some additional problems with connection interrupted and crashes to the dashboard. We are also still seeing the problem with 7 vs 5 lobbies. Activision is looking into these issues, but we don't have fixes for all of them yet.
Most of the Call of Duty: Black Ops 3 problems take place in multiplayer, but there are some in Zombies mode that you need to know about as well. These are the most common issues, bugs and problems that can slow you down — and how to fix them on your own.
The fixes for the most common Call of Duty: Black Ops 3 problems vary slightly from one console to the next and to PC, but this guide will help you solve these bugs and issues and get back to playing.
Fix Black Ops 3 ABC Error
One of the most frustrating Call of Duty: Black Ops 3 problems is the A.B.C. error message that some users see when they try to connect to a game.
If you see the A.B.C.-.-.F.G.-.-.-.K.-.-.N.-.-.Q.-.S.-.-.-.-.X.-.-. ?? error message on Call of Duty: Black Ops 3 there is a simple fix. This should also work with other ABC style error messages including the A.-.-.-.-.F.G.H.I.J.K.-.-.N.-.-.Q.-.S.-.U.-.W.-.-.Z.
Restart the game. Wait in the main Call of Duty: Black Ops 3 title screen. That means do not press X or A right away. After about a minute an update should load. On the screen you will see a version starting with 48. instead of a lower number if you do this right.
[contextly_sidebar id="T2eh9y1D4dsfUjCVv3pmFjSk3KxCBlp9″]
The actual version number changes very often as Treyarch shares hotfixes, so you may see a different number than the 48.4.12.5.0 that is the current hotfix.
Fix Black Ops 3 Crashes on PC
If you use AVG antivirus: Their latest version (16.71.7596) can crash BlackOps3.

Add an exception for BlackOps3 in AVG as a workaround.

— pcdev (@pcdev) May 5, 2016
If you are just starting to experience Black Ops 3 crashes on PC and you have AVG Antivirus, make sure you add an exception. The latest version of AVG, 16.71.7596 can crash Black Ops 3 on PC according to a developer at Treyarch.
You can open AVG and add an exception for Black Ops 3 to avoid the crash for now.
Fix Black Ops 3 Connection Interrupted Error
After the March Black Ops 3 update a number of players now see Connection Interrupted and then the game crashes to the main screen. This happened to us on the PS4 many times, but after completely restarting the PS4 we haven't seen the issue again.
This is not a fix for everyone, as Activision is investigating the Black Ops 3 Connection Interrupted messages still.
If you see these you should turn off your Xbox One or PS4 and unplug it for a few minutes and then try again. This won't work for everyone, but we've had good luck with it.
How to Fix Playlist Data is Newer Than Hosts Error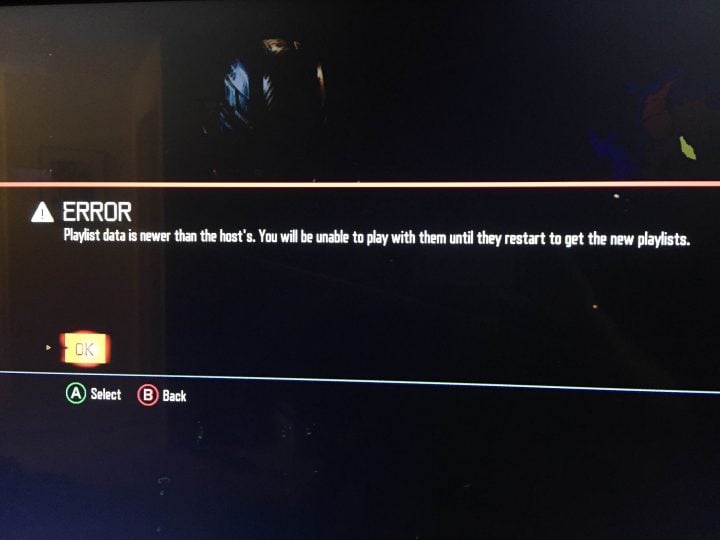 As part of the hotfix updates that Treyarch rolls out there may be times where you have a newer version of the playlist data than the host who you are trying to play with.
If this is someone you know, and you want to play with them, they need to exit the game, and then restart it to get the prompt to download the latest files. On Xbox One this includes pressing the menu button and choosing Quit. The process will vary on other consoles and PC.
After this is complete you should be able to play with or against each other. If you see this message in the general public matchmaking you may need to also restart your game to make sure you are on the latest files.
Fix Black Ops 3 Hitmarkers, Rubber Banding, Stuttering
If you are running into Black Ops 3 performance problems that include rubber banding and stuttering you should check out these fixes. This also can help fix Black Ops 3 hitmarker problems that many gamers love to blame for losing a gunfight.
Rubber banding – Your character is running toward a destination and then jumps back to where it was a few seconds prior.
Stuttering – An effect that makes your character appear to freeze and skip ahead while moving.
Hit marker delays – When it appears you have landed several shots on an enemy, yet the enemy is able to kill you with fewer shots fired back.
Activision offers a guide that outlines what you need to look into as you play and how you can diagnose these issues to get better performance.
Fix Black Ops 3 Camo Unlock Problems
There are scattered reports that kills are not counting towards unlocking the Burnt Camo. You need to get 50 kills with a weapon with no attachments to unlock this. You need to first unlock the Policia Camo with 100 headshots before kills count towards Burnt Camo.
If you still do not see your kills counting towards unlocking Camos in Call of Duty: Black Ops 3, Activision offers a three step fix.
Highlight the weapon in Custom Classes and select Personalize.
Select Weapon Prestige.
Select None to unequip Clan Tag and Kill Counter.
When you are done, and unlocked, you can set up the Prestige options again.
Fix Black Ops 3 Bloodthirsty Medal Problems
Even after many hotfixes and updates there are still some problems completing challenges that rely on Bloodthirsty medals. This includes unlocking the camos you need to get gold guns on Black Ops 3.
The two biggest issues when going for Bloodthirsty medals are while using a gun with the Varix optic or while using pistols Akimbo (dual). Both of these are bugged, so you should try to use another optic or avoid using akimbo while going for Bloodthirsty medals.
Black Ops 3 Dark Matter Problems
While you should be able to get most Dark Matter camo unlocks without many problems, there is one issue that some gamers are running into.
If you get one of the new Black Market weapons in Black Ops 3 you cannot unlock Dark Matter for it yet.
Fix Can't Find Black Ops 3 Match on Xbox 360 or PS3
Some users who own the Xbox 360 or PS3 version of Call of Duty: Black Ops 3 cannot find a match to play in, which is troubling considering there is no single player mode.
If you join a lobby and you do not see the Vote: options in the lower left of the screen you should back out and join a new lobby or try a new game type. Activision is working on a more permanent fix.
Fix Black Ops 3 Crashes and Freezes
If you have trouble playing Call of Duty: Black Ops 3 on PC, PS4 or Xbox One due to crashes or freezes, you can follow these guides to fix those problems.
We've run into an issue where Black Ops 3 crashes to the home screen right after installing an update, after the checking files screen. Trying to do this process four times resulted in the game working fine since.
One other thing to do is exit to the home screen, use the menu button and then quit the game on Xbox One. You can also try turning your Xbox One or PS4 completely off to see if that solves the issue.
https://twitter.com/allanrubio5/status/677966092090793984
The next thing to try on any console is to update your console to the latest software or to update your PC to the latest Audio and Video drivers.
Check the game disc for abrasions or dirt. Make sure your console or PC is in a cool, well ventilated space.
On PS4, PS3, Xbox One or Xbox 360 you may also need to delete old files or clear the cache. Check out more of the details on Activision Support.
Fix Black Ops 3 Installation Problems
If you have trouble installing Call of Duty: Black Ops 3 there are some steps you can take.
When you encounter slow download you may need to pause and restart the download. This often speeds up the process.
Activision suggests updating to the latest version of software on your console and letting the Call of Duty: Black Ops 3 download and installation complete before you try to play.
Fix Xbox One Black Ops 3 Problems
Gamers who bought the digital Call of Duty: Black Ops 3 release for Xbox One may have trouble starting the game. If this happens to you, you may need to delete the game file and re-install it.
Activision tells users to go to My Games & Apps and then select Installed – Sort by size.
Users who see a Call of Duty: Black Ops 3 game size greater than 40GB should be good to go, but users with a game size less than 40GB will need to delete the file and install the game again.
Missing Nuk3town Bonus Item
If you pre-ordered Call of Duty: Black Ops 3 digitally on PS4 or Xbox One and you don't have Nuk3town and GIANT maps there is an easy fix.
On PS4 go to PS Store -> Library -> Call of Duty: Black Ops 3 -> Add Ons and install the map.
On Xbox One, go to the store and you should see an option to download the map.
There are were some reports of PS4 users not getting the GIANT map, but it should be available in the in game store now.
Call of Duty Points Problems
There are some users who run into Call of Duty Points problems when buying or spending the new Call of Duty Points that Activision added to the game in December.
If you purchased Call of Duty Points and they don't show up in game, you should wait 15 minutes and restart your console. If that fails, contact PlayStation Support, Xbox Support, or Steam Support.
Users who run into missing Vials, Gobblegums or other items look at the recently acquired tab. If nothing shows up, contact support for your system.
Black Ops 3 Awakening DLC Season Pass Problems
One of the more troubling issues with the Awakening Black Ops 3 DLC on Xbox One is that some Season Pass owners are seeing prompts to buy the DLC even though they already own it. If you have this problem Activision recommends the following steps.
Launch Call of Duty: Black Ops III.
Go to the in-game Store.
Select Awakening under Map Packs. There will be a $14.99USD price in the corner, but you will not be charged for the content.
You will be taken to the Xbox Live store which will state that the map pack is Purchased.
Return to Call of Duty: Black Ops III to play the new DLC maps.
If you still have an issue you should contact Activision support or make sure that you redeemed your Season Pass code.
Call of Duty: Black Ops 3 Code Problems
If you attempt to use a Call of Duty: Black Ops 3 code to get a digital item you may run into issues. Two common problems are messages telling you the code is already in use or the code is invalid.
If you get this message Activision recommends that you "contact PlayStation Support, Xbox Support, or Steam Support."
For users who do not see the code that they were supposed to get, check again in the packaging and if it is missing you will need to take it back to the retailer you purchased the game from.
Fix Black Ops 3 Stats Reset
Users may log in and find their Call of Duty: Black Ops 3 stats reset. If this happens it is likely due to one of the reasons below.
Playing on a shared connection — Data loss can occur over shared connections such as institutional (school) or corporate networks.
Playing on a Wi-Fi connection — Wireless connections tend to be unstable and can lead to data loss.
Quitting matches early — Data is routinely stored at the conclusion of each match. Leaving a match early can negatively impact data being saved from previous matches.
Exiting the game early — Leaving the game before a Public Match is complete could impact data from previous matches.
Playing in private matches with players you don't know — Accepting Private Match invitations from players you don't know can unknowingly enter you into a hacked lobby and/or leave you susceptible to corruption or loss of data.
Activision warns users not to play in private matches with users you don't know as doing so can put you into a hacked lobby.
If this happens to you, the best solution is to submit a Call of Duty: Black Ops 3 corrupted Rank and Stats Form and ask Activision for help.
Fix Call of Duty: Black Ops 3 Connection & Server Problems
If you are experiencing Call of Duty: Black Ops 3 lag there are some steps you can take locally to solve problems. Some issues will need to be dealt with by Activision. There are reports of connectivity issues that continue well after the release, but on your end you should try the following steps.
The first thing to try if you are placed into a match and experience Black Ops 3 lag after playing many good games is to back out and find a new lobby. More often than not this will fix the problem.
Run a Speedtest to see if your internet connection is fast enough to play. Try doing this in the browser on your console or the PC you are gaming from to get an accurate reading. If this is slow, check with your ISP or try restarting your router or modem.
The best way to play is with a wired connection. If you can temporarily run a network cable to your console instead of using a wireless connection this can solve many issues. If this works, you can plan out a long-term replacement and run cable.
Activision also recommends trying these four fixes to get connected if you have problems connecting to Call of Duty: Black Ops 3 games.
Use this guide to solve NAT issues on Xbox One that van limit online play. This guide can help you fix PS4 NAT problems.
Fix Black Ops 3 PC Performance Problems
For Black Ops 3 performance problems on PC, there are some solutions that you can take in addition to making sure your drivers are up to date.
Users who experience stuttering and FPS drops can try this solution posted on Steam,
"changing WorkerThreads = 4 to WorkerThreads = 2 in your config.ini file can help (In the game folder, commonly located here, C:\Program Files (x86)\Steam\steamapps\common\Call of Duty Black Ops III\players\config.ini)."
This should help some users while Activision and Treyarch work on a permanent fix.
Check out additional Call of Duty: Black Ops 3 PC troubleshooting tips for problems.
Fix Black Ops 3 PC Mouse Lag Problems
If you are playing on PC, you may see Black Ops 3 mouse lag, but there is a simple fix that you can perform right now.
Some systems may get better input response with FPS Cap set just below refresh rate (ie, 58 for 60 Hz).

— pcdev (@pcdev) November 5, 2015
The official fix is to cap your FPS just below the refresh rate. Users also report changes to mouse polling rate or screen resolution can help.
Black Ops 3 Ban Problems
As we continue to play Call of Duty: Black Ops 3 we see increasingly intricate and amazing emblems and paintjobs on the weapons. With this creativity there are some users who are putting images that Activision deems inappropriate on the weapons and other customizable areas.
If this happens you may be banned from using Paintshop for a limited time or permanently. Activision states that there is an account review to prevent false positives. You cannot appeal or get this decision reversed. Here are more details.
Black Ops 3 Juggernog Problems
If your Juggernog fridge door is stuck, Activision shares an illustrated guide to open it. If you cannot use force to open it with the instructions below, you should turn it off for five minutes and try again.
Place left hand palm against the left side of the cooler unit.
Place the thumb of your left hand in the door cavity.
Place your right hand thumb in the door cavity, resting your palm on the front of the door.
Using your right hand, pull the door open toward yourself.
We are hearing reports of some damaged Call of Duty: Black Ops 3 Juggernog special editions, but don't have any official word on how to get them replaced.
Black Ops 3: 7 Things You Need to Know After Christmas
Skipping Christmas, But Hoping for Black Ops 3 Double XP New Year Treat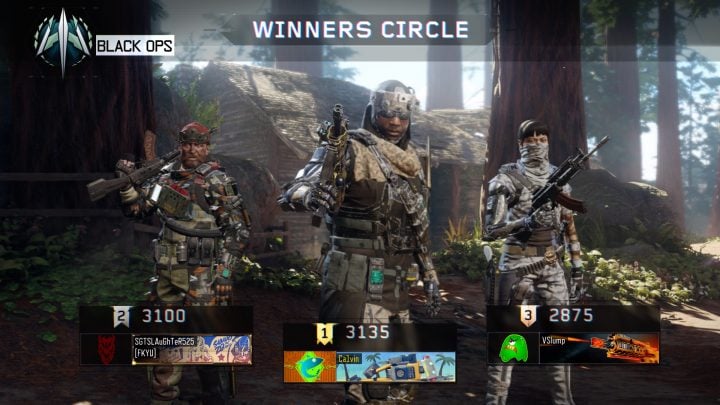 There is no Christmas Black Ops 3 Double XP weekend, to help you level up faster. Although there is always hope for a New Years Eve Double XP event to roudn out the time off of work and school, nothing is confirmed yet.
Treyarch offered Double XP on Thanksgiving weekend, but so far there is no mention of Call of Duty Double XP weekend around Christmas that would allow new players to level up faster. With Double XP, you can unlock new weapons, Scorestreaks, specialists and tactical items faster.
Even without a Double Xp weekend, there will be a lot of new players, so you may be able to level up faster simply by taking out other new or inexperienced players. Don't forget to use our Black Ops 3 Guide to learn about wallrunning and other tips.