ClamCase Brings Clambook Laptop Dock to Most Android Smartphones, iPhone
For owners of non-Webtop enabled Motorola smartphones and iPhone owners who look toward their Droid counterpart longingly with their ability to connect their phones to a laptop shell to gain a larger display, longer run time thanks to recharging capabilities, a full size keyboard, trackpad, speakers, and USB ports, fret not as ClamCase is looking to provide a similar solution.
Dubbed the ClamBook, the smartphone accessory works much in the same way as Motorola's Laptop Dock and will allow iPhone owners to mirror their phone's display on the larger cinematic 16:9 aspect ratio screen. HTC and Samsung smartphone owners can use the MHL connector to do the same while Motorola smartphone owners will be able to leverage the Webtop OS on their phones when connected so it will be like a universal laptop dock solution.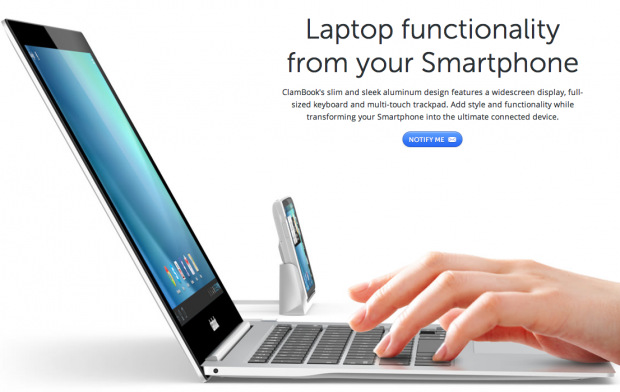 Unlike the plastic build quality of the Motorola laptop dock solution, ClamCase is made from aluminum and has styling cues that is very reminiscent of Apple's MacBook Air ultraportable. You'll benefit from a larger display–perfect for movie streaming, as well as what ClamCase calls cinematic sound. The keyboard also features dedicated Android navigation keys.
Pricing and specs are not yet released by ClamCase, and the company is promising the ClamBook to be delivered in time for the holiday shopping solution. While universal compatibility with many high-end phones will allow you to upgrade to any model from any manufacturer without restricting you to Motorola's ecosystem is nice, the ClamBook is still missing a front-facing camera on the device for webcam-enabled chats. Also missing in the mix is a pop-out cradle or holder to place your smartphone in that is present on Motorola's solutions.
Google's also been rumored to be baking some of the Webtop functionality into the next revision of Android so perhaps the ClamBook will be the first of similar accessories that will enable this feature.