Clash of Clans 2016 Update: What's New
Last week we confirmed the first big Clash of Clans update of 2016 was coming soon, and today it finally arrived. The developers, Supercell, addressed many key problems and complaints millions of players have been talking about since the major game-changing update arrived in December. Here, we'll go over everything that's new.
Clash of Clans has been one of the most popular and successful mobile games for nearly three years, with millions of players on Android and iPhone. However, a crazy update in December changed the game more than any update before it, and not for the better. As a result, there's been a lot of problems, complaints, money issues with the in-game economy and more.
Read: Clash of Clans Update: 7 Things to Expect
Today, right on time another important Clash of Clans update arrived, and the first one of 2016. It removes the Christmas and holiday theme full of snow, but introduces loads of changes. From bug fixes, a new Loot Cart where users get money back after getting attacked, new daily bonuses to earn money and other changes. Read on for more details.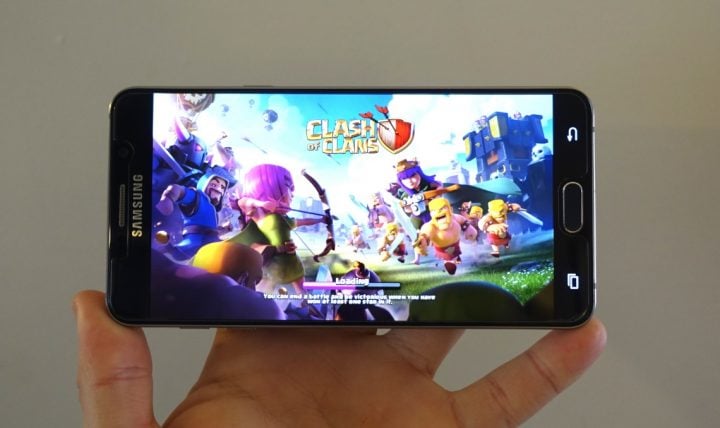 The biggest issue since the huge Town Hall 11 update arrived was bugs, match-making, and money issues. Users have been having a hard time saving up Gold, Elixir, and Dark Elixir for upgrades and other things. Another problem is shields were changed, and now users can't get an easy shield. As a result some are getting attacked 3-4 times a day, losing tons of money, and never earning shields.
Update: Android users are complaining about errors while trying to update Clash of Clans on the Google Play Store. If you're experiencing a "not compatible" error message, here's a potential fix to the problem.
Turning the game into a slow grind, with no money in the economy, rather than a fun game that over 200 million people have downloaded. It was a big problem, and today the first major steps were taken to solve it. Below is the full changelog, then continue to the slideshow for images and key details about each new aspect of Clash of Clans.
The Treasury
• Clan Castles now house a well-protected resource bank: the Treasury
• The Treasury safeguards bonus loot from Clan Wars and Star Bonuses
• It's the safest place to save up bonus loot until you are ready to spend it!
• The previous concept of "War Loot Storage" has been removed from the Clan Castle info screen, etc.
• Treasury capacity is determined by Town Hall and Clan Perks levels. Clan Castle level has no effect
• (Clan Perk values are unchanged, Treasury storage is similar to War Loot storage at most Town Hall levels)
• Clan Castle visuals have been updated with the removal of the small storages on the roof
Daily Star Bonus
• Win 5 stars from multiplayer battles to earn bonus loot
• Earn bigger bonuses at higher Leagues!
• A new Star Bonus is available every day!
• Star Bonus rewards are safeguarded in the Treasury
• The maximum Star Bonus reward is available starting at Titan 3 League
Loot Cart
• A broken down Loot Cart appears in your village after every defense (attack)
• Collect this cart to recover some of your lost resources
• Only one Loot Cart will appear at a time, so collect it right away!
• The Loot Cart appears randomly in the area village after any defense and it contains 20% of the lost resources
• If a Loot Cart is already spawned, its Gold, Elixir and/or Dark Elixir values will update if a subsequent defense would be worth more of that resource
• A Loot Cart cannot be collected if your storages are full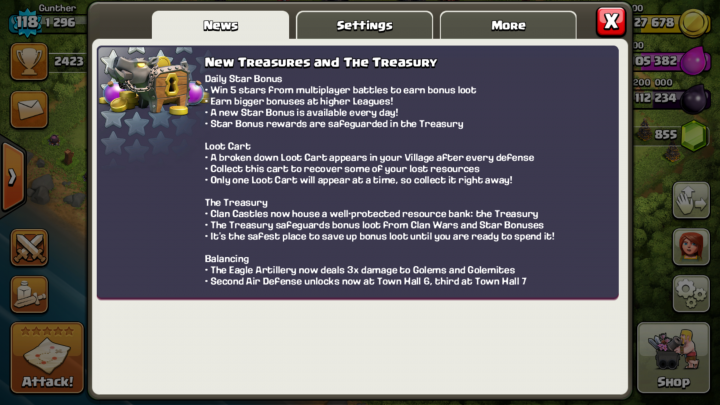 Balancing
• The Eagle Artillery now deals 3x damage to Golems and Golemites
• Second Air Defense unlocks now at Town Hall 6, third at Town Hall 7
Bug fixes
• Cases where Skeletons would get stuck in layers of walls especially when chasing Hog Riders are now fixed;
• Instances where multiple Dark Spells could be donated to Clan Castle are now fixed. Only one Spell can be donated.
• In some rares cases, players would start an upgrade and then go idle for a longer period of time, and upon returning to the game that same upgrade would wrongly show 20+ days left; this issue has now been addressed.
Read: 5 Alternatives to Clash of Clans
As we can see the developers have made some major changes, and all seem to be for the better. Most of this has to do with injecting more money into the game, giving us cash back after we lose so much when attacked, and giving users more incentives to play each and every day. We've been asking for achievements or daily goals for a long time, and the star bonus is their version of that. Here's what to look for after downloading the update today.
Loot Cart
The Loot Cart is the most important aspect of this update, so we'll start with it. There seems to be a lot of confusion, so let us explain.
When a player is attacked they lose money. Sometimes a little, sometimes 300-400 thousand gold and elixir. That hurts. Then you have to re-set traps, adding insult to injury.
The Loot Cart will "randomly" appear somewhere inside the village after each time a player gets attacked. It will contain 20% of the lost money, which will then be returned to them. Once collected it goes into the new Treasury, which can't be stolen (not very much, at least) which is the safest place to store money and not have to worry about losing it.
Above is a screenshot of the new loot cart. Click on it, then collect the money and move it to the Treasury. If it is not cleared, another attacker can steal the money inside the Loot Cart. So keep an eye out for it after you've been attacked, and enjoy the "insurance" refund, if you will.
Attackers don't earn less because of the cart. Loot earned stayed the same, but some is returned, essentially adding free money back into the game. This should improve the overall amount of money over time.