Clash of Clans October Update: What Gamers Need to Know
Supercell just released a huge October Clash of Clans update with tons of upgrades, new features, more traps and Clan War Leagues. Whether you're excited about 25 new single player maps, Clan War Leagues, or anything else, here's what you need to know, what's new, and what changed.
The last big update to Clash of Clans was way back in June. Since then, we haven't received much and the game is starting to feel stale, especially the Builder Base. And while this update is all about the main village, and Clan Wars, it's still an important update with tons of quality of life changes.
Read: Clash 2018 Updates: 8 Things We Want Next
While we still have lots of questions about Clan War Leagues and other things, just know that the October Clash of Clans update is live, and here's what's new. From a tornado trap, spooky Halloween obstacles, more walls, gold mine upgrades and more.
Clash of Clans October Update: What to Expect
Clan War Leagues – A new competitive Clan War system with fun new rewards
First things first, we're getting a new Clan War League. The idea is for competitive e-sports, but it might be confusing when clans try to juggle both a regular Clan War and a Clan War League entry. Each battle day consists of 8 clans doing a 15v15 battle, although the entire clan of 50 players can come. If your #6 guy is struggling to win battles, substitute him out with someone else from the clan. Just like starters and the bench in professional sports. Rotate out fresh or hot attackers and win your League.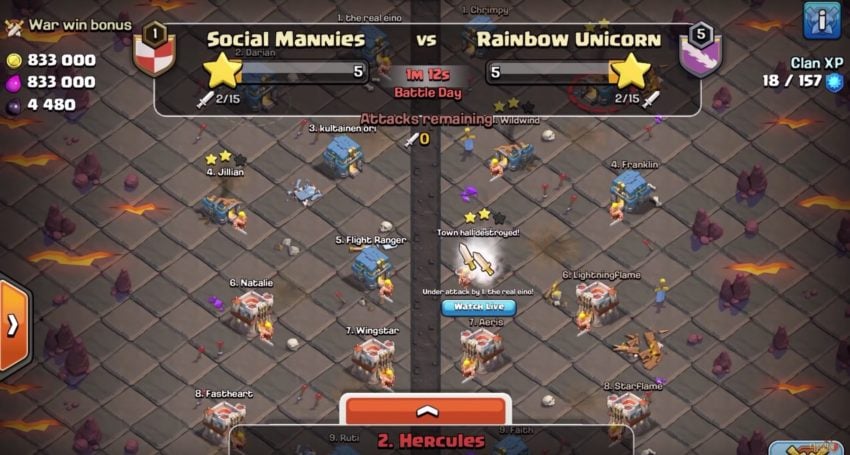 Perhaps the most exciting aspect of the new Clan War League is the rewards. Whether you make it all the way to the top, or fizzle out and lose after a few tough and hard-fought battles, you'll get rewards. Members must compete to get the rewards. Most notably, a new Hammer that instantly starts and finishes any upgrade regardless of funds, gold, elixir or resources.
The Goblins are back!
25 brand new single-player Goblin villages for you to plunder
2 new Achievements
Quality of Life Improvements
Siege Machine

Defaults to the last deployment setting
Donating will now give 30XP instead of 1XP

Troop Selection

When starting an attack, no troops will be selected by default

Replays
Electro Dragon

Lightning Spell on E-Drag death will now damage Resource buildings

Grand Warden

The Grand Warden's mode can now be toggled while he's healing

New Clan Games Challenges
Reduced training costs for certain troops
Improvements to the "Copy Base" feature
Gem donation price adjustments
Halloween Obstacles
This is a big update coming with a lot of changes for Clash of Clans. Gamers can read all about the changes, reduced training costs and more by clicking here. Then, we have more information on the 25 single player maps right here.
Read: Common Clash of Clans Problems & How to Fix Them
For those unaware, there are 50 single-player maps inside Clash of Clans that most people beat 3-4 years ago, like me. Now, Supercell plans to add 25 new levels to the Goblin Map which will reward gold, elixir, hopefully dark elixir, and potentially more. In addition to two new achievements.
New Troops or Upgrades
In a surprise turn-of-events Supercell added tons of upgrades and a few new things to this release. Most notably, Town Hall 12 now has a THIRD Inferno Tower, which will prove extremely troublesome for attackers. That's just the beginning though, and here's what else you'll have available now.
Another Inferno Tower (TH12 only)
Clock Tower Potion gives the Builder Base a boost for 30 minutes
New Air Bomb Upgrade levels (TH12 only)
New Bomb Traps for TH11 and above
Gold Mine – Elixir Collector – Dark Elixir upgrades for TH10 and above
200 wall pieces at TH12, an extra 100 can be upgraded to lvl 13
Builder Base Wall lvl 6+ can be bought with Gold and Elixir, and more
As you can see, there are lots of changes. Those that didn't upgrade to Town Hall 12 now have plenty of upgrades to keep them busy, new traps, and additions to your bombs. Plus, the wall grind continues.
New Traps, Rewards, and an All-New Shop
Whether you like it or not, Supercell brought over the controversial Tornado spell from Clash Royale, only it's a trap in Clash of Clans. I guess they have no original ideas left, or it's simply easier to re-use troops and spells.
Then, we received a completely redesigned Shop with tons of changes, new options, and what looks like new War League coins of some sort. Basically, you'll need those weird coins received from winning your league to buy some of the new rewards. Expect more in-app purchases than ever before.
Final Details
In closing, just know that this is a massive update that just hit the Google Play and Apple App Store. If you're still playing Clash of Clans, this should give you something to enjoy and work towards for the rest of the year.
We're expecting a few quick bug-fixing updates and Clan War League balance adjustments within the next few weeks, but that's about it. If you were hoping for Builder Hall 8 or some major changes to BH, sorry. We're hearing that will arrive sometime in 2019, even though we need it right now. Hopefully something comes out this December, but that's doubtful.
In the meantime, here's a list of common Clash of Clans problems and how to fix them. Supercell confirmed five big bug fixes in this release, so drop us a comment below if you're still dealing with problems. Otherwise, get ready for Clan War Leagues, and enjoy.