Clash Royale February Update: What You Need to Know
A big February Clash Royale update just arrived with some important changes and one magical surprise. While gamers have waited for a long time, the update is finally here. Clash Royale received some much-needed balance changes to improve gameplay and a new troop. Here's everything you need to know and what's changing in Clash Royale.
Balancing out gameplay is a big priority, and it always is. In December the developers made some big changes, but sadly they weren't enough. The game is starting to lose some of its appeal, popularity, and excitement as certain cards are way too strong. That all changes in February.
Read: Clash Royale: 7 Changes We Want Next
For one, Supercell just confirmed what we saw in leaks months ago. Along with the new Royal Ghost, we're getting a Magical Archer. They're preparing the game for that magic, and it's coming soon. Additionally, here's every card that changed, why, what to expect, and everything else you need to know.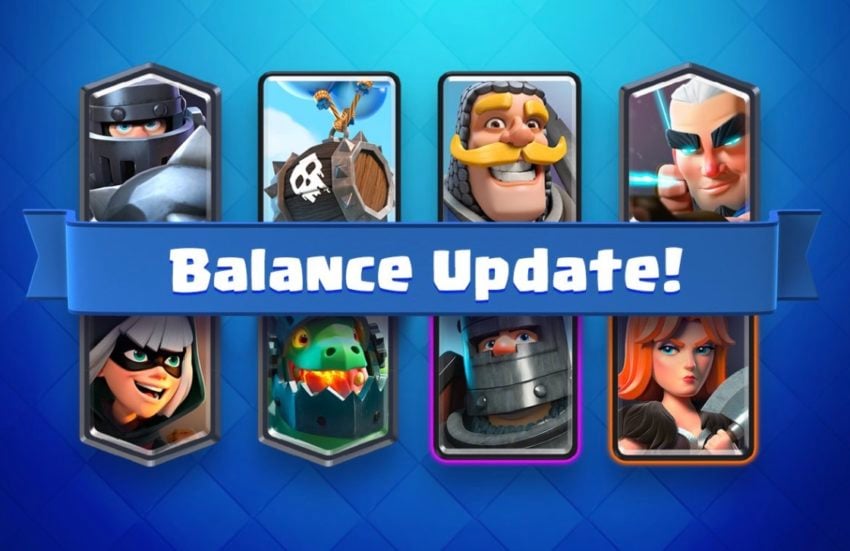 We know exciting new Gold Rush and Gem Rush modes are coming soon, but in the meantime, players have a new troop and tons of balance changes to try to figure out. Now, you'll have to test out troop compositions to find what works best together. That's because some of the most overused cards received a nerf. Meaning they aren't as good as they were a few days ago.
Clash Royale February Update: What's New
As you saw from the image above, some of your favorite cards are changing. That's both a good thing and a bad thing. Supercell received some criticism over these changes and defended them in a post on Reddit. Either way, here's what changed in February.
Mega Knight: Spawn and Jump Damage -25%; Deployment radius reduced (deployment won't hit beyond bridge and river)
Skeleton Barrel: Spawns 6 skeletons instead of 8
Knight: Hitpoints -6%
Inferno Dragon: Switches between targets slower
Valkyrie: Hit Speed 1.5sec → 1.4sec
Bandit: Minimum Dash Range 4 → 3.5
Dark Prince: Hit Speed 1.4sec → 1.3sec; Hitpoints +5%
Magic Archer: Preparing for the Arena.
As you can see, the February Clash Royale update isn't very big, but it was sorely needed. The game needed some balance changes a long time ago, and these should hopefully help.
Most users voiced frustration over the Knight losing some health and strength, but that's the point. Almost everyone uses the Knight. He's still good, but now you might want to try the Mini Pekka or something else in his place.
The most exciting thing about this update for me is the reduction to the Mega Knight. He's simply way too strong and used way too much inside the game. This should improve overall game balance, so we see less of the same cards every time we play.
And finally, the other exciting thing from the changelog is the Magic Archer confirmation. Supercell just told us a new Magic Archer is coming soon to Clash Royale. We don't know too much yet, but he has magical powers. From what we're seeing, it looks like a mix between a Wizard and the Dart Goblin, all for four elixir. Making it a strong and exciting troop to enhance gameplay. We're also expecting a Barbarian Barrel and a Sneaky Archer at some point here in 2018.
For now, fire up Clash Royale and play with the latest changes today. They're behind the scenes, so you don't need to update the application in the app store. While you're here, take a look at these Clash Royale tips and tricks, or how to fix some common Clash problems.

As an Amazon Associate I earn from qualifying purchases.