Clash Royale June 2018 Update: What to Know
A big Clash Royale June 2018 update just arrived with lots of changes. And while we just received Clan Wars in April, the developers aren't slowing down. In fact, Supercell recently confirmed monthly updates and balance changes moving forward. On June 20th we got a slew of balance changes, new cards, new emotes and more. Here's what you need to know.
A few rumors suggested up to four new cards, possibly level 14, rewind in replays, and new game modes. As we now know, that wasn't quite what we got. However, this is a big update with something players have wanted for a long time — new emotes and more gold.
Read: Clash Royal 2018: 7 Changes We Want Next
Balance changes are always an important aspect of each Clash Royale update, and we saw a bunch this month. Additionally, you'll love the new Royal Hogs and Giant Snowball troops.
Monthly Clash Royale Updates
By far the biggest announcement for Clash Royale in 2018 is monthly balance changes. Supercell plans to be more consistent and frequent with balance updates, that way players can anticipate fixes or improvements around the same time every month.
Balance changes ensure troops aren't over or underpowered, the game is fair, and keeps things fresh. That's why starting in June we'll get a round of balance changes. Then, the next Clash Royale update will arrive on the first Monday in July. Moving forward, on the first Monday of every month when new league seasons begin, players will receive a fresh balance upgrade.
Monthly balance updates are coming! Why? When? Find out: https://t.co/Wlv5iTBPTl

— Clash Royale (@ClashRoyale) May 29, 2018
Updates are more important in Clash Royale than in most games. That's because the developers make major tweaks, balance changes, and mess with how troops perform and fight. As a result, one or two small changes can make a major impact during battles. Now, the team will make necessary changes once a month. This should really fix some of the unfair matchups, poor Clan wars, and other ladder issues players continue to face.
Monthly Clash Royale updates will also fix problems quicker, instead of making players deal with unfair battles for months at a time.
Clash Royale June Update: New Troops
While we were expecting some new Elite Archers or a few other new troops that leaked last month, that isn't what Supercell had in mind. Instead, the developers added two troops. A cheap troop that's only 2-elixir, and a more expensive 5-Elixir card. Those are the Giant Snowball, and for 5-Elixir you'll get two Royal Hogs. Here's a quick video from a popular YouTuber showing off these two new troops.
Supercell also claims a third new card is coming in July, and possibly a fourth. We're not sure what those will be, but we'll update once we know more. Get the latest Clash Royale update right now and try these new troops.
June 2018 Balance Changes
As expected, and promised, Supercell made some big changes to the overall balance of the game. This keeps gameplay fresh and fixes anything that's broken or too overpowered. Here's what changed from the June 20th Clash Royale update.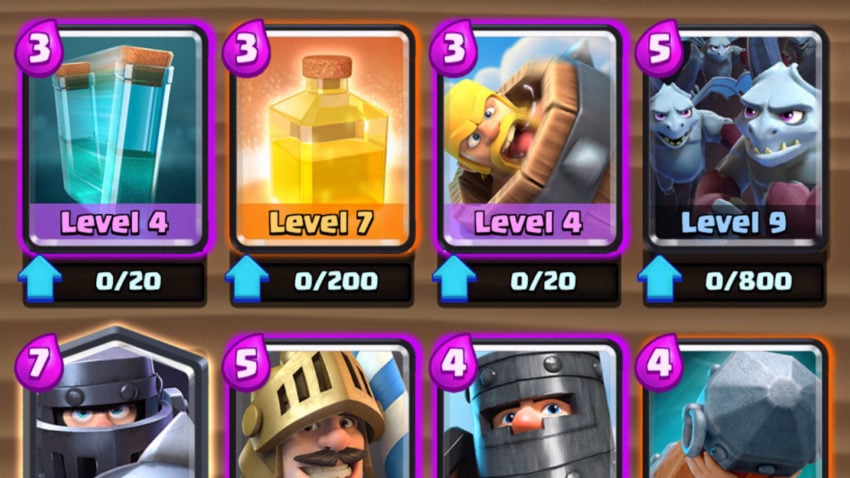 Clone/Heal: Radius increased from 3 to 4 tiles
Minions/Minion Horde: Added 0.15sec Deploy Time between each Minion
Barbarian Barrel: Area Damage +17%, Barbarian spawn location visible
Jump/Dash Minimum Range: Standardized to 3.5

Mega Knight: 4 -> 3.5
Bandit: 3.5 -> 3.5 (no change)

Charge Up Distance: Standardized to 3.5

Battle Ram: 4 -> 3.5
Prince: 2.5 -> 3.5
Dark Prince: 2.5 -> 3.5

Mirror: Will no longer appear in opening hand
Magic Archer (bug fix): Will no longer extend his range and accidentally wake up the King
Buildings (bug fix): Will no longer occasionally stop shooting at the edge of their range
New Emotes
Emotes are a gray area in Clash Royale that some players love, others hate, and the rest just mute. The little laughing face or crying emoji players spam on the screen as they beat you. Supercell continues to change its emotes, and now they added more.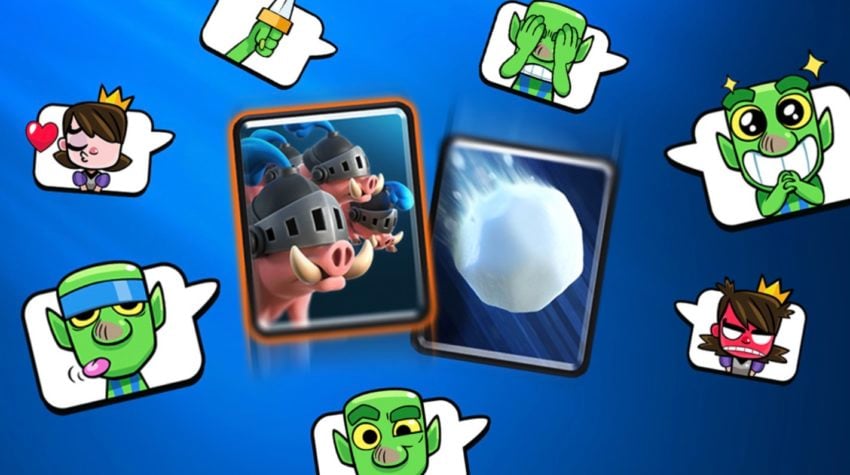 Yes, more emotes in the June Clash Royale update. In fact, Supercell just added a bunch of Goblin and Princess emotes you can earn or buy. Players even have the option to customize a specific "emote deck" they can bring to battle. That way you can send exactly the emote you want, instead of the few we've had since the game first came out.
The team already added a permanent mute button, but then added an option for clan-mates to use emotes during a battle too. That way your opponent and his entire clan can all spam emotes on the screen.
We needed less emotes, not more, but these aren't too intrusive or offensive, so we'll reserve judgment until we use them more.
Quality of Life Changes
It's no secret that the love and excitement for Clash Royale is starting to fade. Whether that's from people that play daily or popular players on YouTube. As a result, the developers at Supercell made some big changes this month to improve the overall state of Clash Royale. These are quality of life changes the game severely needed.
Trophies above 4000 (up to 7600) will be reduced by 50% at season reset – e.g. a player at exactly 5000 Trophies will be reset to 4500 (instead of 4,000)
This new, more gradual system will give everyone playing 1v1 Arena Battles a better time when the League Season resets each month
1v1 Battles over 4,000 trophies now have a 3-minute sudden-death overtime
Additionally, the developers doubled the Gold we get from Clan Wars, which will hopefully help out with gold shortages. I have over 30 cards I can upgrade, and around 5,000 gold. We need a huge increase in earning gold to make Wars playable.
You can also rewatch Clan War battles, and much more. Here are the release notes and all the small changes in this update.
Clash Royale Heroes?
Will Supercell ever bring Heroes like an Archer Queen or Barbarian King to Clash Royale? It's something we've heard about for over a year, but adding such a powerful troop could ruin the game.
That said, we're seeing signs of exactly that. And while it didn't come in this June update, we could see them in the July Clash Royale update. Leaked game files recently mentioned a new "Golden Knight" troop. The Golden Knight looks like the Barbarian King from Clash of Clans, although it could just be in the game files to throw leakers off the trail of any real upcoming cards. Here's a quick video from Molt explaining new and old leaks.
June Clash Royale Update Problems (Device Support)
In closing, we want to go over a big potential problem with the June Clash Royale update. If you have an older iPhone, iPad, or Android device, you might not be able to play anymore.
The June update removed support for any iOS device running iOS 8.0 and older, or Android devices under Android 4.0 Ice Cream Sandwich. If you have an old iPhone that isn't running iOS 9, you won't be able to download the update and play Clash Royale anymore. This is out of Supercell's control, and they can't make any exceptions. This is a change by Apple and Google.
You have to update to the latest software on iPhone or Android or buy a new device.
With that all said, are you enjoying the latest Clash Royale update? This added some exciting new troops, doubled gold, added some fun emotes and improved the game as a whole. Let us know what you think in the comment section below.